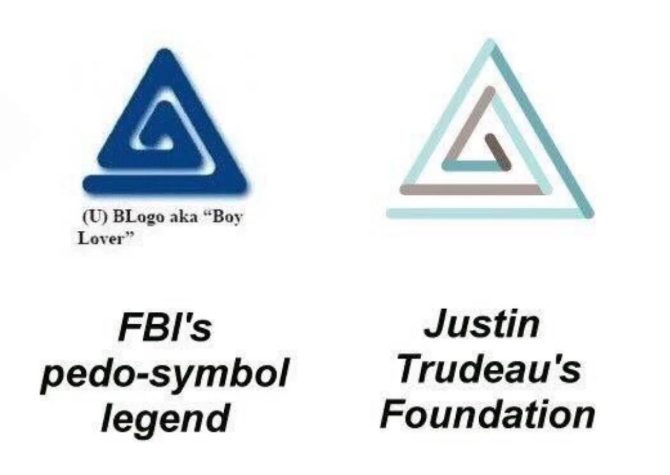 Why does the Trudeau Foundation use the 'boy lover' pedophile symbol?
Trudeau Foundation annual report has 'boy lover' pedophile symbol
by Dr. Eowyn
Fellowship Of The Minds
"Pedophiles…are using various types of identification logos or symbols to recognize one another and distinguish their sexual preferences…. These symbols have been etched into rings and formed into pendants, and have also been found imprinted on coins."
Below are the symbols for "boy lover", "girl lover" and "child lover" pedophiles, according to the FBI. Note especially the triangle-shaped symbol for "boy lover" on the far left:
The FBI's Symbols and Logos Used by Pedophiles furthermore states:
"Pedophilia symbols on jewelry, coins, Web sites and other effects are indicative of advertisement methods used by child sexual predators to promote their cause. Pedophile activists advocate for the social acceptance of sexual relationships between adults and children. These organizations seek to decriminalize sexual relationships between adults and children and to legalize child pornography based on their belief that children have the ability to consent to sexual acts…. Investigators should also be attentive to pedophilia symbols advertised on Web sites."
The Pierre Elliott Trudeau Foundation is named after former Canadian prime minister Pierre Trudeau, the father of present PM Justin Trudeau.
Commonly called the Trudeau Foundation (Fondation Trudeau in French), it describes itself as:
"an independent and non-partisan charity established in 2001 as a living memorial to the former prime minister by his family, friends, and colleagues. In 2002, with the support of the House of Commons, the Government of Canada endowed the Foundation with the Advanced Research in the Humanities and Human Sciences Fund.

The Foundation also benefits from private donations. By granting doctoral scholarships, awarding fellowships, appointing mentors, and holding public events, the Foundation encourages critical reflection and action in four areas important to Canadians: human rights and dignity, responsible citizenship, Canada's role in the world, and people and their natural environment."
The Trudeau Foundation's 2015-2016 Annual Report, titled Learn, Share, Change, has the "boy lover" pedophile symbol on page 2's "Introduction". Below is a screenshot:
The report bears these two men as its authors:
John McCall MacBain, Chairman of Trudeau Foundation's Board of Directors
Morris Rosenberg, President and CEO of the Trudeau Foundation
How much more brazen can Trudeau Foundation be than to openly display the "boy lover" pedophile symbol in its annual report?
___
https://fellowshipoftheminds.com/trudeau-foundation-annual-report-has-boy-lover-pedophile-symbol