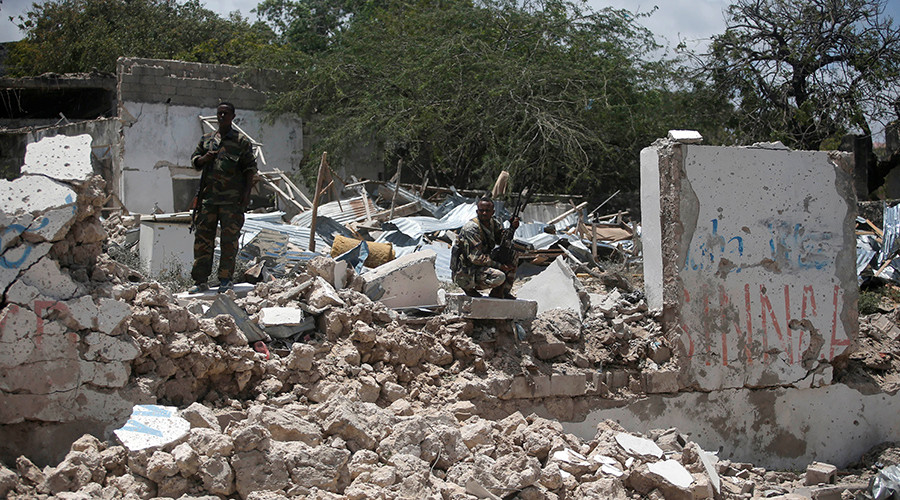 US duped into airstrike that killed 22 Somali soldiers, local officials claim
RT.com
Up to 22 Somali soldiers may have been killed by a suspected United States military airstrike in what local officials called a ruse orchestrated by rival regional authorities.
"The attack occurred at our army base, 30km east of this town and killed 22 soldiers, wounded 16 others and destroyed armored vehicles. US drones carried out the attack, but we believe that the Puntland security forces gave [the United States] wrong information," said Galmudug region's state security minister, Osman Issa Nor, as cited by Xinhua.
Pentagon says US conducted 'self defence' strike v. #AlShabaab in Galkayo #Somalia, killing 9. Galmudug says strike killed 20 of its troops

— Mary Harper (@mary_harper) September 28, 2016
The alleged American attack, according to Nor, followed a call for help from forces in the northern Somali region of Puntland, arguing shots had been fired at them by Al-Shabaab Islamist guerrillas from the neighboring Galmudug area.
Pentagon spokesman Captain Jeff Davis confirmed the US carried out a "self-defense airstrike" after Somali troops were attacked during the take-down of an improvised explosive device production network.
Captain Davis said nine Al-Shabaab fighters had been killed in the mission but that Washington would now investigate other possible victims.
"We will look at the reports to see if they are credible, and if they are credible we'll investigate them," he added.
This would be the second US airstrike performed on Al-Shabaab guerrillas in Somalia this week.
Puntland police suggested the airstrike had killed "more than a dozen" Islamic militants, which have recently orchestrated a series of attacks on Somalia's Western-backed government and local authorities.
But Al-Shabaab itself denied having any groups based in the area surrounding the city of Galkayo, which is currently divided between the Galmudug and Puntland administrations.
The attack resulted in demonstrations against the locally stationed US forces, including 50 troops and peacekeepers with the African Union Mission in Somalia (Amisom), currently fighting Al-Shabaab militia in the region.
Somalia's Galmudug and Puntland regions have recently clashed over territory.
___
http://www.rt.com/news/361078-us-airstrike-somalia-soldiers/