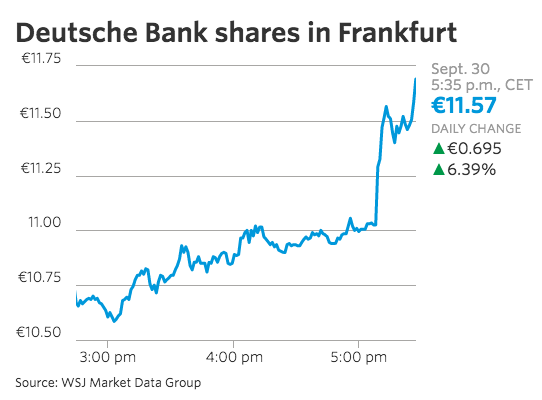 Hedge Funds Pile In to Bets Against Deutsche Bank
Short bets against the troubled German lender have profited in recent days
Deutsche Bank shares are down nearly 50% since the start of the year on concerns about its capital position, leading to large profits for a number of hedge funds who have been running short positions on the German lender, betting its stock will fall further.
However, it has been a bumpy ride. Deutsche's shares fell as much as 8% in morning trading Friday, reaching a record, following reports that clients, including several large hedge funds, have pulled billions of dollars from the bank. But they later recovered to close up 6.4% in Frankfurt; in New York, the bank's U.S.-listed shares advanced 14%.
Greenwich, Conn.-based AQR Capital Management, which runs $159 billion in assets, revealed that it had a short position in Deutsche Bank on Wednesday, according to a filing made public by the German regulator on Thursday.
AQR was also among a number of funds that have recently taken steps to withdraw securities or cash from the bank, or dial back their trading activities, The Wall Street Journal reported Thursday.
Deutsche Chief Executive John Cryan said in a message to employees Friday that media speculation that a few hedge funds had reduced some activities with the bank was causing "unjustified concerns."
PHOTO:

ASSOCIATED PRESS
He said the bank had "strong fundamentals" and pointed to the sale this week of British insurer Abbey Life for $1.2 billion and the bank's plans to sell its stake in China's Hua Xia Bank. "We fulfill all current capital requirements and our restructuring is well on track," he said.
Other hedge funds to have bets against the bank include Marshall Wace LLP, Discovery Capital Management LLC and Highfields Capital Management LP, according to filings. Marshall Wace first declared a 0.5% short position in Deutsche Bank in February. By Tuesday, it had doubled its bet to 1.03%, although this was cut back Thursday to 0.9%.
Discovery first disclosed a position at the start of August and increased it late that month, while Highfields first disclosed a position in July, which it quickly increased.
Hedge funds' bets against the troubled German lender have been cranked up in recent days, although they are still below levels hit earlier this summer.
A measure known as utilization—the amount of shares that have been borrowed as a proportion of shares available to borrow—rose to 13.5% on Thursday, up from nearly 10% on Wednesday and 6.8% the day before, according to data group Markit. At the start of last week it was just 3.8%. Stock out on loan is seen as a good proxy for short interest from hedge funds.
A spokeswoman for AQR declined to comment. A spokesman for Discovery declined to comment. A spokesman for Marshall Wace declined to comment. A spokesman for Highfields declined to comment.
The move from some hedge funds is only a fraction of client balances held with Deutsche Bank, and doesn't mean that the funds have stopped doing business with Deutsche Bank.
"Our trading clients are amongst the world's most sophisticated investors," Deutsche Bank said Thursday. "We are confident that the vast majority of them have a full understanding of our stable financial position, the current macroeconomic environment, the litigation process in the U.S. and the progress we are making with our strategy."
___
http://www.wsj.com/articles/hedge-funds-gain-by-betting-against-deutsche-bank-1475238667