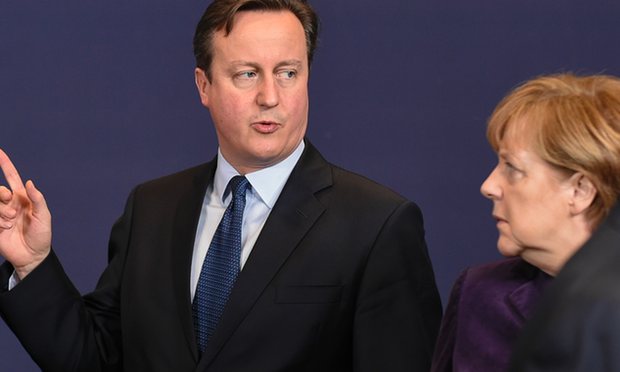 The Accusations Begin: David Cameron Blames Brexit On Merkel And EU "Immigration Failure"
ZeroHedge.com
The Brexit vote is history, and so is David Cameron's reign as Britain's prime minister whose gamble to allow an EU referendum backfired spectacularly. And today, in what Bloomberg earlier dubbed his "last summer" Cameron had the unpleasant task of telling his Eurocrat peers during what is hist last Brussels summit why he failed. Only he didn't and instead, as the FT writes, Cameron flipped the tables and told European leaders he lost the EU referendum because they failed to address public concerns over immigration, as tensions rose ahead of looming Brexit negotiations.
The British prime minister said at his final summit in Brussels on Tuesday that fears of mass immigration were "a driving factor" behind the vote and free movement would have to be addressed in Brexit talks. While he did not call her out by name, Cameron was effectively blaming Angela Merkel, whose overly accepting immigration policy in 2015 unleashed a historic refugee wave which ultimately ended up being the deciding factor behind the referendum outcome.
As the FT writes, Angela Merkel, the German chancellor, and other leaders "blocked British demands before the referendum for an "emergency brake" on migrant numbers and the idea remains anathema to many member states.  Cameron, who announced his ­resignation after last week's referendum, said that he wanted Britain and the EU to retain "as close an economic relationship as possible". But, at an emotional dinner, he warned that the UK could not continue to accept large numbers of EU migrants, even if that meant losing access to the single market."
His remarks underscored the hard task facing both sides in reaching a new accord. Addressing the German Bundestag before the Brussels summit, Ms Merkel warned the UK that there would be no "cherry picking" in its Brexit negotiations. European Commission president Jean-Claude Juncker underscored this when he said that he wants the article 50 "letter to be sent as soon as possible." Giving the UK instructions on how to proceed, Juncker said during a press conference that "if someone from the Remain camp will become British prime minister, this has to be done in two weeks after his appointment. If the next British PM is coming from the Leave campaign, it should be done the day after his appointment."
Juncker urged the UK "swiftly" to clarify its position regarding its plans to break from the EU, warning that the bloc could not be "embroiled in lasting uncertainty". He also hit back at criticism of him in some parts of the British press, claiming he was not a "faceless bureaucrat" and "would like to be respected".
More importantly, Cameron's resignation – not literal but figurative – suggests that any hope the Remain camp may have had for a redo of the referendum has been extinguished.
It wasn't just Cameron: even before the session began there had been signs of renewed hostility towards Downing Street. After a heated debate, which at one point degenerated into catcalls and boos for Nigel Farage, the UK Independence party leader, the European Parliament voted for a resolution calling on Britain to begin divorce proceedings immediately.
Some of Mr Cameron's fellow EU leaders made similar testy remarks. "Married or divorced, but not something in between," said Xavier Bettel, the Luxembourg prime minister. "We are not on Facebook, with 'It's complicated' as a status."
As explained over the weekend, the pace and nature of Britain's exit from the EU together with the triggering of Article 50, have become the most contentious issues in both London and Brussels since last week's vote. Most of the leaders of the UK's Leave campaign, who are likely to form the core of a new British government, have said they want to begin Brexit negotiations before invoking Article 50 of the EU treaties, which would formally trigger two-year exit proceedings.
Merkel made it clear that she and other EU leaders have refused to engage in negotiations until Article 50 is invoked, setting up the first of what could be years of difficulties facing Cameron's successor. Mark Rutte, the Dutch premier and formerly one of Mr Cameron's closest allies, argued for Britain to be granted "some space". But he was unforgiving in his reasons why, saying: "England has collapsed politically, monetarily, constitutionally and economically." Which, incidentally, is what Brussels calls a victory for Democracy.
Manuel Valls, the French prime minister, said it was not for Britain to dictate the pace of talks. "It's not up to the British Conservative party to set the agenda," he told the National Assembly in Paris.
What happens next?
On Wednesday, Mr Cameron will be asked to leave the summit while the remaining 27 members hold informal talks on how to approach Brexit negotiations and how to stop them from stretching out over many years.
Addressing the German Bundestag before the Brussels summit, Ms Merkel warned the UK that there would be no "cherry picking" in its Brexit negotiations, her toughest response yet to the Leave campaign's hopes of securing access to the EU's internal market while limiting freedom of movement.

She spelt out that the EU's internal freedoms were indivisible: if Britain, like Norway, wanted access to the internal market then, like Norway, it would have to accept freedom of movement, she said.
Which goes back to the original point Cameron made, namely that it is Merkel's stickiness on freedom of movement that led to the victory of the Leave camp.
The winner today, however, was Nigel Farage, who stole the limelight when he was booed after he called on the EU to take a "grown-up and sensible" attitude to negotiations with the UK. He claimed the result would offer a "beacon of hope" to "democrats" across Europe and threatened that  "the UK will not be the last member state to leave the European Union."
As we showed earlier, Farage concluded: "When I came here 17 years ago and said I wanted to lead a campaign to get Britain to leave the European Union, you all laughed at me. Well, I have to say, you're not laughing now, are you?"
Farage's moment in the spotlight aside and Cameron's apparent concession on the possibility of a second referendum, the reality is that while all EU leaders would be delighted to see Britain reverse course and choose to stay, most would be loath to offer any concessions for fear that succumbing to blackmail would encourage others.
Cited by the FT,  a senior adviser to one the eurozone's most powerful leaders said that "this is a matter of survival for us. We cannot allow these tactics to succeed."
Countries such as France and the Netherlands that were once sympathetic to Britain's plea for curbs on free movement of workers would now be some of the most opposed to further concessions.
As the FT adds, yielding to British pressure would be a gift to anti-EU politicians that the French and Dutch leaders are trying to defeat in elections early next year. Eastern European leaders, meanwhile, appear as implacably opposed to overturning cherished free movement rights.
Then again, as we reported last night, it is now too late, and most likely by design: sensing the Brexit crisis "opportunity", Italy is already planning how to bend Eurozone rules against the use of public funds for bank bailouts, and is strategizing how to funnel €40 billion of European cash into its insolvent banking system. Should Europe reject Italy's overture? Then Italy's PM Renzi will simply threaten with his own referendum, which considering the recent shocking wins by the Euroskeptic 5 Stars Movement in the Rome and Torino mayoral election, will be all he needs to say to get his way.
Or rather not his way, but the way of the person who is quietly covering up all his tracks: after all why are Italy's banks insolvent? Well, who was governor of the Bank of Italy from 2005 to 2011 when he blessed all of the hundreds of billions of now non-performing loans? Why former Goldman Sachs employee and current head of the ECB, Mario Draghi of course, who just may end up the biggest winner from the Brexit crisis. Because as everyone knows, one should never leave a crisis go to waste.
____
http://www.zerohedge.com/news/2016-06-28/accusations-begin-david-cameron-blames-brexit-merkel-and-eu-immigration-failure