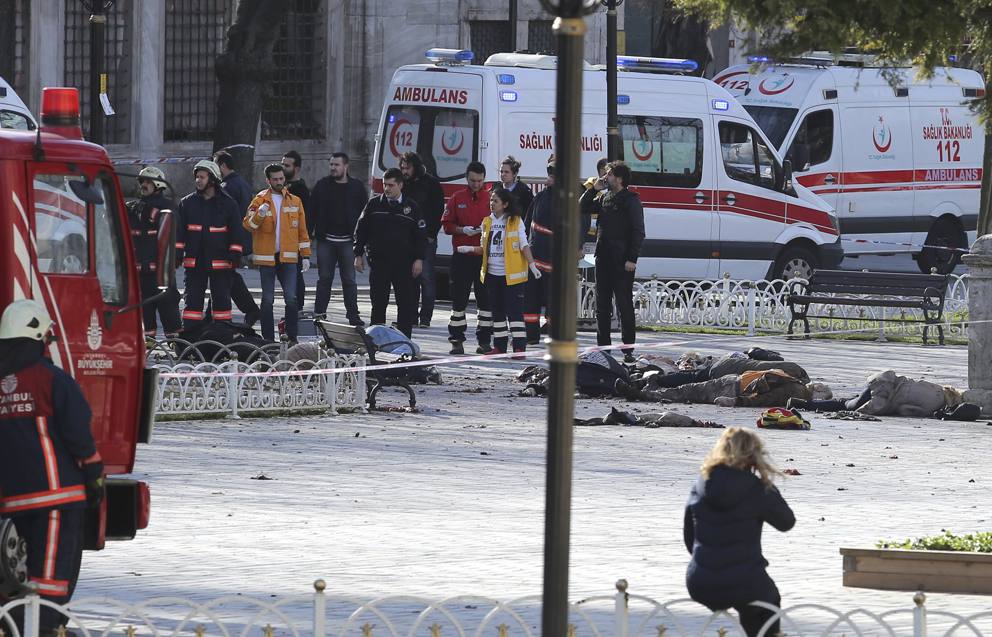 ISTANBUL: This Is Why They Staged and Blamed the False Flag Bombing On ISIS
As Usual, The MSM Spins It: 'Turkey blames Islamic State for Istanbul bombing'
TMR Editor's Note:
Of course, the BBC (see article posted below) is always happy to report pure propaganda in order to advance the Zio-Anglo-American agenda. In this instance, where the Istanbul attack was clearly another false flag bombing quite deliberately perpetrated by the Erdoğan Government, the MSM is now trumpeting an ISIS terrorist attack.  As if these two partners-in-crime — the Republic of Turkey and the Islamic State — would ever do anything to harm their war-mongering and
-profiteering  partnership.
Turkish Journalists: Erdogan Has Been Sleeping with ISIS from Time Immemorial
It's now quite obvious to the entire world community of nations that Turkey and ISIS are the Fric and Frac of the Middle East.  We're talking about thicker than thieves.  Which is also the main reason why Turkey helped establish the Islamic State — to run the biggest fencing operation and oil theft ring on the planet.  By systematically arming and funding ISIS, Turkey has been able to take advantage of some very serious war-profiteering opprotunities indeed.  And ISIS gets to make some much-needed oil income to fund their incessant Mideast terrorism.
Putin: We Have Proof, Turkey Shot Down Plane to Protect Illegal ISIS Oil Trade
US-led coalition not striking ISIS oil trucks despite evidence – Russia's General Staff
It now appears that no country on Earth is as hard-wired to exploit the various Middle Eastern theaters of war like Erdoğan & Company.  You name it, oil and ancient artifacts, human trafficking and refugee smuggling, disassembled factory parts and manufacturing equipment, etc. Turkey has had an absolute field day plundering and pillaging the Syrian countryside.  They've made so much money on the Syrian (and Iraq) wars that they're literally beside themselves with war-profiteering delirium.
Erdoğan's Turkey: A War Profiteer That Plunders And Pillages Syria At Will
Now Turkey has been the site of several terrorist attacks since the Syrian War was first incited and financed by the Western powers.  The Zio-Anglo-American power structure has always taken full advantage of Turkey's inextinguishable desire to re-establish the Ottoman Empire. It's in the Turkish blood, as the AAA leadership very well knows and, therefore, they can be enlisted to do anything that is perceived to manifest that folly-ridden goal.
Turkey supports ISIS, wants to revive Ottoman Empire – Syria's UN envoy
Syria, Egypt Reveal Erdogan's Hidden "Neo-Ottoman Agenda"
The current world perception of Turkey has so concretized around the fact that Erdoğan & Company and ISIL Inc. are extremely close war profiteering collaborators that Ankara felt compelled to attempt to change it.  Hence, a dramatic terrorist attack was executed right in the heart of Istanbul's world-famous bazaar district.  What better way to get the attention of the global audience than to blow up the bazaar … and then blame it on ISIS.  Yeah, right!
Meet The Man Who Funds ISIS: Bilal Erdogan, The Son Of Turkey's President
And what is Israel's role in this ongoing war crime-spree against the sovereign nation of Syria?
Israel the Main Buyer of ISIS Oil — Report
The Millennium Report
March 20, 2016
N.B. Turkey's instigation of the Syrian War and relentless shelling of the Kurdish civilian communities is quite reminiscent of the infamous Armenian Genocide of 1915.   The similarities between the two series of crimes against humanity are so striking that many are now calling for a war crimes tribunal.  Turkey has been quite successful at completely destroying its international reputation, as well as dashing it hopes of ever entering the European Union.
Syrian Holocaust: Turkey Copies The Armenian Genocide Game Plan
The Syrian Holocaust: A Preplanned Genocide And Forced Exodus
References
Syrian Holocaust: Turkey Copies The Armenian Genocide Game Plan
'Like at the bazaar': German politicians angry over Turkey's EU negotiation tactics
~~~~~~~~~~~~~~~~~~~~~~~~~~~~~~~~~~~~~~~~~~~~~~~~~~~~~~~~~~~~~~~~~~~~
Turkey blames Islamic State for Istanbul bombing
BBC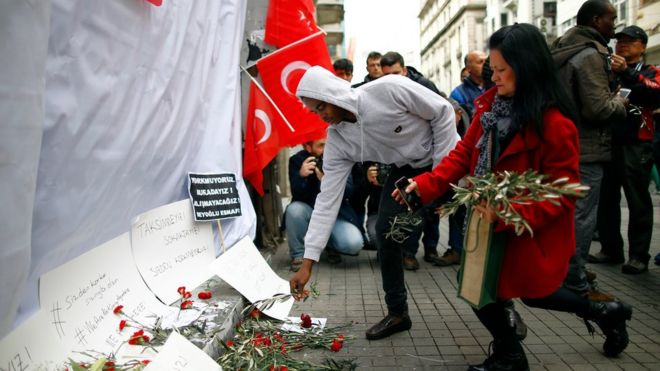 –
The suicide bomber who killed four people in Istanbul's main shopping street belonged to so-called Islamic State (IS), the interior minister says.
Efken Ala named the man as Mehmet Ozturk. He told reporters that five people had been questioned so far.
Mr Ala announced a review of security measures and curfews in seven Turkish provinces.
Three Israelis – two with Israeli-US nationality – and an Iranian died in the attack. Another 36 were injured.
Eleven Israelis were among the injured. Two Irish citizens, one national each from Germany, Iceland, Dubai and Iran were also injured.
The coffins of the Israeli nationals were being flown out on Sunday. The Israeli government advised its citizens to avoid Turkey.
"We have determined that Mehmet Ozturk, born in 1992 in Gaziantep, carried out the heinous attack on Saturday in Istanbul," Mr Ala told a news conference in the capital Ankara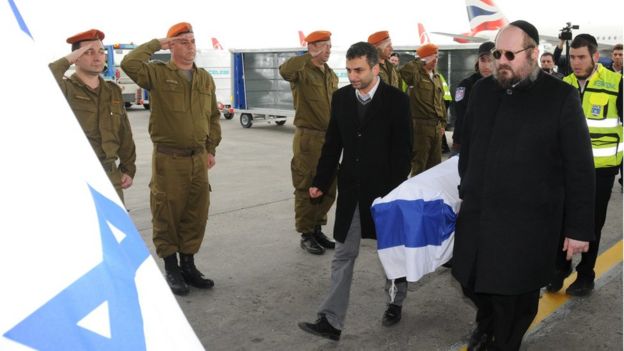 –
"It has been established that he is a member of Daesh," he said using another name for IS.
Turkey is part of the US-led coalition against IS and allows coalition planes to use its air base at Incirlik for raids on Iraq and Syria.
It has been attacked by IS in the past – most recently in January when a suspected suicide attack in Istanbul killed 12 German tourists.
And more than 100 people died outside Ankara railway station in October 2015 when IS militants carried out a double bombing close to the headquarters of the national intelligence organisation.
Kurdish militants have claimed a number of recent attacks in Turkey.
President Recep Tayyip Erdogan has said terror groups are targeting civilians because they are losing their struggle against Turkish security forces.