SEPTEMBER & OCTOBER 2015:
The 'Biggest' Months Of The Millennium
MATHEMATICAL CERTAINTY of a Terminal Breakdown of the Global Economic & Financial System
Compelling Evidence Indicates First Phase Of Collapse Will Begin In September 2015
The Millennium Report
_____________________________________________________________________________________________________
September's Shemitah Update:
The summer of 2015 has already seen the bankruptcy of Greece and slow motion disintegration of the European Union.  Not only is a Grexit (Greece's exit from the Europe) still looming, the ever-intensifying immigration crisis throughout the EU shows no signs of abating.  Further evidence that the Shemitah has already begun occurred in August which saw a mini U.S. stock market crash (10% decline in the DJIA) as well as an historic summer-long Chinese stock market crash.  Further advance notice of the September Shemitah phenomenon was the declaration of bankruptcy by Puerto Rico.  However, that doesn't mean the Shemitah main events cannot be postponed to October or even later.  Particularly in view of the upcoming Super Shemitah, there is simply no stopping the coming collapse.  Because of the profusion of new economic information and accurate financial data, which categorically proves that the markets are forever rigged, people the world over are losing all confidence in the present system.  After all, when the global Confidence Game (aka the Stock Market) no longer instills confidence, where else can this all go except….
_____________________________________________________________________________________________________
TMR Editor's Note:
Since the internet has been live — 20 years now — there has never been a story as BIG as September of 2015.  The narrative concerning the collapse of the Global Economic & Financial System (GEFS) has captured more smart and aware people than any other story in recent memory.  Those who are initiated in the GEFS realm, especially those who work there, know beyond any doubt that the existing system is literally moments away from total systemic breakdown.  Here's how one commentator put it, and this was written 7 years ago:
"The global money matrix, worldwide financial architecture and planetary economic landscape most closely resemble the proverbial House of Cards in the form of a Pyramid-Ponzi scheme superstructure built on quicksand."
— The FOUR HORSEMEN Herald the Death Knell of Predatory Capitalism
September's forecast is no ordinary prediction or flaky prophecy.  It is fundamentally different than so many others which have come before and after.  The main reason is that there is now MATHEMATICAL CERTAINTY that the markets — all of the them — will collapse sooner than later.  In other words, there is now no question whatsoever that the stock and bond, derivative and currency markets will collapse; it is only a matter of when.
Which brings us to September of 2015!
No, September, 2015 is not the end of the world; however, it will likely be the beginning of the end of the world as we know it.  By that we mean that the very Control Matrix which serves as the foundation of the current planetary civilization will begin to self-destruct … in broad daylight.  It has been experiencing a slow motion collapse, mostly under the radar, for several years now. However, it's becoming impossible for TPTB to keep up the appearance of order … even their patented chaotic order.
The Global Economic & Financial System, in particular,  has been dramatically disintegrating behind the scenes, though only very few recognize it. That arena will be the first to experience a profound and fundamental systemic breakdown for everyone to see in real time.  Because every sphere of life on Earth is supported by this system, each will be affected according to its level of entanglement.
Why September of 2015?
First, September of 2015 marks the end of the 2014/2015 Shemitah Year, a year that always ends in a manner which deeply impacts the worldwide financial situation, as well as the economies of nations large and small.
Secondly, Elul 29 of the Hebrew calendar (the very last day of the Shemitah Year) falls on Sunday, September 13th.  More significantly, Wednesday, September 23 marks the beginning of the 70th Biblical Shemitah Jubilee also known as the Super Shemitah.  The significance of this day cannot be overstated.  Because of the true state of the global economy and financial condition of nations rich and poor, this Jubilee year will see HUGE happenings throughout the entire Global Economic & Financial System.
For anyone who doubts what is about to occur 3 months hence, please read the following two detailed essays for both historical background and the current context.  If ever there was a prediction which has been based on irrefutable historical precedence, as well as a mutually reinforcing present-day context, the apprehensively anticipated September, 2015 Jubilee is it.
The 2015/2016 Shemitah Jubilee And The End Of The Modern Era
2015: The Great Tribulation Of The 3rd Millennium Foreshadowed By The Shemitah Jubilee
As for the exact timing and nature of the upcoming events from September onward, if history serves as an accurate guide, the following predictions can be safely made.
• Anything goes, with the emphasis on — A N Y T H I N G  — during the first two weeks of September.  In 2001 (also a Shemitah year) the whole world witnessed the false flag terrorist attacks on 9/11 just prior to Elul 29 on Sept. 17.  In 2008 (the last Shemitah year) everyone experienced Black Monday on September 29th (same day as Elul 29) when the market dropped 778 points, the largest single-day point loss recorded in history.  That occurred just after another Black Monday on September 15th, the day that Lehman Brothers declared bankruptcy.
• Both Monday, September 14th and Tuesday, September 15th of 2015 will likely go down in history as the first back-to-back Black Monday and Black Tuesday.  Because Elul 29 of 2015 falls on a Sunday, September 13, it is difficult to speculate on what is planned for that particular day.  However, the preceding Friday and Monday following promise to be critical days.
• The rest of September and all of October will see an unparalleled series of cataclysmic events that will forever alter the economic and financial landscape of the planet.  These events may occur in some of the major financial capitals of the world such as New York City, London, Paris, Brussels, Tokyo and/or Hong Kong.
• The rest of 2015 and all of 2016 will be concerned with the reordering of those societies most affected by the radical changes driven by the September and October events. Planned military exercises like Jade Helm, and other unannounced events which occur over the next 3 months, will provide clues about the direction that this tumultuous process will take.
What follows is an article which delineates several other major events which are likewise planned for the September 2015 timeframe.  When all of these highly consequential happenings are considered in the aggregate, there is no question that this September is shaping up to be the "Biggest Month of the Millennium".
Editor
The Millennium Report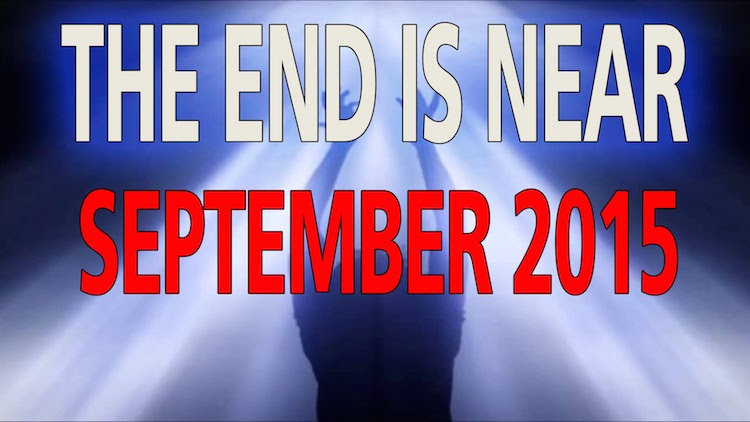 ~~~~~~~~~~~~~~~~~~~~~~~~~~~~~~~~~~~~~~~~~~~~~~~~~~~~~~~~~~~~~~~~~~~~
7 Key Events That Are Going To Happen By The End Of September
by Michael Snyder
The End of The American Dream
Is something really big about to happen?  For months, people have been pointing to the second half of this year for various reasons.  For some, the major concern is Jade Helm and the unprecedented movement of military vehicles and equipment that we have been witnessing all over the nation.  For others, the upcoming fourth blood moon and the end of the Shemitah cycle are extremely significant events.  Yet others are most concerned about political developments in Washington D.C. and at the United Nations.
To me, it does seem rather remarkable that we are seeing such a confluence of economic, political and spiritual events coming together during the second half of 2015.  So is all of this leading up to something?  Is our world about to change in a fundamental way?  Only time will tell.  The following are 7 key events that are going to happen by the end of September…
Late June/Early July – It is expected that this is when the U.S. Supreme Court will reveal their gay marriage decision.  Most believe that the court will rule that gay marriage is a constitutional right in all 50 states.  There are some that believe that this will be a major turning point for our nation.
July 15th to September 15th – A "realistic military training exercise" known as "Jade Helm" will be conducted by the U.S. Army.  More than 1,000 members of the U.S. military will take part in this exercise.  The list of states slated to be involved in these drills includes Texas, Colorado, New Mexico, Arizona, Nevada, Utah, California, Mississippi and Florida.
July 28th – On May 28th, Reuters reported that countries in the European Union were being given a two month deadline to enact "bail-in" legislation.  Any nation that does not have "bail-in" legislation in place by that time will face legal action from the European Commission.  So why is the European Union in such a rush to get this done?  Are the top dogs in the EU anticipating that another great financial crisis is about to erupt?
September 13th – This is Elul 29 on the Biblical calendar – the last day of the Shemitah year.  Many are concerned about this date because we have seen giant stock market crashes on the last day of the previous two Shemitah cycles.
On September 17th, 2001 (which was Elul 29 on the Biblical calendar), we witnessed the greatest one day stock market crash in U.S. history up until that time.  The Dow plummeted684 points, and it was a record that held for exactly seven years until the end of the next Shemitah cycle.
On September 29th, 2008 (which was also Elul 29 on the Biblical calendar), the Dow fell by an astounding 777 points, which still today remains the greatest one day stock market crash of all time.
Now we are approaching the end of another Shemitah year.  So will the stock market crash on September 13th, 2015?  Well, no, because that day is a Sunday.  So I guarantee that the stock market will not crash on that particular day.  But as Jonathan Cahn has pointed out in his book on the Shemitah, sometimes stock market crashes happen just before the end of the Shemitah year and sometimes they happen within just a few weeks after the end of the Shemitah.  So we are not just looking at one particular date.
September 15th – The 70th session of the UN General Assembly begins on this date.  It is being reported that France plans to introduce a resolution which would give formal UN Security Council recognition to a Palestinian state.  Up until now, the United States has always been the one blocking such a resolution, but Barack Obama is indicating that things may be much different this time around.
September 25th to September 27th – The United Nations is going to launch a brand new sustainable development agenda for the entire planet.  Some have called this "Agenda 21 on steroids".  But this new agenda is not just about the environment.  It also includes provisions regarding economics, agriculture, education and gender equality.  On September 25th, the Pope will travel to New York to give a major speech kicking off the UN conference where this new agenda will be unveiled.
September 28th – This is the date for the last of the four blood moons that fall on Biblical festival dates during 2014 and 2015.  This blood moon falls on the very first day of the Feast of Tabernacles, it will be a "supermoon", and it will actually be visible in the city of Jerusalem.  There are many that dismiss the blood moon phenomenon, but we have seen similar patterns before.  For example, a similar pattern of eclipses happened just before and just after the destruction of the Jewish temple by the Romans in 70 AD.
Perhaps none of this alarms you.  But when you add everything above to the fact that the elite definitely appear to be feverishly preparing for something, a very alarming picture emerges.
For example, due to fears that a "natural disaster" could interrupt their operations in New York, the New York Fed has been working hard to build up a satellite office in Chicago.
What kind of "natural disaster" could possibly be so bad that it would cause the entire New York Fed to shut down?
And NORAD has decided to move back into the base deep inside Cheyenne Mountain after all these years.  The threat of an electromagnetic pulse was the reason given for this decision.
By themselves, perhaps those moves would not be that big of a deal.  But let's add all of the weird movements of military vehicles and equipment that we have been witnessing lately to this discussion.  I included this list from Intellihub in a previous article, but I believe that it bears repeating…
What does all of this mean?
It is hard to say.  We have imperfect information, so it is difficult to come up with perfect conclusions.
But what I will say is that I believe that the second half of 2015 is going to be extremely significant.  I believe that events are about to start accelerating greatly, and I believe that life in America is about to change dramatically.
~~~~~~~~~~~~~~~~~~~~~~~~~~~~~~~~~~~~~~~~~~~~~~~~~~~~~~~~~~~~~~~~~~~~
Addendum
September 2015 — A Month To Remember
9.10 — International Day of Prayer
9.11 — 14th anniversary of September 11, 2001
9.12 — Israel Orthodox Rabbi Chaim Kanievsky states the Messiah will return
9.12 — Madonna starts U.S. leg of Rebel Heart Tour in Washington D.C.
9.13 — Shemitah Year Ends on Elul 29
9.13 — Full Solar Eclipse
9.13 — Feast of Trumpets & Rosh Hashanah
9.14 — Hebrew Year 5776 begins, 1st day of Wall Street trading after end of Shemitah year
9.15 — UN Resolution for Palestine Statehood
9.15 — JADE HELM 15 ends
9.17 — Constitution Day
9.21 — UN International Day of Peace
9.21 — Hajj (Islamic pilgrimage to Mecca)
9.22 — Day of Arafat
9.23 — Yom Kippur
9.23 — Muslim holiday of Eid al-Adha aka Feast of the Sacrifice
9.23 — Declared "International Year of Light" by UN General Assembly
9.24 — Pope addresses U.S. Congress, first time ever
9.23 — 70th Biblical Shemitah Jubilee begins, Super Shemitah commences
9.25 — Pope addresses UN General Assembly of World Leaders
9.25 — Pope holds Mass at Madison Square Garden
9.25 — French Foreign minister predicting 500 days to avoid climate chaos comes due
9.25 — United Nations launches the "2030 Agenda"
9.26 — Pope visits Church of Philadelphia for the 2015 World Meeting of Families
9.27 — Feast of Tabernacles & Jewish Holiday of Sukot
9.28 — Lunar Eclipse & 4th Blood Moon of 2-year Tetrad
9.?? — Chinese President Xi Jinping to visit US in September
References
Pivotal Time Window For September's Super Shemitah: 9/13/15 thru 9/23/15
Who Is Engineering September's Economic And Financial Global Meltdown?
SUPER SHEMITAH Begins In Earnest With Stock Market Crash
September's Super Shemitah & The Crash Of The Millennium
SEPTEMBER, 2015: The 'BIGGEST' Month Of The Millennium
SUPER SHEMITAH: The Day Of Reckoning Comes To America
Holy SHEMITAH! The USA Has Become An Obamanation
Modern-Day Prophet Issues Stern Warning To America's Leadership
The 2015/2016 Shemitah Jubilee And The End Of The Modern Era
SEPTEMBER 14, 2015 thru October 2, 2016: The Shemitah Jubilee Promises To Be An Historic Year Of Global Transformation
The Biblical Shemitah has already begun: 2015 is the year of JUDGEMENT
2015: The Great Tribulation Of The 3rd Millennium Foreshadowed By The Shemitah Jubilee
The Shemitah Unraveled: What 2015-2016 Could Bring
Internet On Fire With 'September 2015 Collapse' Narrative
The Seven Year Cycle Of Economic Crashes That Everyone Is Talking About
2015 AND 2016 COLLAPSE TIMELINE
The Great Global Debt Default Of 2015
Global Economic And Financial System On The Verge Of Total Collapse
The Russian Media Is Talking About What Is Coming In September, But The U.S. Media Has Been Strangely Silent
Bad Moon rising: Americans bracing for September shocker
Stage Being Set For 2015 Global Financial Crash
Evidence Stacking Up Fast, Points To A Market Crash In 2015
The Crash of 2015: Now Arriving at Gates 3,7,12,19….
Doomsday clock for global market crash strikes one minute to midnight as central banks lose control
RUSSIAN MEDIA: U.S. 'ECONOMIC APOCALYPSE' IN SEPTEMBER
The Big List Of 33 Things That Are Going To Happen In September 2015
The Super Shemitah, Mayan Calendar and Kali Yuga Converge in 2015/2016
What happens if the Shemitah predictions don't occur in September?
'Shemitah' Finally Goes Supernova: 1 out of 10 Google Searches
What happens if the Shemitah predictions don't occur in September?