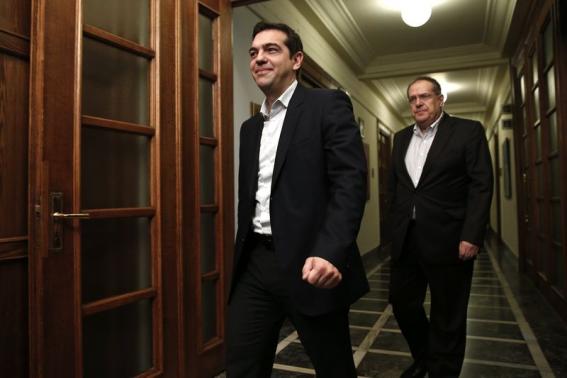 Greek PM Tsipras freezes privatisations, markets tumble
By Lefteris Papadimas and Renee Maltezou
REUTERS
ATHENS (Reuters) – Leftist Greek Prime Minister Alexis Tsipras threw down an open challenge to international creditors on Wednesday by halting privatisation plans agreed under the country's bailout deal, prompting a third day of heavy losses on financial markets.
A swift series of announcements signalled the newly installed government would stand by its anti-austerity pledges, setting it on a collision course with European partners, led by Germany, which has said it will not renegotiate the aid package needed to help Greece pay its huge debts.
Tsipras, who was congratulated by U.S. President Barack Obama in a phone call for his decisive election victory on Sunday, told the first meeting of his cabinet members that they could not afford to disappoint voters battered by a plunge in living standards under austerity.
After announcing a halt to the privatisation of the port of Piraeus on Tuesday, for which China's Cosco Group [COSCO.UL] and four others had been short-listed, the government indicated it would put the whole programme on hold.
It said it would stop the sale of stakes in the Public Power Corporation of Greece , Greece's biggest utility, and refiner Hellenic Petroleum , and put other planned asset sales of motorways, airports and the power grid on ice.
The government also plans to reinstate public sector employees judged to have been laid off unfairly, including a group of finance ministry cleaners whose case attracted publicity last year, and announced rises in pensions for retired people on low incomes.
Uncertainty over the new government's relations with the European Union went beyond economic policy. A day before the EU is expected to extend sanctions against Russia for six months, Greece's energy minister said the country was against sanctions. Athens had already dissented over a joint statement from the bloc on Ukraine on Tuesday.
Tsipras, who met Russia's ambassador to Athens on Monday and the Chinese envoy the next day, told ministers that the government would not seek "a mutually destructive clash" with creditors. But he warned that Greece would not back down from demanding a renegotiation of debt.
"We are coming in to radically change the way that policies and administration are conducted in this country," he said.
Financial markets have taken fright. Greek bank stocks <.FTATBNK> plummeted more than 26 percent on Wednesday, taking their cumulative losses since the election to over 40 percent.
The overall Athens stock market fell over 9 percent <.ATG>, while Greek five-year government bond yields hit around 13.5 percent. This marked their highest level since a 2012 restructuring which wrote off a large proportion of Greek debt held by private investors.
Reflecting the concern, Standard and Poor's cut its outlook on Greek sovereign debt to negative from stable.
Deputy Prime Minister Yannis Dragasakis sought to reassure markets, saying private investors would be taken into account when the administration implements actions, but the business world remained sceptical.
"You've got a government that's anti-privatisations, so I think all privatisations will be put on hold," said one industry banker, who spoke on condition of anonymity. "The reality is, if you're a new owner, do you want to have a government who doesn't like you? Best to move on to the next thing."
NOT EASY
Newly appointed Finance Minister Yanis Varoufakis, who on Friday meets Jeroen Dijsselbloem, head of the euro zone finance ministers' group, said negotiations would not be easy but he expected the sides would find common ground.
"There won't be a duel between Greece and Europe," he said, at his first meeting with reporters since taking office.
Varoufakis said he would meet the finance ministers of France and Italy — both countries which have pressed for a change of course in Europe from rigid budget orthodoxy — in the coming days.
France has ruled out a straight cancellation of Greece's debt, about 80 percent of which is held by other euro zone governments and multinational organisations such as the IMF. However, Paris has said it would be open to talks on making Greece's debt burden more sustainable and Tsipras is expected to meet President Francois Hollande before an EU summit on Feb. 12.
The response from Germany was frosty. Economy Minister Sigmar Gabriel said Athens should have discussed the halt to privatisations with its partners before making an announcement.
"Citizens of other euro states have a right to see that the deals linked to their acts of solidarity are upheld," he said, adding that it would be the "wrong solution" for Greece to quit the euro but it was up to Athens to decide.
Fears that talks between the new government and its creditors will break down, with unforeseeable consequences for Greece's future in Europe, fuelled a third successive day of turmoil on the markets.
However despite the air of crisis, some observers thought a deal was possible that could satisfy both Athens and Berlin. A French diplomatic source said he expected that the Feb. 28 deadline with European lenders would probably be extended.
"It's not decided yet because there needs to be an agreement and the Germans and the Finns must go back to their parliament, but we will probably extend the expiration date of the programme," the source said.
Tsipras said the government would pursue balanced budgets but would not seek to build up "unrealistic surpluses" to service Greece's massive public debt of more than 175 percent of gross domestic product.
Priorities would be helping the weakest sections of society, with policies to attack cronyism and corruption, reduce waste and cut Greece's record unemployment.
(Additional reporting by George Georgiopoulos and Angeliki Koutantou in Athens, Sinead Cruise and Freya Berry in London, Jeff Mason in Washington; Writing by James Mackenzie; Eiting by Anna Willard, David Stamp and Mark Heinrich)