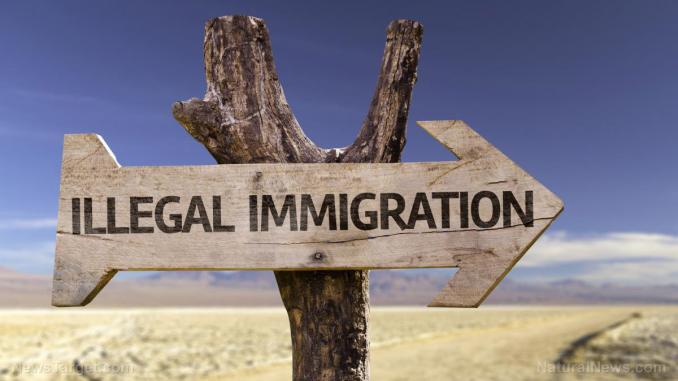 America: The best place in the world to be an illegal alien!
SO LONG ARIZONA…Hello California
Submitted by GodsAngell
Illegal immigrants are boycotting Arizona by the thousands, showing their outrage with Arizona 's controversial new SB-1070 law by moving elsewhere.
In the small town of Guadalupe , AZ, south of Phoenix , Manuel Renaldo is one of those who is punishing Arizona by leaving. As he loaded his car with his belongings and family of 14, Renaldo told this reporter through an interpreter "It's a matter of principle; I refuse to be supported by a state that treats me like a criminal!"
The Effects of the exodus are being felt by Arizona retailers, who are reporting dwindling sales of beer, spray paint, and ammunition. Also hit hard are the state's hospitals, which have reported a dramatic decline in births and emergency room visits. Tattoo parlors are in a state of panic.
Renaldo told a reporter through an interpreter that he and his family are moving to California, a state that will support him and his family with dignity!
LET'S SEE IF I GOT THIS CORRECT:
——————————————————————-
IF YOU CROSS THE NORTH KOREAN BORDER
ILLEGALLY YOU GET 12 YEARS HARD LABOR.
IF YOU CROSS THE IRANIAN BORDER
ILLEGALLY YOU ARE DETAINED INDEFINITELY. 
IF YOU CROSS THE AFGHAN BORDER
ILLEGALLY, YOU GET SHOT. 
IF YOU CROSS THE SAUDI ARABIAN BORDER
ILLEGALLY YOU WILL BE JAILED. 
IF YOU CROSS THE CHINESE BORDER
ILLEGALLY YOU MAY NEVER BE HEARD FROM AGAIN. 
IF YOU CROSS THE VENEZUELAN BORDER ILLEGALLY YOU
WILL BE BRANDED A SPY AND YOUR FATE WILL BE SEALED.
IF YOU CROSS THE CUBAN BORDER ILLEGALLY
YOU WILL BE THROWN INTO POLITICAL PRISON TO ROT. 
---

IF YOU CROSS THE U.S. BORDER ILLEGALLY YOU GET:
A JOB,
A DRIVERS LICENSE,
SOCIAL SECURITY CARD, 
 WELFARE,
FOOD STAMPS,
CREDIT CARDS,
SUBSIDIZED RENT OR A LOAN TO BUY A HOUSE, 
FREE EDUCATION,
 FREE HEALTH CARE,
Plus you get
A LOBBYIST IN WASHINGTON …
BILLIONS OF DOLLARS WORTH OF PUBLIC DOCUMENTS PRINTED
IN YOUR LANGUAGE …
THE RIGHT TO CARRY YOUR COUNTRY'S FLAG WHILE YOU
PROTEST THAT YOU DON'T GET ENOUGH RESPECT …
AND, IN MANY INSTANCES, NOW YOU CAN VOTE.
---
I JUST WANTED TO MAKE SURE I HAD A FIRM GRASP ON THE "SITUATION"!
PLEASE KEEP THIS GOING……FORWARD TO ALL OF YOUR FRIENDS & FAMILY
IT'S TIME TO WAKE UP, AMERICA.