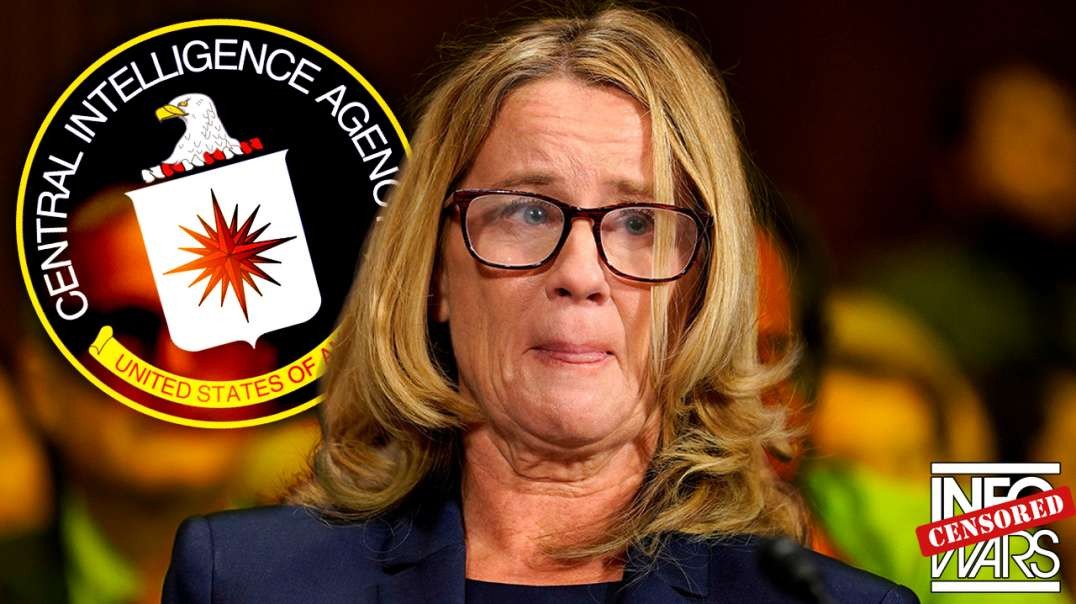 C.I.A. Signatures All Over The Kavanaugh Character Assassination Plot
HIGH CRIMES COMMITTED BY THE CIA AGAINST ITS OWN GOVERNMENT
ABLEDANGER.org
By http://82.221.129.208/.yc7.html
RUMOR: PEOPLE ARE SO PISSED AT FORD'S FAKERY THAT 8 DEMS FLIPPED. RUMOR: VOTE TO HAPPEN ON SCHEDULE TOMORROW.
RUMOR: THIS JUST IN: KAVANAUGH VOTE TOMORROW, ON SCHEDULE.
Nothing to corroborate it except comments on social media referring to a Reuters report I can't find.
My hope: The s*** show was allowed to happen to let Americans know what neurotic traitors some of these senators are, especially on the dem side before mid terms.
TRUMP TWEET: Judge Kavanaugh showed America exactly why I nominated him. His testimony was powerful, honest, and riveting. Democrats' search and destroy strategy is disgraceful and this process has been a total sham and effort to delay, obstruct, and resist. The Senate must vote!
Bumped to the top because this is why my processor got attacked, "they" did not want this re-posted here:
PROBABLE STONE COLD FACT FROM MICHAEL SAVAGE: BLASEY FORD IS AN SCI LEVEL CLEARED CIA ASSET THAT JUST SCAMMED CONGRESS ON A COMPLETELY HUSHED CLASSIFIED MISSION. SHE IS THE HEAD OF THE CIA INTERNSHIP PROGRAM AT STANFORD UNIVERSITY. No wonder why they scrubbed her history clean!
Blasey Ford has an SCI security clearance, works for the CIA and is the head of the CIA internship program at Stanford University. This was reported by Michael Savage. If that be the case, the CIA is still working to undermine Trump, and it is time to disband the entire agency. Ford would be an absolute high crime committed by the CIA against its own host government.
I HAVE HIT MICHAEL'S SITE AND IT LOOKS TOTALLY LEGIT. HOLLLLLYYY S***********************************!!!!!!!!!!!!!!!!!!!
This is MILES beyond watergate!!! A high ranking CIA worker – Blasey Ford, with an SCI security clearance just ran a scam in the heart of Congress!!!
It appears Savage did not botch this, and that the CIA really did just run a coup against a supreme court justice. TIME TO SHITCAN THE ENTIRE AGENCY, this is not a forgivable offense.
SEE THIS.
________
---
Source: Michael Savage
IS DR FORD DEEPLY TIED TO CIA?
WHO IS DR BLASEY FORD?
WELL, BESIDES BEING A "PROFESSOR" AT THE OFF BRAND UNIVERSITY, SHE ALSO WORKS AT A MAJOR UNIVERSITY DOWN THE STREET FROM PALO ALTO. SHE JUST SO HAPPENS TO HEAD UP THE CIA UNDERGRADUATE INTERNSHIP PROGRAM AT STANFORD UNIVERSITY.
CHRISTINE BLASEY'S BROTHER, RALPH THE THIRD, USED TO WORK FOR THE INTERNATIONAL LAW FIRM OF BAKER, HOSTETLER. THE FIRM CREATED FUSION GPS, THE COMPANY WHO WROTE THE RUSSIAN "DOSSIER". THEY LATER ADMITTED IT WAS ONLY A COLLECTION OF FIELD INTERVIEWS.
BAKER HOSTETLER IS LOCATED IN THE SAME BUILDING WHERE THE CIA OPERATES THREE COMPANIES CALLED:
RED COATS INC.
ADMIRAL SECURITY SERVICES AND
DATAWATCH
THEY ARE OPERATED BY RALPH BLASEY II. HE IS THE FATHER OF CHRISTINE AND RALPH III.
CHRISTINE AND RALPH III'S GRANDFATHER WAS NICHOLAS DEAK. FORMER CIA DIRECTOR WILLIAM CASEY ACKNOWLEDGED DEAK'S DECADES OF SERVICE TO THE CIA.
http://twitter.com/ASavageNation/status/1045516817622491139?ref_src=twsrc%5Etfw%7Ctwcamp%5Etweetembed%7Ctwterm%5E1045516817622491139&ref_url=http%3A%2F%2Fwww.abeldanger.org%2Fhigh-crimes-committed-by-the-cia-against-its-own-government%2F
________
First up, a "leaked" letter:
Who leaked Christine Blasey Ford's Kavanaugh letter?

---
But then you see, the letter turns out to be fake. How's that for CIA clandestine activities? Don't you see, a "leaked" letter gives the CIA asset at Stanford "credibility." Oh shucks, cover blown.
BOMBSHELL: Christine Blasey Ford's letter to Sen. Dianne Feinstein revealed to be a total FAKE… contains 14 glaring errors that could only be committed by a poorly educated writer
---
Now that Ford's cover is blown, let's find out who she is in a little more detail.
GROUNDSHAKING!! Christine Blasey Ford's Deep Ties To The CIA Uncovered
---
Since nobody does anything for free, nothing like a little money to get motivated, and what better platform than GoFundMe. Yes, Christine needs the love and support since she "has nothing to gain", never mind that Brett Kavanaugh's reputation has been cynically smeared for political gain. Is the CIA production company manipulating these events in a society of victims? The culture of victimization has been engineered by the CIA's technique of divide-and-conquer for a very long time. What better way to showcase this further division than at these supreme court hearings. Watch the next staged mass shooting in America be perpetrated by a woman or derivative thereof, maybe a transgendered male.
Please it's all about money and power for Democrats pic.twitter.com/UeHS4R1BxD

— Trooper212 (@trooper2121) September 27, 2018
Alright then, now that everyone has a little background on the CIA asset Ford, let's take a good look at her body language. Imagine your own son or daughter is studying at Stanford and this woman is vetting them for potential CIA recruitment material?
---
Body Language: Brett Kavanaugh Hearing Christine Blasey Ford

---
Let's listen to Dianne Feinstein at the hearing. The floor is yours Dianne, and oh yes, about the Ford letter, can you elaborate please now that we know the letter is fake, just like these hearings and accusations against Brett Kavanaugh are fake?
Kavanaugh to Feinstein: 'I wanted a hearing the next day'

Word for Word: Sen. Schumer Calls for Postponement of Kavanaugh Confirmation (C-SPAN)

Lindsey Graham erupts: Kavanaugh hearing an unethical sham

Christine Ford Has CIA Connections, 2396

---
Now onto the money, because that's where it's at. Lots of money. Well, you didn't think she would turn this trick without a price, did you? This is Ford's payoff. So, if you go to the clip above outlining Ford's body language, the first indications are Ford is acting, and she is not very good at it either. Do Ford's CIA bosses expect to receive a "best producer" Oscar for her hammy acting in this media circus?
Christine Blasey Ford's GoFundMe Page Soars Past $500,00
---
Unfortunately, there is more, much more:
RECORDS SHOW DR. FORD IS NOT A LICENSED PSYCHOLOGIST, MAY HAVE COMMITTED PERJURY
Christine Blasey Ford and her Family's Long and Deep Relationship with the C.I.A.
BOMBSHELLS are still falling from yesterday's Senate hearing, Some of the unprecedented revelations were downright radioactive
American shame: US has nothing to teach the world about justice or politics after Kavanaugh farce
Dianne Feinstein Recommended Attorneys To Christine Blasey Ford
CIA Honeytrap set – Kavanaugh accuser CIA ties
Breaking Christine Blasey Ford Is a C. I. A. Asset Heading Up Internship Program At Stanford University. Michael Savage Breaks The News
___
http://www.abeldanger.org/high-crimes-committed-by-the-cia-against-its-own-government/