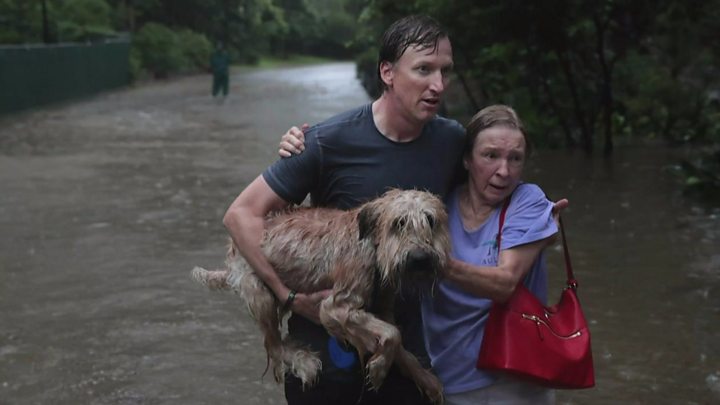 Houston floods: Harvey rains to worsen Texas city's plight
BBC
Floodwaters are expected to rise still further in the inundated Texan city of Houston, where more than 30,000 people have been forced from their homes in the wake of Hurricane Harvey.
Historically heavy rains have fallen for three days and the downpour is forecast to continue.
Harvey, downgraded to a tropical storm, is now beginning to affect Louisiana.
There, New Orleans – devastated by Hurricane Katrina in 2005 – is preparing for flooding.
Mayor Mitch Landrieu is urging residents to "stay home" and "stay off the streets".
In Houston, forecasts suggest that some areas in and around the city could see up to 12in (30cm) of rain on Tuesday, bringing the total rainfall from Harvey to about 50in.
At least nine people are reported to have died in the Houston area. Six members of the same family died trying to flee rising floodwaters, relatives told US media.
The city's police chief has said he is worried about how many bodies will be found when the floods abate.
The city – the fourth largest city in the US – did not order an evacuation amid concerns about 2.3 million fleeing residents leading to chaos and deaths on the roads, with the possibility of floodwaters trapping people in their vehicles.
Thousands of people are reported to have been rescued by the authorities. Many have been spending the night at a huge shelter in central Houston.
Rescuers are trying to reach stranded people while the governor of Texas has approved the deployment of all 12,000 members of the state's National Guard to assist.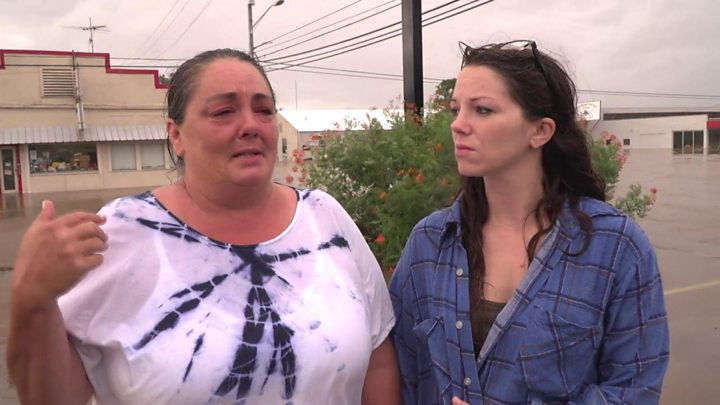 The National Weather Service has urged people to stay put if they are in a safe location, warning that the "catastrophic" flooding is ongoing.
The flooding has been exacerbated by emergency releases of water from two reservoirs upstream of the city. The decision appears to have been made to sacrifice suburban homes to save central Houston.
US President Donald Trump will visit Texas – and possibly Louisiana – on Tuesday after declaring a federal state of emergency in both states, a move that triggers the release of emergency government funding and other assistance.
He has warned that Texas faces a "long and difficult road" to recovery, adding: "There's probably never been anything like this".
---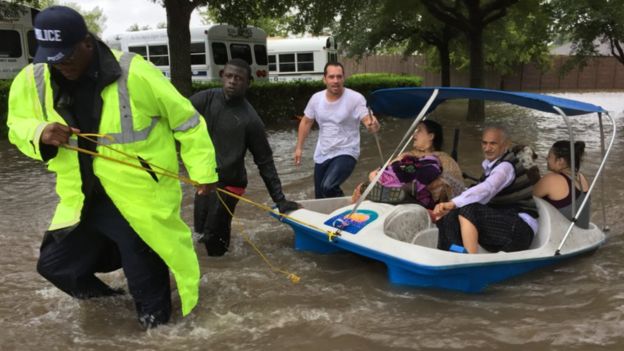 Makeshift armada
By James Cook, BBC North America correspondent, Houston
All day in the suburbs to the west of Houston, hundreds of families waded cautiously along a road they usually take to the shops, to school and to work.
It was an exhausting journey of well over a mile in waist-high flooding.
All night, as water lapped into their homes, people had been calling for help, they said, but no-one came.
Eventually a lone police officer arrived but by then people had taken matters into their own hands, forming a makeshift armada of little boats, jet skis, blow-up mattresses and even rubber rings.
All day long they streamed out in the teeming rain.
Occasionally someone would collapse and have to be helped up. Some children cried but most sat in shocked, soaking silence as they bobbed along on their inflatable rafts, teeth chattering in the cold.
Wading through the water, Anthony Rogers, 54, summed up the mood. The authorities, he said, had been "useless".
---
Harvey was the most powerful hurricane to hit Texas in more than 50 years when it made landfall on Friday near Corpus Christi, 220 miles (354km) south-west of Houston.
The slow-moving storm – currently positioned over the Gulf of Mexico – will continue to dump huge amounts of rain in the coming days over already flood-hit areas.
"Additional heavy rainfall overnight is expected to worsen the flood situation in south-eastern Texas and south-western Louisiana," the National Hurricane Center said.
The Texas Gulf Coast is a key centre of the US oil industry, and some of the largest refineries in the country have halted operations.
Estimates suggest the flooding could destroy up to $20bn in insured property, making it one of the costliest storms in US history.