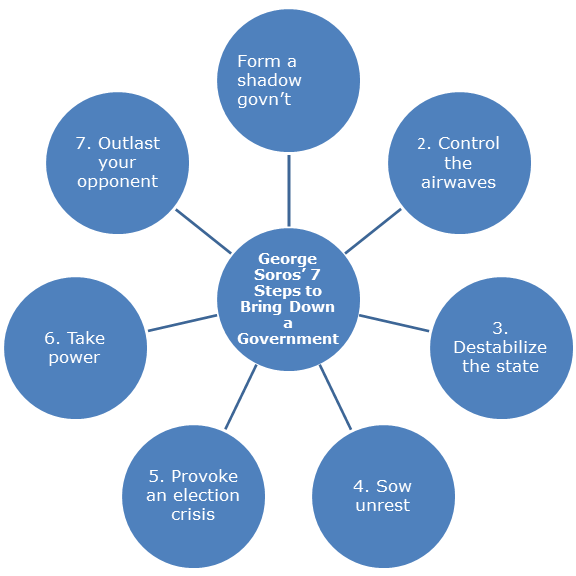 Here's How George Soros Does Regime Change
Soros's Seven Steps to Bring Down a Government
By the Anonymous Patriots
The Millennium Report Exclusive
Let's look at Soros's own words from his books and articles that describe his tried and true system for taking down a country – or "regime change" as he calls it. (See our article on Soros' Seven Steps for more information.)
Step One: Form a shadow government using humanitarian aid as cover.

Step Two: Control the airwaves. Fund existing radio and TV outlets and take control over them or start your own outlets.

Step Three: Destabilize the state, weaken the government and build an anti-government kind of feeling in the country. You exploit an economic crisis or take advantage of an existing crisis — pressure from the top and the bottom. This will allow you to weaken the government and build anti-government public sentiment.

Step Four: Sow unrest.

Step Five: Provoke an election crisis. You wait for an election and during the election, you cry voter fraud.

Step Six: Take power. You stage massive demonstrations, civil disobedience, sit-ins, general strikes and you encourage activism. You promote voter fraud and tell followers what to do through your radio and television stations. Incitement and violence are conducted at this stage.

Step Seven: Outlast your opponent.
___
https://themillenniumreport.com/2017/03/how-america-was-being-systematically-overthrown-in-12-steps-until-trump/