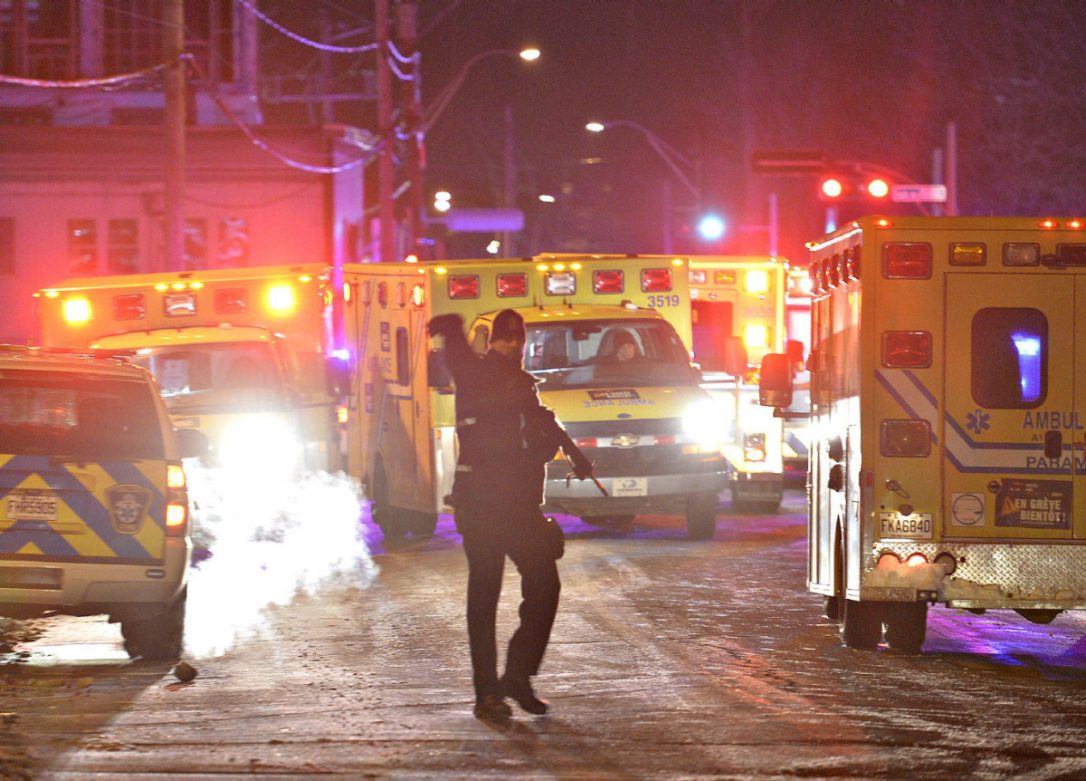 Who was the Quebec mass shooting terrorist(s) really working for?
QUEBEC MOSQUE SHOOTING A DEVASTATING BLOW TO LEFTIST NARRATIVE
Leftist media rushes to judgement while lacking details
This article has been updated to reflect new revelations of the shooting. So far only one suspect has been charged who reportedly yelled 'Allahu Akbar' during the attack. The media is now claiming the Moroccan is not a suspect.A rush to judgement by leftists has exponentially increased the damage to their pro-chaos agenda after the Quebec mosque shooting. Knee-jerk reactions throughout the government-media complex and its loyal subjects were to immediately blame U.S. President Donald Trump and the fake #MuslimBan, white nationalists, Islamophobia, racists, etc. before details of the Canadian shooting emerged.

"One of two gunmen who shouted 'Allahu akbar!' as they opened fire at a mosque in Quebec City was of Moroccan origin, a witness and local media reported Monday, revealing the first details about the attackers in the massacre that killed six men," reports Fox News, which strangely enough was later refuted by the media who now claims the Moroccan is not a suspect.

The media is focusing on one known reported suspect, Alexandre Bissonnette, who apparently liked Donald Trump on Facebook, but he also liked the Feminist Movement of Laval University.
Too early to know if #Quebec mosque shooting was perpetrated by right-wing extremists. If it was, then this is result of Trump rhetoric.

— Conor McCormick (@ConorMichael28) January 30, 2017
Just a quick compilation of the LYING LEGACY MEDIA in an insensitive effott to politicize the #QuebecShooting tragedy on the #TrumpBanpic.twitter.com/D5KTT5cSgV

— Magnificent Bastard (@Malcolm_fleX48) January 30, 2017
The Daily Beast took the unbridled pursuit of fake news furthest, citing information from a clearly-identified Reuters parody account on Twitter –
"Police said two suspects were in custody after the attack. They were identified as white supremacists David M.J. Aurine and Mathieu Fournier, according to Reuters," reported the Beast.
It is easy for a parody like @ReutersBrk to trap left wing activist 'pro' journalists because they all want to believe this is true. pic.twitter.com/IMF3vUEAHd

— BanTheBBC (@BanTheBBC) January 30, 2017
The parody account has since been punished by Twitter.
So @Safety suspended the parody Reuter's account already, @ReutersBrk, but leaves the Trump assassination threat accounts alone. #Shameful.

— Mark Dice (@MarkDice) January 30, 2017
"There have been several incorrect reports related to this," reported Empty Lighthouse. "The Daily Beast has named two people who are not related to the shooting."
"Another apparent hoax going around Twitter and Reddit names two people who were claimed to have shown up on a police scanner.
The Huffington Post reported –
"This is the result of Trump," says a bystander in Arabic. "U.S. President Donald Trump signed an executive order on Friday that banned citizens of seven predominantly Muslim countries from travelling to the U.S. for 120 days, and blocked the entry of Syrian refugees to the country. The ban is part of fulfilling a Trump promise during his presidential campaign that was filled with anti-Muslim rhetoric."
Canadian Prime Minister Justin Trudeau immediately released a statement glorifying multiculturalism, defending the honor of Muslim-Canadians, and declaring, "Diversity is our strength."
Mere hours before the mosque shooting, Trudeau reaffirmed his commitment to flooding Canada with Third World 'refugees,' as President Trump signed executive orders to temporarily end their flow into the United States due to security concerns.
To those fleeing persecution, terror & war, Canadians will welcome you, regardless of your faith. Diversity is our strength #WelcomeToCanada

— Justin Trudeau (@JustinTrudeau) January 28, 2017
New York City Mayor Bill de Blasio virtue signaled to Muslims in Tweets of his own –
To my fellow New Yorkers who are Muslim: New York City will protect you. The NYPD will protect you. We will fight all hatred and bias.

— Bill de Blasio (@NYCMayor) January 30, 2017
___
http://www.infowars.com/quebec-mosque-shooting-a-devastating-blow-to-leftist-narrative/