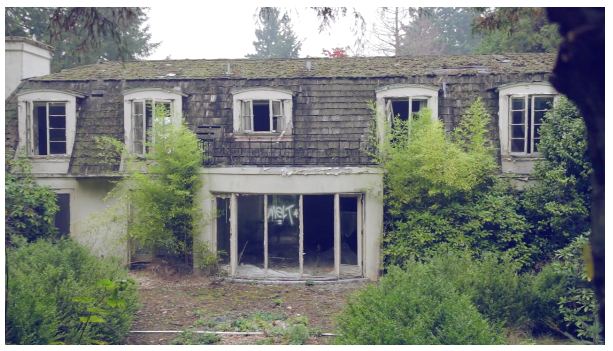 A Drone Flies Through A Rotting, Abandoned $17.5 Million Vancouver Mansion; This Is What It Saw
ZeroHedge.com
Over the past several months we have repeatedly noted a recurring peculiarity of the Vancouver housing bubble: there are numerous multi-million dollar mansions, which rot, abandoned, their owners having long ago disappeared.
Two months ago, we first postulated the hypothetical timeline that starts with the purchase of a Vancouver mansion
Chinese investors smuggled out millions in embezzled cash, hot money or perfectly legal funds, bypassing the $50,000/year limit in legal capital outflows.
They make "all cash" purchases, usually sight unseen, using third parties intermediaries to preserve their anonymity, or directly in perso, in cities like Vancouver, New York, London or San Francisco.
The house becomes a new "Swiss bank account", providing the promise of an anonymous store of value and retaining the cash equivalent value of the original capital outflow.
Then the owners disappear, never to be heard from or seen again.
Then we showed a dramatic example of the last step just yesterday in our post laying out the "Curious Story Of The Chinese Tycoon Found "Chopped Up Into 100 Pieces" In A Vancouver Mansion."
But while the mysterious past of Vancouver's abandoned mansions may be increasingly more transparent, their "present" is just is perplexing: after all, they are still the legal possession of someone – even if that someone is a dismembered Chinese tycoon long dead – and as such they may remain a neighborhood blight for a long time.
Another mystery: what is contained inside?
For at least one answer to that question, we go to Corbie Fieldwalker, a 40 year old Vancouver resident who last July stumbled upon a house left to rot in Point Grey, a neighborhood that's home to some of North America's priciest real estate and coveted for its ocean, mountain and city views.
Quoted by the National Post, Fieldwaker, said that "we started thinking about the last few years of media coverage surrounding real estate, community and Vancouver's rapidly changing identity, and how these properties could be used to frame those issue in an emotionally engaging way that may be lacking in the current conversation."
The solution was obvious. Make films.
And so for the past nine months, Fieldwalker has been entering abandoned multimillion-dollar properties equipped with a DSLR camera and drone, shooting them from every angle he can before they're gone forever.
So far, he's filmed five properties in Point Grey and a few in the south Cambie area. Many of them sit behind blue fences, the telltale sign a backhoe is on its way.
Fieldwalker said accessing the properties is simple: "We just go up to them and shoot."
In the following film posted to Fieldwalker's Vimeo page, the viewer is brought inside a 3,430 square-foot Point Grey teardown on Drummond Drive, which last year sold for $17.5 million.
The property's overgrown lawn, mossy shingles, smashed windows and missing doors suggest it's been many years since anyone called it home. It's owner, mostly likely another Chinese tycoon, is long gone.
Inside, the camera pans and dollies slowly over peeling paint, crumbling gypsum and broken glass, up a staircase and down hallways that show no signs of life, save for some graffiti. It would be the perfect set for a horror or post-apocalyptic film.
Fieldwalker said he understands he's trespassing and takes responsibility for it, but believes that because the properties are on unceded Coast Salish territory, they can't truly be owned. Many have sat vacant for five or more years as investment properties. "I've had no friction so far," he said.
Fieldwalker said the films began as a personal project, but he now hopes they might facilitate discussion about architecture, history and how the city is valuated. "There needs to be sort of a change in the value of the community," he said, although it is unclear if the community can stand any further valuationupward.
"Right now, it's about making money – and I understand, because houses are going for a million dollars over offer, and I don't really blame these people – but it's destroying the fabric of the city really quickly, I think."
He doesn't expect his films to change the views of Vancouver residents and the government, but hopes they might preserve memories of the neighbourhoods where they grew up.
"It's more about an archival record that can be referenced as we develop our understanding and appreciation for this stuff" he said.
He will be busy for a while: as the National Post reports, according to city records there were 974 housing-permit demolitions citywide in 2015. 917 were torn down in 2014, 859 in 2013 and 1,008 in 2012.
The fate of the $17.5 million house which Fieldwalker has decided to showcase is not clear at this moment, but at least viewers can now see the inside of one of Vancouver's most expensive, and abandoned, mansions, through the perspective of a drone.