Brexit vote: Bitter exchanges in EU parliament debate
BBC
The European parliament's first debate on the UK's vote to leave has been marked by bitter exchanges.
A central figure in the Leave campaign, UK Independence Party (UKIP) leader Nigel Farage, was booed, called a liar and accused of using "Nazi propaganda".
Mr Farage shot back that the EU itself was "in denial".
UK Prime Minister David Cameron has arrived in Brussels for his first talks with leaders of the other 27 EU states since Thursday's referendum.
"I'll be explaining that Britain will be leaving the European Union but I want that process to be as constructive as possible," he told reporters.
The speaker of the European parliament, Germany's Martin Schulz, told reporters he expected the leaders to tell Mr Cameron they understood his reluctance to begin the formal exit process but also that they could not wait "a long time".
"A continent," he said, should not have to wait "until the Conservative Party has solved its internal problems".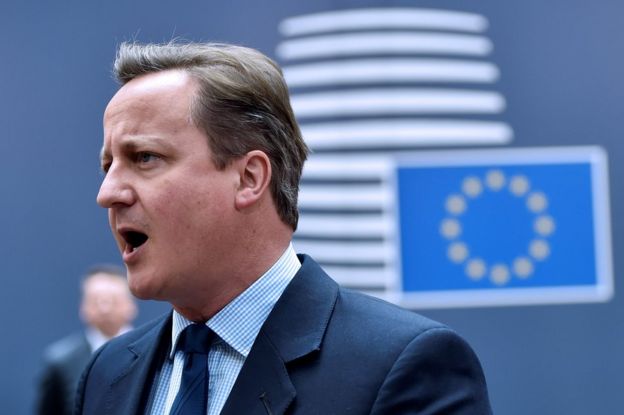 'Why are you here?'
The European Parliament passed a motion urging the UK to start the exit process by triggering Article 50 immediately.
Opening the session in parliament, European Commission President Jean-Claude Juncker said the British government should "clarify" its position.
Mr Juncker said the will of the British people must be respected, prompting shouting and clapping from Mr Farage.
"You were fighting for the exit, the British people voted in favour of the exit – why are you here?" Mr Juncker responded, to applause from others in parliament.
He accused Mr Farage of lying about using the UK's EU contributions to fund the country's National Health Service, saying he had "fabricated reality".
Belgian ex-Prime Minister Guy Verhofstadt, who leads the liberal group in the European parliament, said Mr Farage had used "Nazi propaganda" in the referendum campaign, referring to a poster showing lines of refugees.
"Finally we are going to get rid of the biggest waste in the EU budget, which we have paid for 17 years, your salary!" he told Mr Farage.
---
Jeers, insults and applause, by Bethany Bell, BBC News, Brussels

_
This was a stormy and deeply emotional debate, with accusations and counter-accusations of lying.
Britain's vote to leave the EU has divided and shaken the European Parliament. This is a watershed moment.
Many MEPs expressed sadness at losing the UK. There was a standing ovation for the UK's outgoing Commissioner, Lord Hill.
But there was also a strong sense of defiance, as well as concern for the future. There were calls for unity, for reform, and the need to connect to Europe's citizens.
For the Eurosceptic groups, this was a sweet moment of victory. Something that once appeared almost impossible has become reality.
---
Manfred Weber, chairman of the European People's Party group told Mr Farage: "Stop this populist Brussels bashing."
Hitting back, Mr Farage told parliament that they were "in denial".
He said hardly any of the MEPs had ever done a proper job in their lives, or created one.
"We now offer a beacon of hope to democrats across the European continent," he said. "The UK will not be the last member state to leave the EU."
---
Brexit in Brussels: quotes from Tuesday's debate
"I hope the outcome of the referendum will work as a wake-up call for Europe":Greek Prime Minister Alexis Tsipras
"The fact that fragmentation is no longer unthinkable, should gravely concern us all": Dutch Defence Minister Jeanine Hennis-Plasschaert
"Please, remember this: Scotland did not let you down. Please, I beg you, do not let Scotland down now": Scottish MEP Alyn Smith
"Those who said: It's all irreversible, the European Union is irreversible, well, the British people have told you where to get off.": French National Front leader and MEP Marine Le Pen
"The European Union cannot become a hostage to the internal party politics of the [British] Conservatives": Italian MEP Gianni Pittella
"Only triggering Article 50 immediately can stop this – 27 member states should not wait for a disorientated Tory party to get its act together": Belgian MEP, and leader of EU Liberal group Guy Verhofstadt
"We in the North of Ireland are not bound by the UK vote… The last thing the people of Northern Ireland need is a new border with 27 member states": UK MEP Martina Anderson (Sinn Fein)
---
Meanwhile in a speech to the German parliament, Chancellor Angela Merkel said the EU was strong enough to survive without the UK.
She said she respected the result and warned the bloc would not tolerate British "cherry-picking" when it came to negotiations.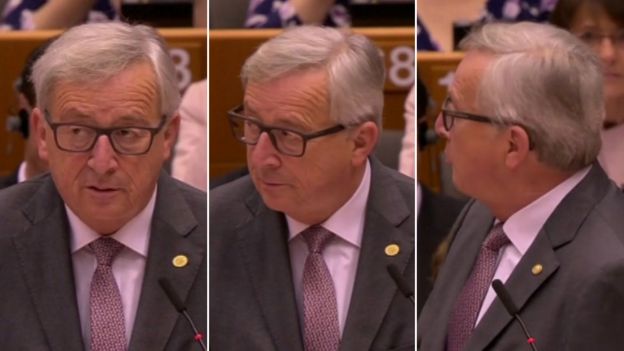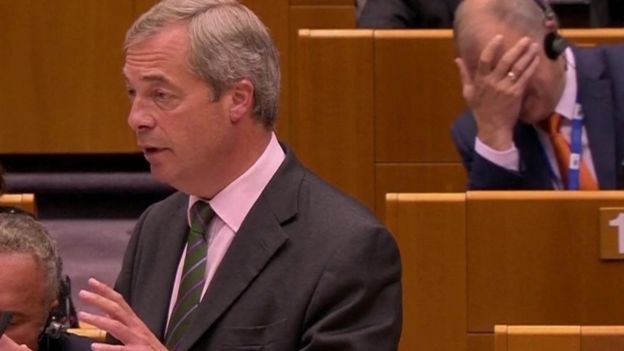 _
"There must be and will be a noticeable difference between whether a country wants to be a member of the European Union family or not," she said.
The remarks are Mrs Merkel's toughest words yet, with concerns in the German government that other EU members could follow Britain's move, the BBC's Berlin correspondent Jenny Hill says.