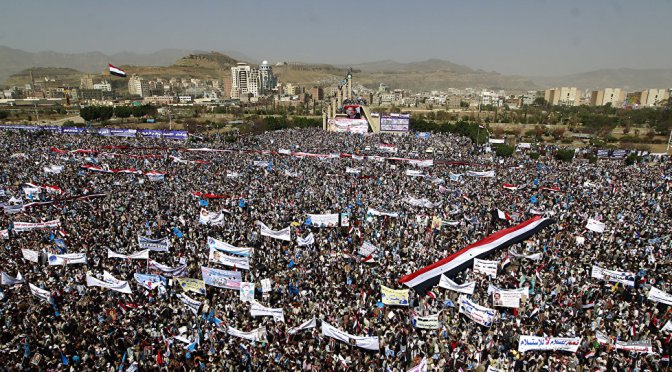 CLOSE TO MILLION YEMENIS PROTEST SAUDI TERROR
geopolitics.co
This did not make it to the mainstream media, but close to a million of Yemenis came out to protest Saudi Arabia's terror attacks more than a yearlong attack on Yemeni civilians, with the unqualified military arms support of the West.
On March 26, tens thousands of Yemenis marched through the country's capital, in a show of resolve despite a Saudi-led invasion which began a year earlier, a member of the Yemen General People's Congress Abdel-Malek al-Fuhaidy told Sputnik Arabic.
The General People's Congress is Yemen's ruling party, which supported the Ansar Allah (Houthi) movement after it ousted Yemen's president in 2015. The March 26 rally was the largest in Yemen in years, even outpacing ones which led to the ouster of former president Ali Abdullah Saleh.
"I believe that Sanaa confirms the fact that despite all the devastation and death in Yemen, Saudi Arabia will never kill the will of the Yemenis, their strength and determination, their dignity and right to defend their homeland. The bottom line regarding the year of aggression: Saudi Arabia failed in its war against the people of Yemen," al-Fuhaidy told Sputnik Arabic.
Although the Saudi-led bombing and ground operations led to a large number of displaced people and the spread of hunger, the people of Sanaa still rejected the return of Abed-Rabbuh Mansour Hadi, Yemen's ousted president, who fled to Saudi Arabia, al-Fuhaidy added.
"Wherever Abed-Rabbuh was, hiding in one of Riyadh's hotel rooms, he can't do a single thing about it; he can't come back to his country; he is unwelcome. Nobody stands with him; he doesn't have any legitimacy or whatsoever. This page of history is folded for good. Moreover, if there are any peace talks or solutions in the future, he will definitely not take a part in them," al-Fuhaidy told Sputnik Arabic.
According to UNICEF, the Saudi bombing campaign has been responsible for twice as many civilian casualties as all of the other forces involved in the war in Yemen combined. The Kingdom of Saudi Arabia enjoys the military backing of the United States.
http://sputniknews.com/middleeast/20160330/1037197695/yemen-saudi-intervention-protest.html
Saudi Arabia's war crimes against Yemeni civilians has been largely eclipse by Daesh misadventures in Syria, but not that the Syrian WWW3 theater is closing, the world will now be exposed to the use of prohibited, e.g.  cluster bombs, that the US and UK supplied.
Britain is at war with Yemen. So why does nobody know about it?
Owen Jones
The Committee on Arms Export Controls (CAEC) reconvened for the first time in almost two years on Wednesday in response to the chorus of international condemnation against Britain forsupplying Saudi Arabia with arms that are being used to target civilians, an international humanitarian crime. CAEC heard evidence from Saferworld, Amnesty, Human Rights Watch(HRW) and Oxfam, who have published documentary evidence on individual cases of the Royal Saudi Air Force bombing Yeminihospitals, ports, warehouses, factories, schools, markets and homes.
Their message was clear, unanimous and withering: the UK isbreaking its own laws and fuelling a humanitarian catastrophe by selling arms to Saudi Arabia. British law is also clear: it is illegal to sell arms to a state that is at a "clear risk" of committing international humanitarian crimes. But over the past year alone, Britain has sold around £6bn worth of weapons to Saudi Arabia, whose campaign in Yemen is targeting civilians – 191 such attacks have collectively been reported by the UN, HRW and Amnesty.
Saudi Arabia's intervention has precipitated the world's worst humanitarian and development crisis: 82% of Yemen's population of 24 million people need aid, 60% need food and 10% have fled their homes. Last week Médecins Sans Frontières (MSF) reported that it had received scores of dead and wounded from a Saudi strike on a busy market. MSF has seen three of its facilities targeted in as many months. Weddings have been hit. So too have homes for the blind. A water bottling factory was struck with cruise missiles, killing dozens of workers, whose bodies melted into the machinery. The list goes on.
In his evidence to the CAEC (itself made up of the committees from the departments of international development, business, defence and foreign affairs) David Mepham, the UK director of Human Rights Watch, implied the foreign secretary, Philip Hammond, had lied in his defence of Britain's arms sales to Saudi Arabia when he said last month that Britain has found "no evidence of breaches of international humanitarian law". Mepham said he had personally handed him HRW's documentary evidence, complete with GPS coordinates of Saudi air strikes on schools, hospitals and markets. He added that the government "has had that evidence for months, and therefore it is extraordinary the line can come back that they do not have the evidence, when that evidence has been shared with them for a considerable period of time".
http://www.theguardian.com/commentisfree/2016/mar/25/british-arms-sales-saudi-arabia-immoral-illegal-yemen
___
http://geopolitics.co/2016/03/30/close-to-million-yemenis-protest-saudi-terror/