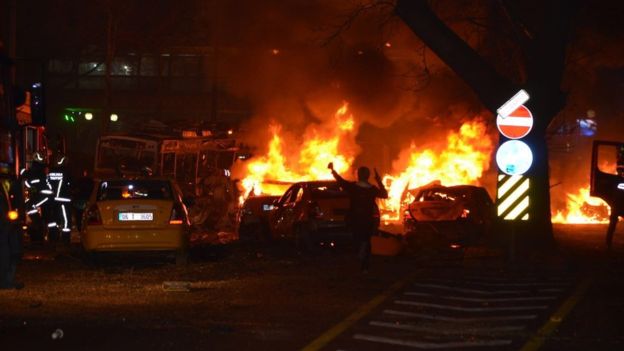 Car bombing rocks Turkish capital Ankara, 34 dead, 125 injured
RT.com
A blast caused by a suicide car bombing hit the center of Ankara on Sunday evening. The explosion resulted in over a hundred casualties.
At least 34 people were killed and 125 injured in the explosion, according to the Turkish health ministry, as cited by Sputnik news agency.
The blast occurred near Guven Park in the city center.
The suicide car bomb went off at 6:43 pm local time (16:43 GMT), Turkish broadcaster TRT said.
Reports that the explosion in #Turkey's #Ankara was a car bomb. Blast site near Guven Park and a major transit hub. pic.twitter.com/fRZni9msiX

— Haidar Sumeri (@IraqiSecurity) March 13, 2016
The site of the blast is close to a courthouse and buildings housing the country's justice and interior ministries.
#Exclusive #Ankara blast , feared casualties reported. pic.twitter.com/vOXZfaEVu6

— Barzan Sadiq (@BarzanSadiq) March 13, 2016
What appears to be CCTV cam footage was posted on YouTube that allegedly shows the moment of the explosion. A couple of buses can be seen in the video, before a passing by car slows down near them and a huge blast is seen.
Turkish authorities have announced that they will release the name of the group responsible for the deadly blast and the results of the probe into the bombing on Monday. "I believe the investigation will be concluded tomorrow and the findings will be announced," Efkan Ala said in comments broadcast live on local TV, as quoted by Reuters.
The blast was caused by "explosive-laden vehicle," according to Reuters citing Ankara governor's office.
The blast appears to have been triggered by a car exploding near a bus stop, TRT said. Guven Park adjoins a major transportation hub.
http://twitter.com/BarbarosEmre/status/709060164947742720?ref_src=twsrc%5Etfw
"It's a car bomb, [it happened] in the heart of Ankara… and today is Sunday, many people may be outside," Turkish journalist Onur Burcak Belli told RT by phone, adding that the scene of the blast is "very close to a shopping mall" and that "many cars are on fire and apparently a public bus is also on fire."
"I was nearby when I heard the explosion, and there were casualties all around… the numbers of dead are increasing," an eyewitness told RT by phone, adding that "the explosion was actually bigger than the last one in Ankara."
??Explosion in #Güvenpark , #Kızılay, #Ankara, #Turkey pic.twitter.com/IEHUOkqt4E

— Mete Sohtaoğlu (@metesohtaoglu) March 13, 2016
No one has claimed responsibility for the attack so far.
A security official said that initial findings suggest the attack was carried out by Kurdish PKK fighters or a group affiliated with them, Reuters reported.
http://twitter.com/HaticeAVCI_/status/709131295293632512?ref_src=twsrc%5Etfw
The pro-Kurdish Peoples' Democratic Party (HDP) has issued a statement condemning the attack, saying it shares "the huge pain felt along with our citizens," AP reported. The party has been previously accused of not speaking out against PKK violence.
?Explosion in #Güvenpark , #Ankara , #Turkey
? pic.twitter.com/H23Vt5TuTE

— Mete Sohtaoğlu (@metesohtaoglu) March 13, 2016
Images allegedly showing the aftermath of the explosion emerged on social media. A huge fire could be seen in some of them.
A large cloud of smoke rising into the dark could also be seen from the distance.
Numerous loud sirens could be heard in a Periscope transmission from the scene, in which people can be seen running by, with some screaming.
READ MORE: At least 28 dead, 61 injured as blast hits military bus in Turkish capital Ankara
In February, 28 people were killed and 61 injured in a blast in Ankara, when a car bomb, reportedly targeting military personnel, went off close to the parliament building. Forces linked to the Syrian Kurdish YPG militia were accused of committing that terrorist attack by Turkish Prime Minister Ahmet Davutoglu.
A splinter group of the outlawed Kurdistan Workers' Party (PKK), the Kurdistan Freedom Hawks (TAK), later claimed responsibility, saying the bombing had been in retaliation for Turkey's military operation in the country's southeast and vowing to continue its attacks.
___
http://www.rt.com/news/335463-central-ankara-blast-sunday/