Are the deadly pilgrimage stampedes being incited by black op provocateurs?
TMR Editor's Note:
There has been a spate of pilgrimage deaths due to stampedes over the past few years which can no longer be ignored. The vast majority of them occur on Muslim holy days or at the most revered Islamic shrines in the Middle East. Many others have taken place at Hindu Temples or during Hindu festivals. The following list of Hindu stampedes illustrates just how common these events have become.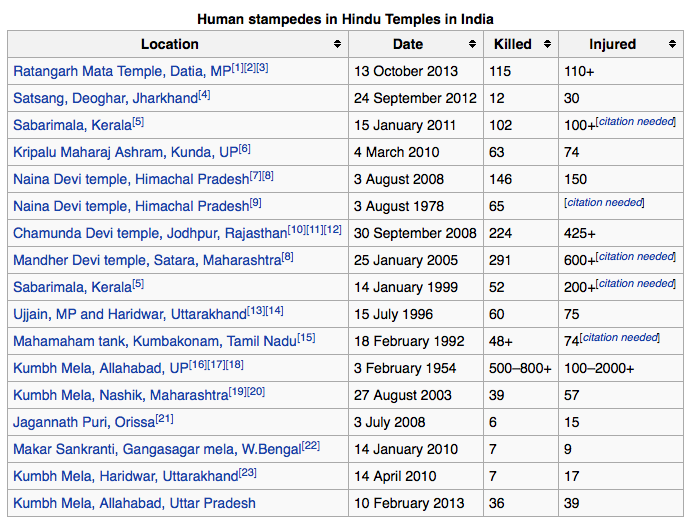 The list below is even more troubling because it indicates that there is a definite pattern of targeting devotees and pilgrims while congregating at their temples.  When considered with this compilation of deliberate attacks, one can only wonder whether the above stampedes may have been triggered by agent provocateurs.  There is certainly incentive for furtive groups to take advantage of unsuspecting and weary pilgrims who have traveled great distances.

Hajj stampede: At least 310 killed in Saudi Arabia
BBC
At least 310 people taking part in the Hajj pilgrimage have been killed in a stampede near the Islamic holy city of Mecca, officials in Saudi Arabia say.
Another 450 people were injured in the incident at Mina, which occurred as two million pilgrims were taking part in the Hajj's last major rite.
They converge on Mina to throw stones at pillars representing the devil.
Preparations for the Hajj were marred when a crane collapsed at Mecca's Grand Mosque this month, killing 109 people.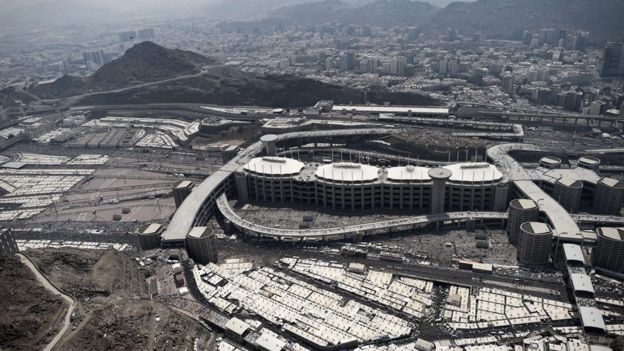 The Saudi civil defence directorate said on Twitter that 4,000 personnel had been sent to the scene of Thursday's stampede, along with more than 220 emergency and rescue units. The injured are being taken to four hospitals in the area.
It was not immediately clear what triggered the stampede, but it is not the first to have occurred during the Hajj.

Hajj: Deadly incidents
1987: 400 people die as Saudi authorities confront pro-Iranian demonstration
1990: 1,426 pilgrims killed in tunnel leading to holy sites
1994: 270 killed in stampede
1997: 343 pilgrims killed and 1,500 injured in fire
2006: 364 pilgrims die in a crush during the stone-throwing ritual

Since 364 people were killed during the stoning ritual in 2006, the Saudi authorities have worked on improving transport and other infrastructure in the area in an attempt try to prevent such incidents.
For Muslims, the Hajj is the fifth and final pillar of Islam.
It is the journey that every able-bodied adult Muslim must undertake at least once in their lives if they can afford it.
http://www.bbc.com/news/world-middle-east-34346449
~~~~~~~~~~~~~~~~~~~~~~~~~~~~~~~~~~~~~~~~~~~~~~~~~~~~~~~~~~~~~~~~~~~~
Stampede kills more than 450 at Hajj pilgrimage near Mecca
By Faith Karimi and Schams Elwazer, CNN
(CNN) — A stampede during one of the last rituals of the Hajj season — the annual Islamic pilgrimage to Mecca — has killed more than 450 people and injured 719 others in Saudi Arabia.
The stampede occurred Thursday morning during the ritual known as "stoning the devil" in the tent city of Mina, about 2 miles from Mecca, Islam's holiest city.
Hundreds have been killed in past years during the same ceremony, and it comes only 13 days after a crane collapse killed more than 100 people at another major Islamic holy site, the Grand Mosque in Mecca.
Civil defense authorities said the latest death toll is 453, but the numbers have been climbing steadily. Officials deployed 4,000 workers, along with 220 ambulances and other vehicles, to Mina to help deal with the disaster.
In the ritual, crowds of pilgrims throw stones at three pillars in a re-enactment of when the Prophet Abraham stoned the devil and rejected his temptations, according to Muslim traditions.
In Thursday's stampede, pilgrims were walking toward the largest of the pillars when there was a sudden surge in the crowd about 9 a.m., causing a large number of people to fall, the state-run Saudi Press Agency said, citing civil defense officials.
Information on what led to the surge wasn't immediately available.
A risky pilgrimage
Ethar El-Katatney, a pilgrim who was near the stampede site about five hours after the surge happened, said she walked past ambulances that were taking bodies of victims. She said she saw numerous police officers and medical personnel in the area.
"I saw the ambulances, I saw bodies. … At least 20, 30 ambulances passed me by," she told CNN by phone as she tried to reach the pillars herself.
The ceremony was the scene of stampedes and hundreds of deaths in the 1980s and 1990s as pilgrims passed a crowded bottleneck area leading to the small pillars on the ground.
In 2006, a stampede there killed at least 363 people.
After that, the Saudi government erected three massive pillars and completed a $1.2 billion, five-story bridge nearby where pilgrims can toss stones. It was meant to be a roomier atmosphere and a more efficient way to accommodate the faithful.
The ritual
The stoning ritual is done over at least two days, where pilgrims stone the three pillars at Mina — believed to be where the devil was stoned when he tried to dissuade Abraham from obeying God's orders to slaughter his son. According to tradition, the event was a test from God, who gave Abraham a ram to slaughter instead.
On September 11, just days before this year's Hajj started, a construction crane crashed through the roof of another eminent Hajj destination, the Grand Mosque in Mecca, killing 107 people. At least 238 others suffered injuries when a powerful storm toppled the crane.
Losing one's life during the Hajj season is considered by many devout Muslims as an entry to heaven.
A spiritual climax
More than 2 million Muslims from around the world are attending the annual Hajj pilgrimage this year.
Known as the fifth pillar of Islam, the Hajj is an obligation upon every Muslim who has the financial means and the physical ability to perform it. For most, it is the spiritual climax of their lives, with many saving for decades to make the journey.
The pilgrimage, conducted over five days, includes detailed rituals such as wearing a special white garment that symbolizes human equality and unity before God; a circular procession around the Kaaba, Islam's holiest shrine, surrounded by Mecca's Grand Mosque; and the symbolic stoning.
It was also a tragic day for Muslims in Yemen on Thursday, where at least 29 people attending Eid prayers died when a bomb went off inside a crowded mosque in Sanaa.