Santa Barbara Oil Spill: Why aren't effective and nontoxic bioremediation agents being used to clean up this spill?
We,  the People,  Demand To Know
Why isn't OSE II being used to clean up the recent Santa Barbara oil spill?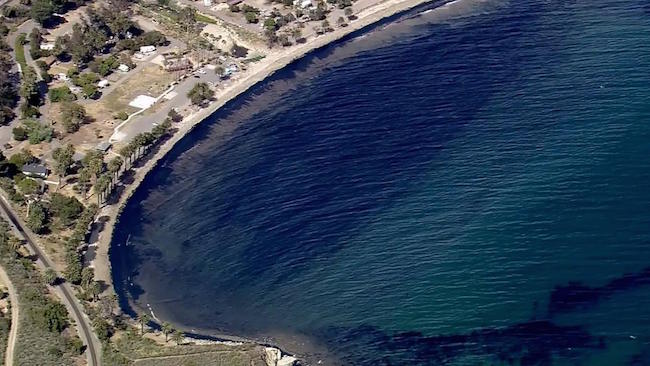 Oil Spill Eater II, produced by OSEI, Corp, has proved itself to be the world's most environmentally safe, cost-effective and time-efficient bioremediation agent for cleaning up oil spills in various territorial waters around the globe.
OSE II, as it is also known, is the integral component of what is perhaps the most effective petroleum bioremediation process utilized on select spills throughouth the USA.  It has been NCP-listed for many years and approved by the EPA for use anywhere in America.
Which again begs the question: Why isn't OSE II being used to clean up this spill off the California coast?  It has been demonstrated to be far more efficacious, nontoxic and cost-effective than dispersants like the infamous COREXIT that was used in the BP Gulf oil spill.
"The US Navy has successfully used OSE II as a first response cleanup tool for 3 1/2 years on fuel spills in the San Diego bay with no adverse impacts, while reducing their costs by 90%".[1]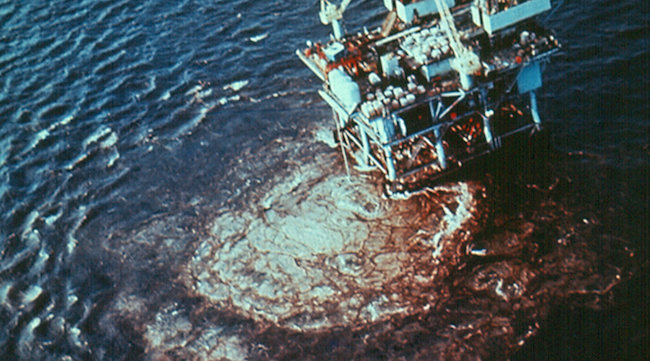 When the 1969 Santa Barbara oil spill intersected with Rachel Carson's SILENT SPRING, the world changed. 
"The Santa Barbara oil spill of 1969 remains a watershed event in the annals of U.S. environmental history where it occupies a prominent place alongside Rachel Carson's Silent Spring, both of which have shaped the course of U.S. environmental policy at the state and federal levels."[2]
That highly publicized oil spill in 1969 helped galvanize the greatest environmental movement in world history.  Together with Rachel Carson's tour de force Silent Spring, these two defining moments in American history contributed considerably to the shift in national consciousness concerning the rapidly deteriorating environment.  The U.S. Environmental Protection Agency, in fact, was created as a result of that 1960s awakening and began operations in December of 1970.
The Santa Barbara oil spill of 1969 forced every corporate and community stakeholder as well as every government — federal, state, county and city — to seriously consider exactly what was at stake when aggressively drilling for oil in US territorial waters.  Oil drilling and natural gas exploration on land also became the focus of new environmental regulations and rule-making initiatives wherever they were conducted, just like we see today with the fracking frenzy.
Undoubtedly, the divide between the Oil & Gas Industry and environmental groups remains deep and wide.  Given the fast-growing business of oil drilling and fracking within the U.S. economy, it's no wonder that the divide has yet to be reasonably bridged. When whole nations and regions across the planet have been devastated by national and corporate petroleum interests, what else could be expected here in the premier gas-guzzling nation of the USA?  Nothing has so profoundly shaped world events — anywhere and everywhere — like the corporate pursuit of black gold.
If Santa Barbara 1969 taught us one thing, it was that there are many ways to clean up an oil spill.  Very few of them however are truly successful, some are downright disastrous, and there are numerous mediocre methods and products in between.  Therefore, why not let those oil cleanup techniques and remediation products which outperform all the others win the day … wherever there's an oil spill on land or in the waters?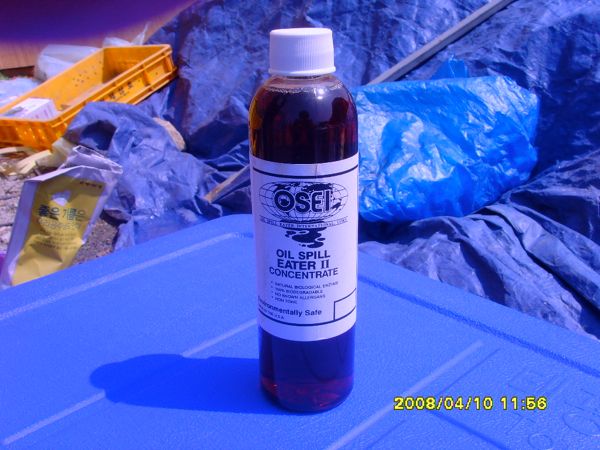 Let only the best proven products and technologies be used for all future oil spills.
Oil Spill Eaters II has repeatedly and decisively outperformed it's competition both here and abroad.  Not only has OSE II been successfully used on various spills throughout the USA, it has been replacing dispersant technologies which have been used in other countries for years.  That's because those dispersants are now outlawed in a growing number of nations due to their extremely adverse environmental impacts and highly detrimental health effects.
The AGIP Brass Terminal oil spill in Nigeria during November of 2013 is just one example of where Oil Spill Eaters II was applied with great success.  OSE II was used by the Nigerian Government and the Nigerian Agip Oil Company to remediate approximately 150,000 gallons (or 550,000 liters) of leaked oil with no toxic aftermath whatsoever.   The following video offers a unique look at the AGIP oil spill, and especially the role that
OSE II played in remediating the widespread damage and petroleum mega-mess.
What distinguishes OSE II from all the other oil cleanup methodologies and products in the marketplace?
In every major category that really matters OSE II is head and shoulders above every other competitor.  According to the most stringent EPA criteria, which must all be met before approval is granted for application in U.S. territorial waters, OSE II has scored as high or higher than any other oil spill cleanup product.
What follows are some of the most significant answers to questions that are frequently asked about OSE II. The company website —  http://osei.us  —  also provides a wealth of information which is supported by the relevant hard sciences and fact-based scientific research studies.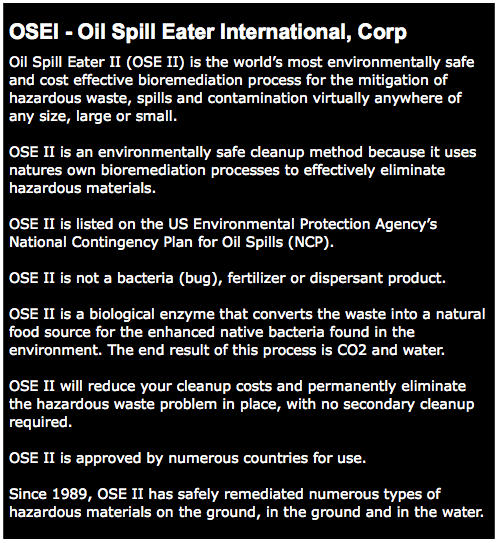 At the end of the day, or rather upon the completion of any oil spill cleanup using OSE II,  this bio-remediation product will always succeed in properly cleaning up the petroleum quickly and cost-effectively, safely and thoroughly.  However, what really distinguishes OSE II from all the other products on the market is that it has no known toxicities associated with it.  There are no polluting residues or chemical contaminants. Unlike dispersants like COREXIT, OSE II does not sink the oil and leave it for another day to be remediated.
By the way, just how toxic are dispersants like COREXIT?  The following three (3) statements can be made with scientific authority about oil, dispersant (Corexit 9500) and dispersed oil respectively, as per this EPA website link on the relative toxicities of Corexit and petroleum:
(1) 10.72 parts per million (ppm) of oil alone will kill 50% of the fish test species in a normal aquatic environment within 96 hours.
(2) 25.20 parts per million of dispersant (Corexit 9500) alone will kill 50% of the fish test species in a normal aquatic environment within 96 hours.
(3) 2.61 parts per million of dispersed oil (Corexit-laden) alone will kill 50% of the fish test species in a normal aquatic environment within 96 hours.
[3] Source: A Special Update On The BP Gulf Oil Spill
Conclusion
The history of catastrophic oil spills in America is a long and disturbing one.  The BP Gulf oil spill of 2010 was another perfect example of how the BIG OIL corporation which owned the dispersant companies simply took advantage of the American people.  Their countless barrels of COREXIT 9500 and 9527, which were parked in warehouses around the Gulf of Mexico (GOM), were given priority over all the other much better (and safer) products in the marketplace because they were pushing their expiration dates. Because of that fact, as well as who really possessed exceedingly more pull with the U.S. Coast Guard and EPA, millions of gallons of toxic COREXIT were used in the GOM.
Consequently, the seafood coming from the northern regions of the Gulf may be forever poisoned.  Marine life has already suffered numerous mass death events right up to this very day.  Likewise, the plant life has shown many signs of bio-accumulating both toxic petrochemicals and harmful dispersant ingredients.  Though unseen, yet even more destructive, the fragile zooplankton and phytoplankton have all been irreparably altered for what may be generations to come.  Lastly, the serious repercussions to human health are only now being studied and beginning to be understood.  The many sick residents and diseased fishermen in Louisiana speak in testimony to the enduring and profound injury to human health that can be inflicted by any oil spill.
Perhaps the Santa Barbara oil spill of 2015 will serve as the wakeup call that has been desperately needed for decades.  If America's oil and gas addiction cannot be tamed, then maybe a truly safe, non-toxic and effective approach to oil spill cleanup will be implemented.  Certainly the residents of Santa Barbara and other affected California communities would agree.  Hopefully this "oil spill reprise" of 2015 will sufficiently raise the right awareness throughout the rest of the good ole USA.
State of the Nation
May 21, 2015
Author's Note
There's another very good reason why the best and safest oil spill technologies and materials such as OSE II are not used to clean up each and every oil spill.  As follows: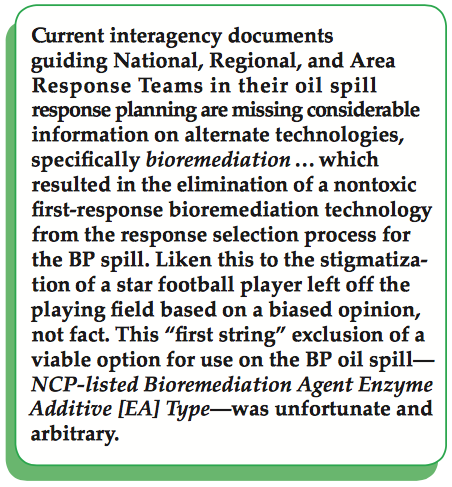 References
Dispersant Use Like Corexit Sees Precipitous Decline Worldwide
Environmental and Health Impacts of the BP Gulf Oil Spill
Endnotes
[1] Oil Spill Eater International, Corp.
[2] Santa Barbara Oil Spill, The (1969) 
[3] The Gulf of Mexico is Dying: A Special Report On The BP Gulf Oil Spill