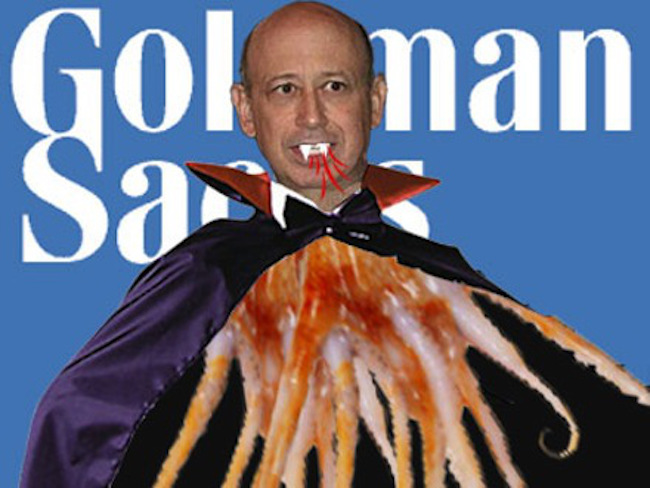 Mass Protests Sweep Malaysian Capital As Anger At Goldman-Backed Slush Fund Boils Over
ZeroHedge.com
If we told you that thousands of protesters donning bright yellow shirts had taken to the streets to call for the ouster of a leader in an important emerging market, you'd be forgiven for thinking we were talking about Brazil, where President Dilma Rousseff is facing calls for impeachment amid allegations of fiscal book cooking and government corruption.
But on this particular weekend, you'd be wrong.
We're actually talking about Malaysia, where tens of thousands of demonstrators poured into the streets of Kuala Lumpur on Saturday to call for the resignation of Prime Minister Najib Razak whose government has been accused of obstructing an investigation into how some $700 million from 1Malaysia Development Berhad mysteriously ended up in Najib's personal bank account.
1MDB was set up by Najib six years ago and has been the subject of intense scrutiny for borrowing $11 billion to fund questionable acquisitions. $6.5 billion of that debt came from three bond deals underwritten by Goldman, whose Southeast Asia chairman Tim Leissner is married to hip hop mogul Russell Simmons' ex-wife Kimora Lee who, in turn, is good friends with Najib's controversial wife Rosmah Manso.
You really cannot make this stuff up.
What Goldman did, apparently, is arrange for three private placements, one for $3 billion and two for $1.75 billion each back in 2013 and 2012, respectively. Goldman bought the bonds for its own book at 90 cents on the dollar with plans to sell them later at a profit (more here from FT). Somewhere in all of this, $700 million allegedly landed in Najib's bank account and the going theory is that 1MDB is simply a slush fund.
So you can see why some folks are upset, especially considering Rosmah has a habit of having, how shall we say, rich people problems, like being gouged $400 for a home visit by a personal hairstylist. Here's The New York Times with more on the protests:
Tens of thousands of demonstrators in Malaysia defied police orders on Saturday, massing in the capital in a display of anger at the government of Prime Minister Najib Razak, who has been accused of corruption involving hundreds of millions of dollars.

The demonstration in central Kuala Lumpur, which has been planned for weeks, has been declared illegal by the Malaysian police, and the government on Friday went as far as to pass a decree banning the yellow clothing worn by the antigovernment protesters.

But the demonstrators, who represent a broad coalition of civic organizations in Malaysia, including prominent lawyers, asserted their right to protest on Saturday.

The government has acknowledged that Mr. Najib received the money in 2013 and said it was a donation from undisclosed Arab royalty. 

One group of protesters on Saturday carried the image of a giant check in the amount of 2.6 billion ringgit, with a sign that read, "You really think we are stupid?"

The group organizing the protest goes by the name Bersih, which means clean in Malay.

Calls for Mr. Najib to resign have come both from within his party, which is divided, and from the opposition. One junior member of Mr. Najib's party, the United Malays National Organization, filed a lawsuit against Mr. Najib on Friday asking for details of how the money was spent.
Of course the most prominent voice calling for Najib's ouster is that of the former Prime Minister Mahathir Mohamad. "I don't believe it is a donation. I don't believe anybody would give [that much], whether an Arab, or anybody," he says.
Meanwhile, Malaysia is facing a re-run of the 1997/98 financial crisis as the ringgit plunges amid broad-based pressure on emerging markets. With FX reserves now sitting under $100 billion some fear a return to capital controls (let's just call it the "1998 option") is just around the corner despite the protestations of central bank chief Zeti Akhtar Aziz. Here's BofAML:
Capital controls are not likely, but the possibility cannot be dismissed, despite <assurances from Zeti. Introducing controls will be a regressive move and a huge setback, hurting the economy and financial sector, and derailing any ambitions of becoming an international Islamic financial center. Malaysia's reputation and credibility remain tainted by the capital controls of 1998, even after almost two decades.

The ringgit has depreciated almost 13% year-to-date, the worst performing EM Asian currency. FX reserves fell to $94.5bn at mid-August, falling below the $100bn threshold and down by about $9bn in July alone. At the peak, FX reserves were $141bn in May 2013. Cover to short-term external debt is only 1x, while cover to imports stands at 5.9 months. Downside risks remain given looming Fed rate hikes, China's RMB devaluation and the political crisis over 1MDB. Malaysia's vulnerability is also heightened by high leverage (household, quasi-public and external) and a fragile fiscal position (heavy oil dependence, off balance sheet liabilities)

The current crisis has not reached the extreme stress seen during the Asian financial crisis, when draconian capital controls were eventually introduced in September 1998. During that episode, the ringgit collapsed by about 89% from peak to trough at its worst (to 4.71 from 2.49 against the USD). The ringgit has depreciated some 26% in the current crisis. During that episode, the KLCI fell by about 79% from peak to trough (from 1,271 to 263) at its worst. The KLCI today has fallen by only about 12% from its recent peak. Nevertheless, downside risks remain given looming Fed rate hikes, China's RMB devaluation and the political crisis.
So in short, Malaysia is on the brink of political and financial crisis, and it looks as though the nuclear route (capital controls) may be just around the corner, which would of course only serve to alienate the country's financial system at a time when the government looks to be on the brink of collapse. What's particularly interesting here is the timing. Mahathir Mohamad famously clashed with George Soros during the '98 crisis, going so far as to brand the billionaire a "moron". Now that the country's "founding father" is looking to oust Najib, it will be interesting to see what role he plays in shaping Malaysia's response to the current financial crisis and on that note, we'll leave you with a quote from Dr. Mahathir ca. 1997:
"I know I am taking a big risk to suggest it, but I am saying that currency trading is unnecessary, unproductive and immoral. It should be stopped. It should be made illegal. We don't need currency trading. We need to buy money only when we want to finance real trade."