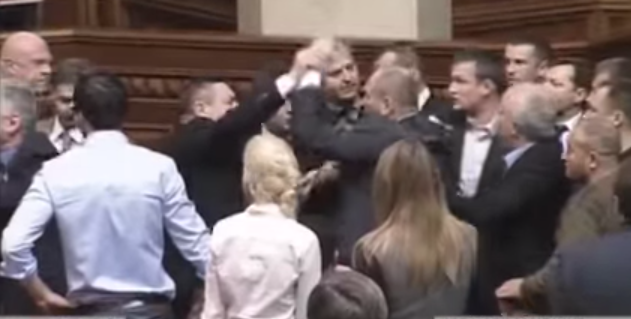 Fight Breaks Out In Parliament When Ukraine Learns It Has Quietly Become The Newest US State
ZeroHedge.com
It appears not all the government members approve of the new foreign-born members of the Ukraine parliament… as this fight just broke out…
And the result when other members discovered this…
The fight occurred after the majority of people's deputies supported the draft resolution on the appointment of the number of (foreign) members of parliamentary committees.
After the vote, the People's Deputy Vladimir Parasyuk began requiring word in explanation of vote, but the chairman of the Verkhovna Rada of Ukraine Volodymyr Groisman refused it…
*  *  *
We don't blame them for wanting to know how they just became the newest US State…
*  *  *
Here the 3 new (foreign-born) members of Ukraine's parliament…
Three foreigners — Natalie Jaresko, Aivaras Abromavicius, and Aleksandr Kvitashvili — were approved as ministers by Ukraine's parliament on December 2.
President Petro Poroshenko said their appointment, which has raised some eyebrows in Ukraine, was part of an effort to find "innovative solutions in the government" due to the "extraordinary challenges facing Ukraine."
Poroshenko naturalized all three hours before their confirmation by parliament.
All have given up their citizenships to comply with Ukraine's constitutional ban on dual citizenship.
Natalie Jaresko, United States — Finance Minister
Jaresko, who has Ukrainian roots, has lived in the country for more than two decades.
She moved to Kyiv in 1992, just months after Ukraine gained independence from the Soviet Union, to head the economic department of the newly opened U.S. embassy.
Prior to her relocation, she held various economic positions in the U.S. State Department.
She holds a master's degree in public policy from Harvard University's Kennedy School of Government and a bachelor of science degree in accounting from DePaul University in Chicago.
In 1995, she left the U.S. Embassy to work for the Western NIS Enterprise Fund (WNISEF), an equity fund financed by the U.S. government, where she rose to the position of chief executive officer.
She established her own fund, Horizon Capital, in 2004.
During the Orange Revolution, Jaresko made no secret of her sympathies for the pro-Western uprising. She went on serve on then-President Viktor Yushchenko's Foreign Investors Advisory Council.
With the United States facing accusations of political meddling in Ukraine, Jaresko's new role has raised eyebrows.
U.S. State Department deputy spokeswoman Marie Harf has already denied Washington had any hand in her appointment.
Jaresko says the new cabinet of ministers intends to "change the country, improve transparency and eliminate corruption."
Speaking to parliament on December 2, she declared her readiness to "take on challenges."
Jaresko faces a tough job warding off economic collapse, battling corruption, and reforming Ukraine's economy as the country continues to fight an armed insurgency in the east.
Aivaras Abromavicius, Lithuania — Economy Minister
Like Jaresko, Abromavicius is no newcomer to Ukraine.
Born in Vilnius, Lithuania, the investment banker has lived in Kyiv since 2008 and has a Ukrainian wife.
He is a partner and fund manager at the East Capital asset management group.
The group is a major player in Ukraine, where it invested almost $100 million in 2012.
Abromavicius describes himself as a Ukrainian patriot and has pledged "radical measures" to overhaul the country's battered economy.
He claims he hasn't yet discussed his ministerial salary, which he said he expected to be "very small."
He has voiced hope that his "efforts and experience will help Ukraine reach a totally different level of economic development, bring transparency and openness to government's work."
Aleksandr Kvitashvili, Georgia — Health Minister
Kvitashvili served as health minister in his native Georgia between 2008 and 2010, under then-President Mikheil Saakashvili.
He holds a bachelor's degree in history from Tbilisi State University and a master's degree from the Robert F. Wagner Graduate School of Public Service in New York.
After graduating in 1993, he did a brief stint working in the United States at the Atlanta Medical Center as an administrative and finance officer.
He returned to Georgia the same year to work for the United Nations Development Program.
He has since held positions at a number of healthcare-related organizations, including the United Methodist Committee on Relief, the Curatio International Foundation, the East/West Institute in New York, and the Transatlantic Partners Against AIDS organization.
Kvitashvili was rector of Tbilisi State University between 2010 and 2013.
Prime Minister Arseniy Yatsenyuk has tasked Kvitashvili with introducing sweeping reforms to tackle rampant corruption among health authorities.
Despite his recent arrival in Ukraine, Kvitashvili, who does not speak Ukrainian, professes "deep respect for Ukraine and its people."
"I've been working on reforms in Ukraine for the past three months, but my love [for] this country has a much longer history," he said on December 2.
*  *  *
Welcome to America, have a nice day