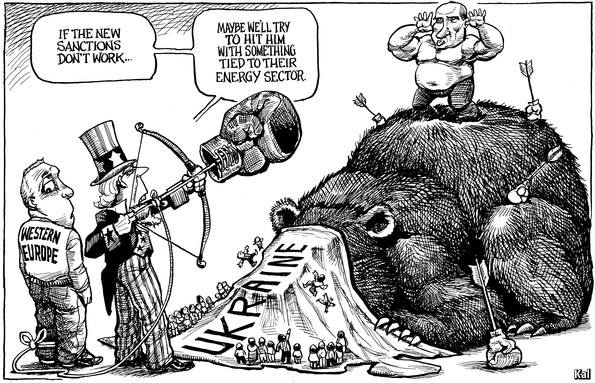 Russia Sanctions Blowback: Finland's Largest Dairy Lays Off 800, Spain Seeks EU Aid, Poland Complains To WTO
ZeroHedge.com
Well that didn't take long. Mere day after Russia announced its ban on Western nation food imports, European countries are scrambling (as we explained why here). Greece has already expressed dismay, but now Spanish officials will meet with EU leaders to discuss offsetting the country's estimated up to $800 million in food and agriculture losses due to sanctions. Poland is pissed and has complained to the WTO claiming "Russia has broken international law in both its embargo;" and Finland's largest dairy producer has announced 800 layoffs due to the sanctions. When does Europe tell Washington – enough!
Spain demands aid… (despite Rajoy's support for anti-Russia sanctions)
Spanish Agriculture Minister Isabel Garcia Tejerina said the restrictions have prompted her ministry to convene a meeting with the European Commission in Brussels on Thursday.

…

The Spanish government has estimated that agricultural losses will amount to €337 million, or about 1.8 percent of Spanish exports. Other groups, like Spain's opposition Socialist Party, have estimated the losses to be higher- €581 million.

Last year, 37,000 tons of tomatoes, 35,000 tons of peaches, and 33,000 tons of mandarin oranges were exported from Spain to Russia, according to Spain's Small Farmer's Association (UPA).

"The decision that was adopted involves many political issues that exist between Russia and the European Union, and not just the EU. As a result, it may be necessary to compensate us for these political decisions – the producers who work all year and want to at least be paid enough at least to cover production costs," Lorenzo Ramos, Secretary General of UPA, told RT.
The largest Finnish dairy producer Valio send a forced leave of the staff with factories working for export to Russia. This is stated in the message of concern.

Restructuring will affect Finnish enterprises' Valio: Plant in Haapavesi ( cheese Oltermanni), Seinäjoki ( oil Valio), Vantaa ( cream cheese Viola) and warehouse in Lappeenranta. Concern revise employment contracts of all the employees of these companies. " Some of the staff ( according to preliminary estimates, 800 people) can go on forced leave to fully clarify the situation, with a portion of employees will not be renewed temporary employment contracts, "- said in a statement.
Poland's agriculture minister went on television to announce the country was taking action against Russia's new import ban. "We believe Russia has broken international law in both its embargo against Poland and its embargo against the EU," Marek Sawicki said.

Russia banned the import of Polish fruit and vegetables in early August – a move Sawicki said would cost Poland 0.6 percent of GDP.

…

"If a WTO member state believes another WTO member state has taken a measure that is not in conformity with WTO rules, the affected WTO member state may request mediation," attorney and WTO expert Eric Pickett said.
And the Czechs are in for some EU assistance…
*ZEMAN BACKS EU AID TO CZECH AGRICULTURAL COS. AFTER SANCTIONS
*  *  *
S&P 500 nears all-time highs as US companies do not seem to suffer at all… We are sure Merkel is watching carefully.