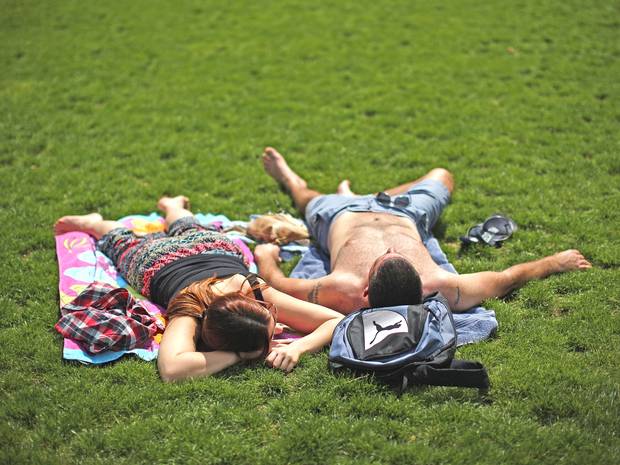 STEVE CONNOR — SCIENCE EDITOR | The Independent
Global temperatures – from Australia to Alaska – hit an all-time record high for the month of May, driven by exceptionally warm sea-surface temperatures according to the US's leading climate organisation.
The combined average temperatures for the land and ocean around the world was 0.74C higher than the 20th Century average of 14.8C for May, said the US National Oceanic and Atmospheric Administration (NOAA).
Although global land temperatures were the fourth highest for May, average temperatures across the oceans reached a record monthly high of 0.59C above the 20th Century average of 16.3C.
The temperature records show that May 2014 tied with June 1998, October 2003 and July 2009 as the highest departure from the century average for any month on record, NOAA said.
Exposing the myth that global warming has "stopped", the latest temperature data show that it was also the second warmest March to May period, after 2010, in terms of land-surface temperatures and the third warmest in terms of global ocean surface temperatures, it said.
"Four of the five warmest Mays on record have occurred in the past five years: 2010 (second warmest), 2012 (third warmest), 2013 (fifth warmest), and 2014 (warmest); currently, 1998 has the fourth warmest May on record," NOAA said.
"Additionally, May 2014 marked the 39th consecutive May and the 351st consecutive month (more than 29 years) with a global temperature above the 20th Century average," it said.
"The last below-average global temperature for May occurred in 1976 and the last below-average temperature for any month occurred in February 1985," it added.
Most of Europe experienced above-average temperatures during spring with some countries having one of their 10 warmest May months. Latvia and Norway both had the warmest spring temperatures on their respective records, while Britain experienced its third warmest spring, with Scotland breaking its March-May record.
NOAA found that the higher global May temperatures were spread fairly evenly between the northern and southern hemispheres, with the Northern Hemisphere having its second highest average spring temperature, behind 2010, and the Southern Hemisphere observing its fourth highest autumn temperatures.
Sea surface temperatures are rising in the South Pacific Ocean, indicating that there is a 70 per cent chance of an El Nino forming this summer, and an 80 per cent chance that it will be seen in winter, NOAA said.
El Nino, a sea-surface temperature anomaly, is a natural phenomenon that can cause weather disturbances around the world. It contributed to the high land surface temperatures seen in 1998.