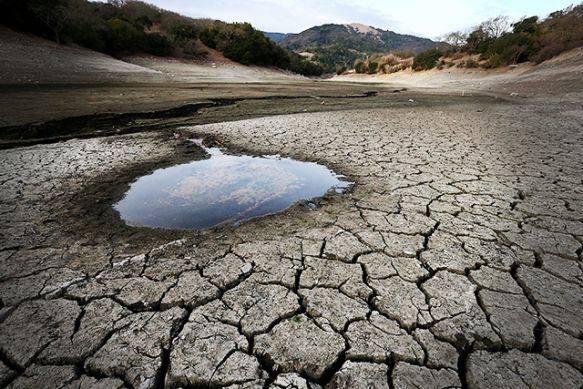 By Todd Woody
As the green state turns brown, Californians are barely cutting their water consumption.
A small pool of water is surrounded by dried and cracked earth that was the bottom of the Almaden Reservoir on January 28, 2014, in San Jose, Calif. Now in its third straight year of drought conditions, California is experiencing its driest year on record, dating back 119 years, and reservoirs throughout the state have low water levels.
How bad is California's devastating drought? Just in the past week, the percentage of the state identified as being in "exceptional drought"—the most severe category—jumped from a quarter to a third.
The government-funded United States Drought Monitor classifies the entire state as in drought, and as of Tuesday, nearly 77 percent of California was in "extreme drought," which is just one notch below exceptional drought.
Here's a map of California's drought-afflicted areas as of June 10.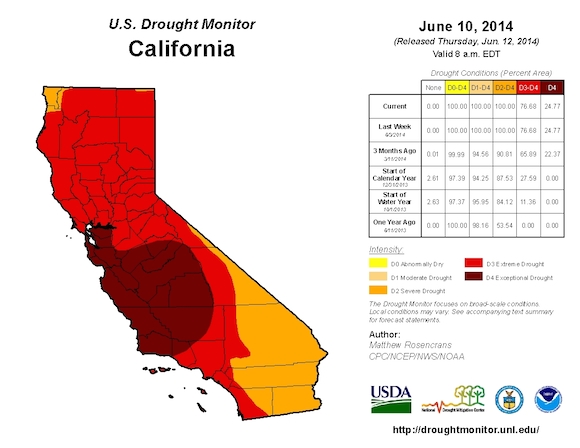 Here's the map as of June 17.
California's drought-afflicted areas as of June 17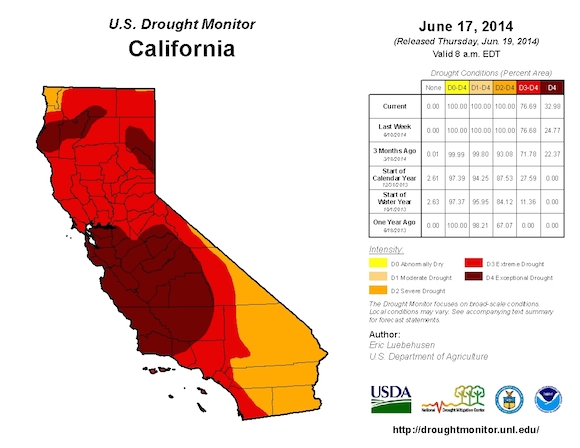 This map from June 2013 looks deceptively reassuring—no red spots!—but even a year ago, nearly the entire state was experiencing moderate to extreme drought.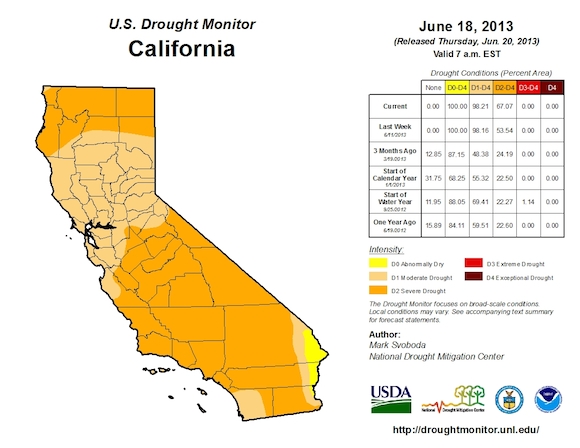 Before the turn for the worse this week, the situation in the Golden State was already dire. "California topped the U.S. with 70 percent of its rangeland and pastures rated in very poor to poor condition on June 1," stated a June 5 report from the Drought Monitor.
In the last 24 hours, for instance, only two spots in California received any rain—Stockton and Vandenberg each got 0.01 inches, according to the state Department of Water Resources.
So, Californians must be emptying swimming pools, letting their lawns go brown, and forgoing flushing their toilets, right?
Not quite. While farmers have seen their irrigation allotments from state and federal water projects cut to near zero, coastal Californians seem oblivious to the browning of their proudly green state.
Gov. Jerry Brown in January asked Californians to cut their water consumption by 20 percent, a request roundly ignored. Water use fell just 5 percent between January and May, according to a state survey, while water consumption in the environmentally conscious San Francisco Bay Area declined only 2 percent.
California's Water Crisis Is Getting Worse. Can Satellite Policing Help?
It's not as if Californians don't know the drought drill: short showers, no car washing, and, yes, don't flush that toilet every time. Landscaping is one of the biggest water hogs, so rip out the lawn and replace it with native and drought-tolerant plants.
I just did, and my local water district is even paying me to de-suburbanize my Berkeley backyard, though the subsidy appears to be little known.
But as the drought intensifies, a crackdown is looming. Santa Cruz County recently imposed mandatory water restrictions, and the state is considering doing the same.