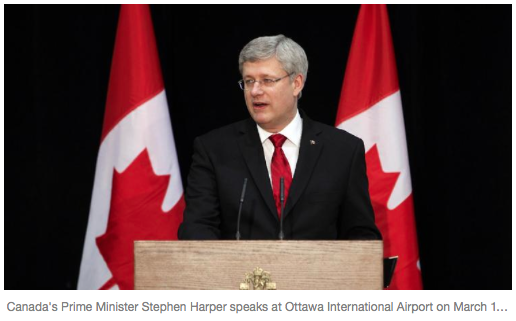 Canada blames Hamas for Gaza dead
AFP
Ottawa (AFP) – Canadian Prime Minister Stephen Harper on Wednesday blamed Hamas for the heavy loss of civilian life caused by Israel's deadly strikes on the Gaza Strip.
At least 110 people were killed on Wednesday alone in Gaza, one of the most densely populated areas in the world, as the Palestinian death toll from 23 days of unrelenting Israeli attacks soared to 1,360.
Israel says 56 of its soldiers have been killed.
"Obviously, no one likes to see the suffering and loss of life that has occurred," Harper said in televised remarks.
"That said, we hold the terrorist organization Hamas responsible for this. They have initiated and continue this conflict, and continue to seek the destruction of the state of Israel."
Canada's conservative government has long supported the Jewish state and stressed its recognition of Israel's right to defend itself.
Last week, hundreds of academics, lawyers, community activists and others criticized the government for its support of Israel in the conflict, a position they said in an open letter "discredits Canada."
At least 17 people were killed earlier in an Israeli strike on a packed Gaza market, just hours after Israeli tank shells slammed into a UN school sheltering homeless Gazans, killing 16.
The strikes triggered a furious response from the United Nations, United States, France and other countries.