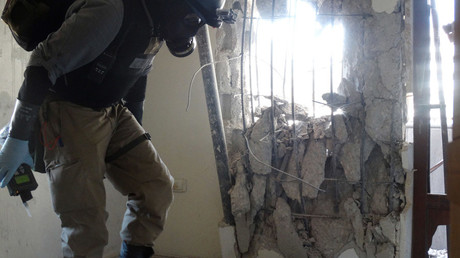 Turkish Bombshell: Sarin Gas Brought To Syria Via Turkey, Mixed in ISIS Camps
Turk MP Blows the Whistle
TMR Editor's Report:
Most of the world knew when it happened that the Western powers had coordinated a sarin gas attack in Syria in order to accuse President Bashar al-Assad with gassing is own people. The Zio-Anglo-American Axis knows that the best way to turn world opinion against a national leader is to demonize them with the accusation of genocide.  What is quite ironic in this case, however, is that it is actually the neocon Zionist cabal that is committing the genocide .
The Syrian Holocaust: A Preplanned Genocide And Forced Exodus 
The original fraudulent news report didn't make any sense then and has how been proven to be quite false and on the contrary.  It was in fact a member of NATO (Turkey, who else) that was tasked with supplying the sarin gas to those implementing the false flag gas attack. Turkey occupies a key location within the NATO alliance and is frequently used to carry out all sorts of illegal and nefarious plots.  Of course, the Turks have received much ill-gotten gain as the spoils of the Syrian War have been plentiful given the length of their shared border.
Erdoğan's Turkey: A War Profiteer That Plunders And Pillages Syria At Will
It seems that the current Turkish government can be counted on to handle just about any logistical needs for arms and munitions, equipment and vehicles, as well as logistical support for the ISIS terrorist groups themselves as they easily pass through Turkey's porous border. While Turk President Recep Tayyip Erdoğan has exerted strict control on all of the Syrian refugees migrating out of their terrorized country, providing a free ticket into Syria to mercenary terrorists has been his priority.
Even Erdoğan son, Bilal , has gotten into the act where it concerns providing an illegal black market for ISIS-pumped oil.  Apparently he was tasked by his father to oversee the whole illicit oil-stealing operation.  In this way the spoils of war could be kept in the family.
Meet The Man Who Funds ISIS: Bilal Erdogan, The Son Of Turkey's President
What is particularly hard to believe is that after the exposure of their plundering Syria's oil and pillaging their artifacts, they simple shifted their operation over to Northern Iraq.  As a key member of the Anglo-American Axis* they, must have felt secure knowing that they could get away with such treacherous behavior.
Pepe Escobar: Crippled in Syria, Turkey goes for a 'Sunnistan' in Iraq
In the midst of war, most incorrigible war profiteers simply cannot help themselves as they know that when the dust settles their cover will be blown and their contraband cash cows will be taken to slaughter.
*Anglo-American Axis
The Anglo-American Axis is represented, first and foremost, by the major English-speaking countries of the world: USA, UK, Canada, Australia, New Zealand and Israel. The European member nations of NATO, such as Germany, France, Italy, Spain, Portugal, Belgium, Luxembourg and the Netherlands are also closely aligned with the AAA as are all the Scandinavian countries. So are the Asian Pacific Rim nations of Japan, South Korea, Taiwan and the Philippines. Saudi Arabia, Turkey, Egypt, Pakistan, Kuwait, Jordan, Bahrain, United Arab Emirates, and Qatar also owe their allegiance to the AAA but some of these may be changing. The World Shadow Government is an ultra-secret, supranational organization which completely controls the Anglo-American Axis, as well as the European Union, NATO, among many other institutional entities which constitute the Global Control Matrix. (Source: Vladimir Putin's Russia: Perfect Foil To The Anglo-American Axis And Their New World 'Order')
~~~~~~~~~~~~~~~~~~~~~~~~~~~~~~~~~~~~~~~~~~~~~~~~~~~~~~~~~~~~~~~~~~~~
EXCLUSIVE: Sarin materials brought via Turkey & mixed in Syrian ISIS camps – Turkish MP to RT
RT.com
Islamic State terrorists in Syria received all necessary materials to produce deadly sarin gas via Turkey, Turkish MP Eren Erdem has told RT, insisting there are grounds to believe a cover up has taken place.
The main opposition Republican People's Party (CHP) member, Erdem, brought up the issue for public discussion in parliament last week, citing evidence from an abruptly-closed criminal case. He accused Ankara of failing to investigate Turkish supply routes used to provide terrorists with toxic sarin gas ingredients.
"There is data in this indictment. Chemical weapon materials are being brought to Turkey and being put together in Syria in camps of ISIS which was known as Iraqi Al Qaeda during that time," Erdem told RT.
Sarin gas is a military-grade chemical that was used in a notorious attack on Ghouta and several other neighborhoods near the Syrian capital of Damascus in 2013. The attacks were pinned on the Syrian leadership, who in turn agreed to get rid of all chemical weapons stockpiles under a UN-brokered deal amid an imminent threat of US intervention.
Addressing parliamentarians on Thursday, Erdem showed a copy of the criminal case number 2013/120 that was opened by the General Prosecutor's Office in the city of Adana in southern Turkey.
The investigation revealed that a number of Turkish citizens took part in negotiations with Islamic State (IS, formerly ISIS/ISIL) representatives on the supply of sarin gas. Pointing to evidence cited in the criminal case, he said that wiretapped phone conversations proved that an Al-Qaeda militant, Hayyam Kasap, acquired sarin.
"These are all detected. There are phone recordings of this shipment like 'don't worry about the border, we'll take care of it' and we also see the bureaucracy is being used," continued Erdem.
Based on the gathered evidence Adana authorities conducted raids and arrested 13 suspects in the case. But a week later, inexplicably, the case was closed and all the suspects immediately crossed the Turkish-Syrian border, Erdem said.
Read More:   Turkish prosecutors indict Syrian rebels for seeking chemical weapons
"About the shipment, Republic prosecutor of Adana, Mehmet Arıkan, made an operation and the related people were detained. But as far as I understand he was not an influential person in bureaucracy. A week after, another public prosecutor was assigned, took over the indictment and all the detainees were released. And they left Turkey crossing the Syrian border," he said.
"The phone recordings in the indictment showed all the details from how the shipment was going to be made to how it was prepared, from the content of the labs to the source of the materials. Which trucks were going to be used, all dates etc. From A to Z, everything was discussed and recorded. Despite all of this evidence, the suspects were released," he said.
Read More:  'Abandoned' barrels containing deadly sarin seized in rebel-held Syria
"And the shipment happened," Erdem added. "Because no one stopped them. That's why maybe the sarin gas used in Syria is a result of this."
Speaking to RT, Erdem said that according to some evidence Turkish Mechanical and Chemical Industry Corporation was also involved, with some unconfirmed reports pointing in the direction of a government cover up, with Minister of Justice Bekir Bozdag's involvement.
Certain evidence suggests Bozdag wanted to know beforehand from the sarin gas producer when and if the Islamists will use the chemical weapon.
"When I read the indictment, I saw clearly that these people have relationships with The Machinery and Chemical Industry Institution of Turkey and they don't have any worries about crossing the border. For example in Hayyam Kasap's phone records, you hear him saying sarin gas many times, saying that the ateliers are ready for production, materials are waiting in trucks which were supposedly carrying club soda,"he told RT.
The parliamentarian said that now he feels like there is a witch hunt against him, after he confronted the justice minister. Bozdag, according to Erdem denied only the part that he wanted to get notified about the operations beforehand.
Furthermore, Erdem argues that the West purposely blamed the regime of Bashar Assad for the August 2013 attacks and used it as part of the pretext to make US military intervention in Syria possible. The MP said that evidence in Adana's case, according to his judgment, proves that IS was responsible.
"For example the chemical attack in Ghouta. Remember. It was claimed that the regime forces were behind it. This attack was conducted just days before the sarin operation in Turkey. It's a high probability that this attack was carried out with those basic materials shipped through Turkey. It is said the regime forces are responsible but the indictment says it's ISIS. UN inspectors went to the site but they couldn't find any evidence. But in this indictment, we've found the evidence. We know who used the sarin gas, and our government knows it too," he said.
At the same time, Erdem also accused the West and Europe in particular for providing "basic materials" to create such a powerful chemical weapon.
"All basic materials are purchased from Europe. Western institutions should question themselves about these relations. Western sources know very well who carried out the sarin gas attack in Syria. They know these people, they know who these people are working with, they know that these people are working for Al-Qaeda. I think is Westerns are hypocrats about the situation," he concluded.
LISTEN MORE: