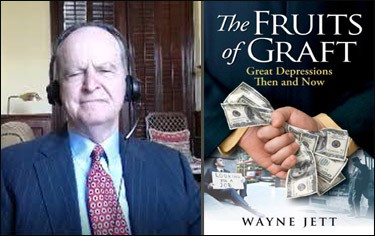 THE GREAT DEPRESSION WAS RACIST GENOCIDE
Harold Saive
Learn from author, Wayne Jett in "The Fruits of Graft, Great Depressions Then and Now"  how the Great Depression was a racist, depopulation agenda to eliminate the middle-class in America.
It must be pointed out that the illegal Federal Reserve Act of 1913 under Woodrow Wilson enabled the printing of fiat (fake) money that ultimately enabled two false flag World Wars, Viet Nam, 9/11 and the current war on Americans by foreign infiltrators.
Wayne Jett's book details how elite bankers, oligarchs and royalty enlisted presidents Herbert Hoover and FDR to orchestrate the mass murder of millions of Americans during the engineered market crash of 1929. The depression only ended with WWII – another banker-engineered depopulation event targeting the middle-class.
Now, it's happening again but on a global scale.
(SGT REPORT VIDEO 12/25/2018) – INTERVIEW WITH WAYNE JETT  "Their Plan Has Always Been Pure Evil" THE GREAT DEPRESSION WAS DELIBERATE GENOCIDE AND EXTERMINATION OF AMERICAN MIDDLE-CLASS.  (Bitchute Backup video)
(SGT REPORT VIDEO 10/21/2019) – INTERVIEW WITH WAYNE JETT  — DEMOCRAT'S TREASON LEADS TO DURHAM & BARR CHECKMATE! (Bitchute Backup video)
Book review by Robert David Steel
"I have long known of the Deep State led by the Rothchilds and the Vatican but until I read this book I had no idea that a) the banks caused the Great Depression and b) the major banks lost nothing — they bet short and rode the depression to the bottom, further enriching themselves on the backs of all those they made destitute."
"FDR's annual tax increases coupled with large purchases of foreign gold stripped money from the U. S. economy and collapsed the international gold standard. In this context, it was damning, though no surprise, when Roosevelt admonished his Treasury secretary against tax cuts in 1939 (Morgenthau promised "a boom (WWII) within a month")
"This book is an excellent companion to Tragedy & Hope: A History of the World in Our Time but I would also add The Devil's Chessboard: Allen Dulles, the CIA, and the Rise of America's Secret Government. The evil that is Wall Street, owned and operated by the Rothschilds (who control all central banks of note including the Federal Reserve) and the Vatican, cannot be overstated." (More)
PURCHASE THE BOOK: "The Fruits of Graft"