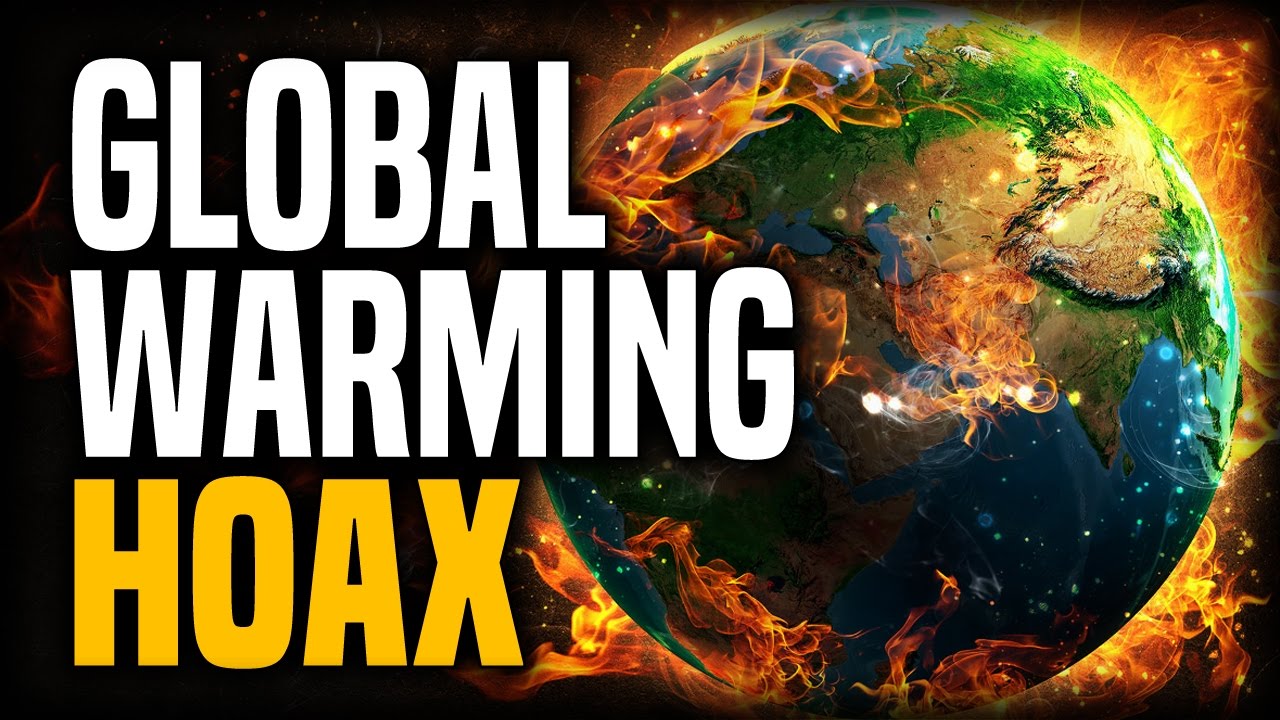 Are the globalist geoengineering the Southeast drought to push their Global Warming hoax?
As Temperatures Rise, "Flash Drought" Takes Hold across South
Areas have gone from near-record wetness to drought conditions in just a matter of months
By Daniel Cusick, E&E News on October 4, 2019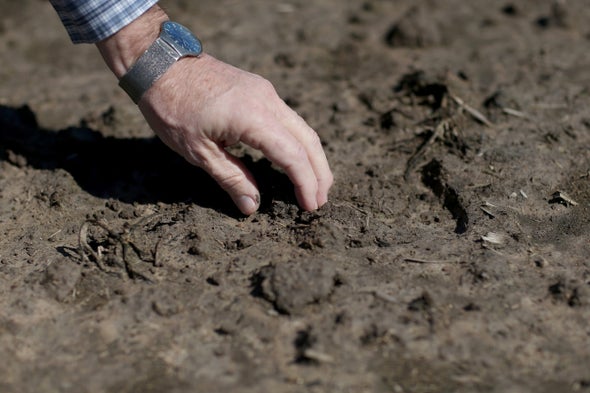 Meteorologist Eric Luebehusen had a tough week at the end of September. He called it a "living hell."
As a member of the Agriculture Department team that compiles the U.S. Drought Monitor, Luebehusen created what looked like an omelet on a map of the United States. Yellow and brown swirls covered much of Texas and swaths of the Southeast, with splotches of red mixed in.
"Here you have a divergent signal where many of these folks have had near-historic wetness and drought all within 60 to 90 days," he said, describing a kind of weather whiplash. "People went from really wet to really dry, really fast."
Luebehusen plotted what experts call a "flash drought." While not fully understood, these quick-developing droughts might be another signature of climate change.
Experts say a flash drought often begins as a pin-sized swelter in one county, then expands like an amoeba across the landscape. The droughts are often accompanied by erratic precipitation over sharply defined geographic areas. The downpours can be extraordinarily intense, just as climate change is transforming routine rain events into mega-storms.
On Luebehusen's drought map for Sept. 24, two small areas popped out like red ripe tomatoes in Shelby County, Ala., and Dallas County, Texas. Both were experiencing "extreme drought," one category shy of the highest rung on the drought severity scale.
In Shelby County, a fast-growing suburb of Birmingham, more than 200,000 people experienced near-record temperatures and extreme dryness, what scientists call D3 drought. Less than 30 miles away, Birmingham was at D0, or "abnormally dry," but not in drought.
The same thing happened in Texas, where moisture and temperature gauges in Dallas County measured dangerously dry conditions, while seven surrounding counties were not in a drought.
"Why do you see a bright red county [on the map] and then a white blob three counties away? That's a flash drought beginning to form," said Mark Svoboda, director of the National Drought Mitigation Center at the University of Nebraska, Lincoln. "It's a rapid change in temperature, in evapotranspiration and in soil moisture."
Svoboda said droughts didn't always behave this way. The term "flash drought" first appeared in a 2001 research paper by Svoboda and was not widely used until after 2012, when a fast-forming drought enveloped the Great Plains, he said.
And yet some conditions that make a "flash drought" are not new. In the Gulf South, dry conditions can form and dissipate quickly, especially in late summer and early fall. The same is true of thunderstorms, which can form over tightly drawn areas and miss nearby areas—sometimes within a mile—altogether.
What's changing is the variability and intensity of these precipitation and temperature conditions, said John Nielsen-Gammon, the Texas state climatologist and professor of atmospheric science at Texas A&M University. Dallas County, for example, has two primary monitoring stations, at Dallas Love Field Airport and Dallas/Fort Worth International Airport about 15 miles away.
While the two airports can see wide differences in precipitation day to day, the broader signal for all of Dallas County is higher heat and deeper drought. From July to September, the Dallas area averages about 7 inches of rain, Nielsen-Gammon said. This year, Love Field received 2.2 inches of rain over the 90-day period, making it the fifth driest three-month stretch in 106 years. DFW received 3.22 inches of rain, making it the 19th driest 90-day period based on 122 years of data collection.
"Even more robust than the increase in variability in rain is the increase in temperature," Nielsen-Gammon said. "And that directly leads to increased rates of evaporation, which means things dry out faster."
In August and September this year, every monitoring station across Texas recorded its third-, second- or highest average temperature for those 60 days.
More than 600 miles east in north-central Alabama, conditions showed the same pattern.
In a normal July-September period, Shelby County and its neighbor Jefferson County should see a foot of rain, according to State Climatologist John Christy. Neither hit the 12-inch mark this year, but Shelby fell a full 7 inches short, while Jefferson came within 3 inches of normal.
"The influence of that difference lingers on in the U.S. Drought Monitor," said Christy, a professor of atmospheric science and director of the Earth System Science Center at the University of Alabama in Huntsville.
Many Alabama counties have also experienced brutally high temperatures into October, while September notched the highest 30-day average for daily high temperatures based on a 125-year data record.
At the same time, Alabama is seeing extreme precipitation and temperature variability across seasons. While the state is entering what experts say could be one of its worst droughts ever, six months ago the state was experiencing its wettest winter since 1895. Many places recorded precipitation of more than 30 inches, nearly double the seasonal average and in many places making farm fields too wet for spring planting.
Now the opposite is true.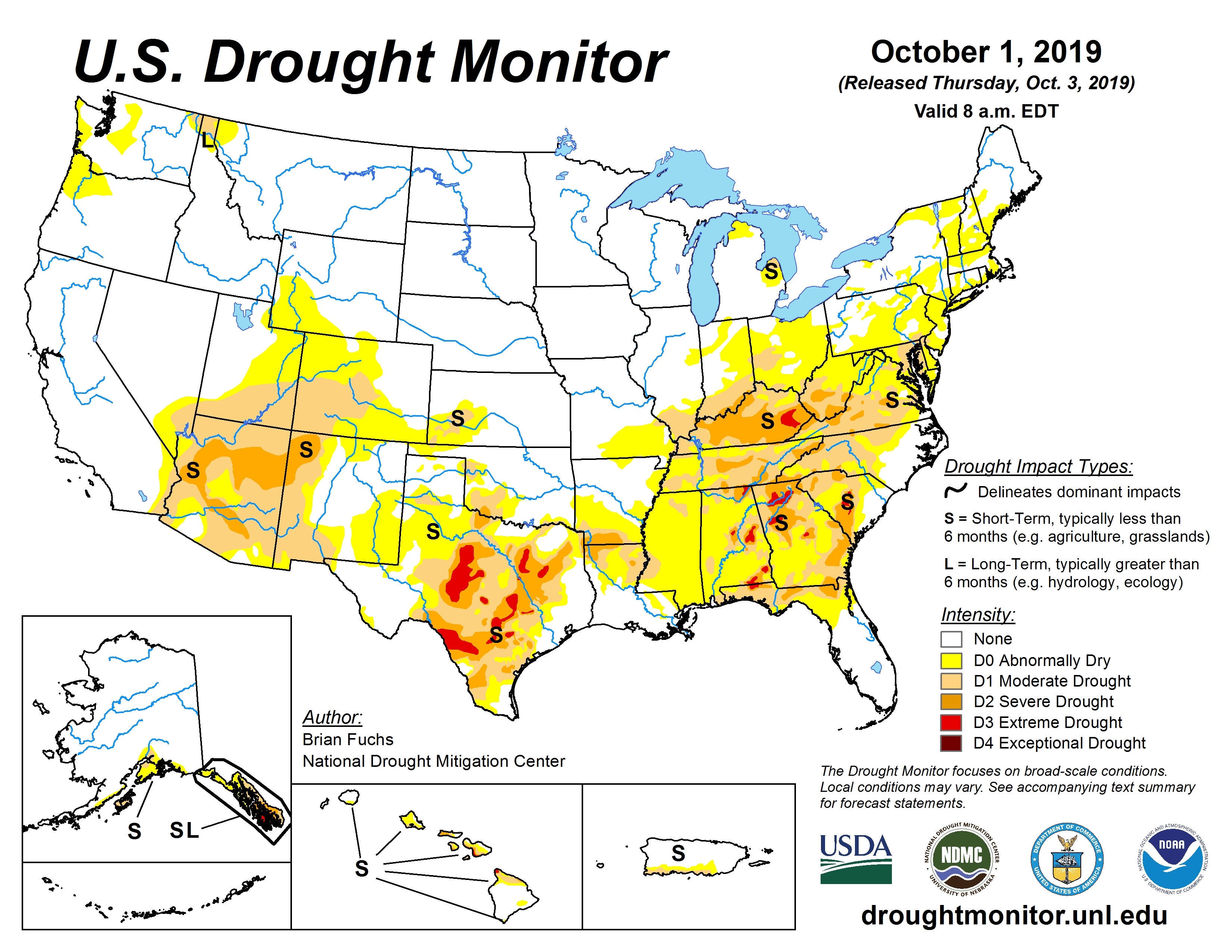 Alabama's dense green vegetation is browning too fast, and wildlife is stressed as creeks go dry. Livestock farmers are receiving emergency hay relief to keep animals from starving, and crops are burning up before harvest.
"The last 30 days have been largely miserable. People need rain," said USDA's Luebehusen.
Southern states could be entering a period of more extreme and extraordinary drought, experts say. In Alabama, the worst droughts on record have occurred at 25- to 35-year intervals: 1927, 1954, 1980 and 2016. An "extraordinary" drought in 2019 would be the state's second in three years.
Christy, who is known for his efforts to disprove climate change, acknowledged that two disaster-scale droughts in three years is unusual. But he said far more droughts occurred in the state during the 1930s and 1950s. "So I don't see any change there."
Christy also said he has analyzed one- and two-week "runs-of-days" where above-average high temperatures would have indicated flash drought, but he saw no evidence that droughts were becoming flashier.
Svoboda attributed some of the growing recognition of "flash droughts" to improved monitoring and analysis tools, such as higher-resolution radar and satellite imagery, and more sophisticated monitoring stations. Those changes allow scientists to see drought conditions at a much more granular level, he said.
At the same time, Svoboda said meteorologists are working harder than ever to understand why climate conditions—and especially areas of wet and drought—change so quickly and with more severe consequences for people and the planet.
"It's like what meteorologists have said for years—all drought is local," he said. "And no matter what happens, you're always going to have somebody on the wrong side of the line."
___
https://www.scientificamerican.com/article/as-temperatures-rise-flash-drought-takes-hold-across-south/