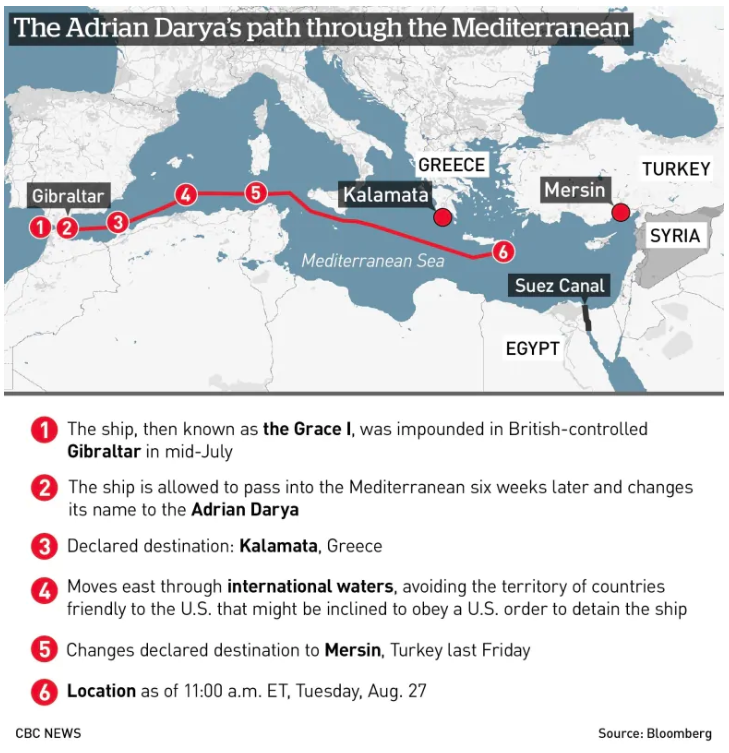 Why is the Trump administration preventing a sovereign nation from receiving necessary oil supplies?
Iranian Tanker Still Bound For Syria; US Working To "Disrupt" Oil Transfer: Report
ZeroHedge.com
As the Iranian oil tanker Adrian Darya 1 still appears to be circling in Mediterranean waters off western Cyprus after it turned away from approaching Turkey's coast this week, a new Wall Street Journal report says it will ultimately attempt to offload its 2.1 million barrels of oil to Syria after all, in contravention of EU sanctions.
The WSJ report issued late Friday cites US officials who describe a plan already in place to disrupt any ship-to-ship transfer that would get the oil into Syrian hands — precisely what UK/Gibraltar authorities detained the ship for in the first place, at the request of the United States:
The U.S. State Department is working to disrupt what it sees as the vessel's Syrian plan, according to a U.S. official. The State Department has been monitoring two other Iranian tankers in the Mediterranean that could pick up the cargo…
As Reuters described based on tracking data, the vessel "made a U-turn on Friday and headed for Turkey's Iskenderun port – 200 km (124 miles) north of Syria's Baniyas refinery, the tanker's suspected original destination."
Just killing time. They might as well just stop moving and save some fuel. pic.twitter.com/GEvbVME2CY

— TankerTrackers.com, Inc.⚓️? (@TankerTrackers) August 30, 2019
"The vessel's plan, the people said, is to deliver its crude to smaller tankers near Syria. The new itinerary, with the stated destination of Iskenderun, comes after a failed attempt to offload the cargo near Greece, the people said," according to the WSJ.
It would likely exit the Mediterranean via the Suez Canal back to Iran, per the report:
The vessel's current plan could still change if it finds other buyers or if the smaller tankers are unable to link up with the Adrian Darya 1, one person said. After its oil is transferred, the ship plans to return empty to Iran after crossing the Suez Canal, they said.
On Monday an Iranian government spokesman announced the oil had been sold to an unnamed buyer while en route across the Mediterranean after it was released from custody in Gibraltar, an overseas possession of the UK. In statements made to reporters in Tehran, spokesman Ali Rabiei, said of the oil's as yet unmentioned unloading point, "The buyer of the oil decides where its destination is."
Earlier in the day Friday Turkish Foreign Minister Mevlut Cavusoglu suggested the tanker was headed to "the main port in Lebanon," as reported by Reuters. If it does end up off Lebanon, there's a likelihood the oil would still be transferred straight into Syrian government custody.
___
https://www.zerohedge.com/geopolitical/us-believes-iranian-tanker-still-bound-syria-working-disrupt-oil-transfer