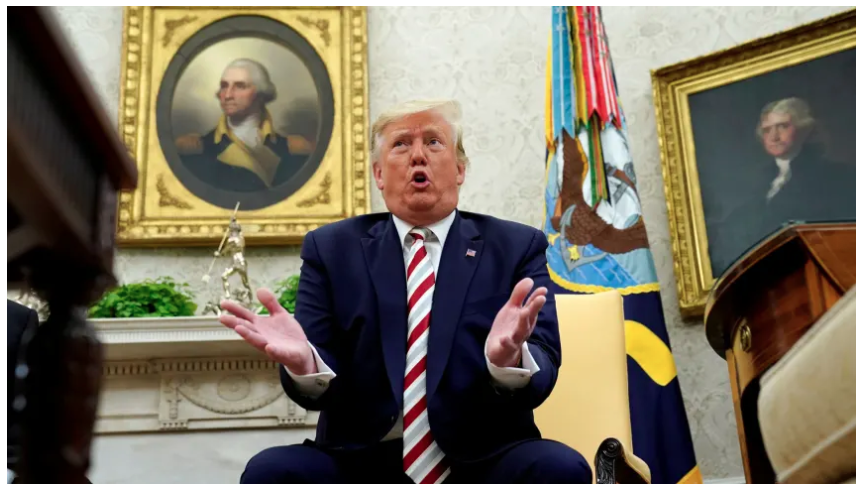 Trump referred to as the "King of Israel" conservative radio host
'Like the King of Israel': Trump Unleashes Bizarre Twitter Storm Day After 'Disloyal' Jews Comment
Trump after stirring controversy on Tuesday doubled down on Wednesday morning with a fresh attack on Democratic Congresswoman Rashida Tlaib
Haaretz
U.S. President Donald Trump, in a series of bizarre Wednesday morning tweets, quoted praise from a conservative radio host who referred to him as the "King of Israel" and renewed his attacks on Democratic Congresswoman Rashida Tlaib.
The Twitter storm follows Trump's latest controversy on Tuesday when he claimed that American Jewish people who vote for Democrats show "either a total lack of knowledge or great disloyalty."
LATEST: Trump makes it clear he meant Jews voting Democrat are 'disloyal to Israel' 
Those Trump's comments were quickly rebuked by U.S. Jewish groups who released statements calling for Trump to stop his divisive rhetoric. "Enough Mr. President. American Jews – like all Americans – have a range of political views. Your assessment of their knowledge or loyalty, based on their party preference, is divisive, disrespectful, and unwelcome. Please stop," the American Jewish Committee wrote in a direct plea to Trump.
Trump's claim triggered a quick uproar from critics who said the Republican president was trading in anti-Semitic stereotypes. It came amid Trump's ongoing feud with Democratic congresswomen Ilhan Omar of Minnesota and Tlaib of Michigan, both Muslim.
Trump took no heed of those comments and instead doubled down on Wednesday morning with a fresh attack on Democratic congresswoman Rashida Tlaib. Trump wrote, "Rep. Tlaib wants to cut off aid to Israel. This is the new face the of Democrat Party? Read the AOC PLUS 3 statements on their hatred of Jews and Israel. Check out Rep. Omar (the great people of Minnesota won't stand for this)."
Jewish Groups Rebuke Trump Over Claim That U.S. Jews Voting Democrat Are 'Disloyal'
That tweet followed a bizarre tweet in which he quoted conservative radio host Wayne Allyn Root praising Trump's popularity in Israel.

….like he's the King of Israel. They love him like he is the second coming of God…But American Jews don't know him or like him. They don't even know what they're doing or saying anymore. It makes no sense! But that's OK, if he keeps doing what he's doing, he's good for……….all Jews, Blacks, Gays, everyone. And importantly, he's good for everyone in America who wants a job.' Wow!"
>> If there's a Hell, Trump and Pence will do eternity there. In a cage | Opinion
Trump has closely aligned himself with Israel, including its conservative prime minister Benjamin Netanyahu, while the Muslim lawmakers have been outspoken critics of Israel's treatment of the Palestinians. Tlaib is a U.S.-born Palestinian American, while Omar was born in Somalia.
"Where has the Democratic Party gone? Where have they gone where they are defending these two people over the state of Israel?" Trump told reporters in the Oval Office. "I think any Jewish people that vote for a Democrat, I think it shows either a total lack of knowledge or great disloyalty."
At Trump's urging, Israel blocked Omar and Tlaib from entering the country last week. Israel later agreed to allow Tlaib to make a humanitarian visit to see her grandmother, who lives in the West Bank. Tlaib declined, saying her grandmother had ultimately urged her not to come under what they considered to be humiliating circumstances.
The Associated Press contributed to this report
___
https://www.haaretz.com/israel-news/trump-israel-king-anti-semitism-jews-1.7728867