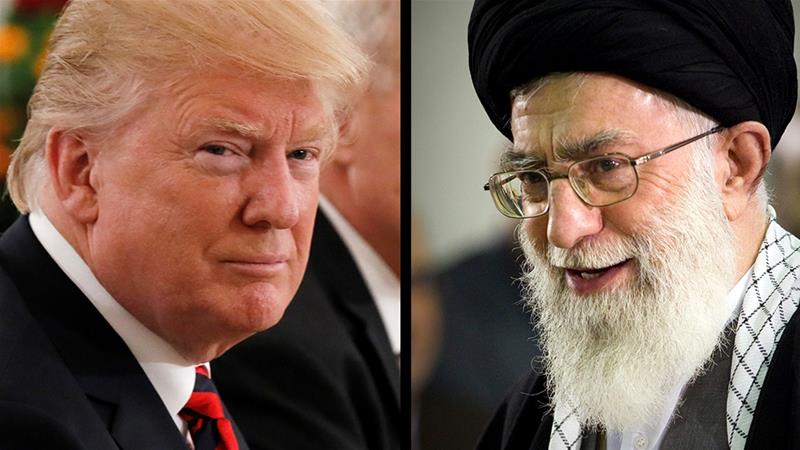 Trump's Warmongering Against Iran Reveals a Catastrophic Foreign Policy
Iran Vows That Path To Diplomacy Closed "Forever" After Latest US Sanctions
ZeroHedge.com
Despite the fact that Washington had already sanctioned more than 80% of Iran's economy, so the notion that Ayatollah Ali Khamenei and other senior Iranian officials still have any exposure to the Western financial system is a little ridiculous, President Trump delivered on his promise to impose new sanctions on the Supreme leader and other senior Iranian officials on Monday, with Treasury Secretary Mnuchin adding that more sanctions against Foreign Minister Javad Zarif would be handed down later this week.
Though we imagine the Iranians vastly prefer the sanctions to a missile strike on Iranian soil (a strike that Trump famously speculated could involve 150 casualties), and although the threat of all-out warfare in the Middle East has been averted (at least for now), Tehran is telegraphing a message of defiance, saying the path to a diplomatic solution is now permanently closed.
Here's more from Bloomberg:
President Donald Trump on Monday unveiled sanctions on Ayatollah Ali Khamenei and eight senior military commanders that deny him and his office access to financial resources. Treasury Secretary Steven Mnuchin said financial restrictions would also be introduced against Iran's Foreign Minister Javad Zarif later this week.

"The futile sanctions against the Iranian leader and the country's chief diplomat mean the permanent closure of the diplomatic path with the government of the United States," the Foreign Ministry's spokesman, Abbas Mousavi, was quoted as saying by semi-official Iranian Students News Agency. "The Trump government is in the process of destroying all the established international mechanisms for maintaining global peace and security."
Iran's declaration soured the market's mood for risk assets, and sparked a bid of safety buying. The Japanese yen rallied while Treasury yields ticked lower. S&P 500 futures declined and most Asian stock markets slipped. Asian emerging-market currencies were mixed, with several trading lower.
Trump refrained from launching a military strike against Iran last week (what would have been retaliation for Iran shooting down an American drone), and has instead chosen to press Iran to come to the table, saying during a weekend interview that he'd be willing to talk with 'no preconditions.' The US has accused Iran of orchestrating the bombings of several oil tankers near the Strait of Hormuz oil-trade chokepoint, though Iran has repeatedly denied any involvement.
Trump has coupled his "maximum pressure" campaign of sanctions with invitations to sit down with Iranian leaders. In an interview that aired Sunday on NBC's "Meet the Press," the president said that he thinks Iranian leaders want to negotiate and he's willing to talk with no preconditions except that the outcome must be Iran acquiring no nuclear weapons.

"The supreme leader of Iran is the one who ultimately is responsible for the hostile conduct of the regime," Trump said on Monday.
Iranian President Hassan Rouhani dismissed Trump's offer to talk as "a lie." And Iran's representative to the UN urged the organization to help set up regional talks, adding that Iran would refuse to meet with the US one-on-one.
"It will have an effect because it will annoy the Iranians and make negotiations hard to pull off if the supreme leader is sanctioned," said Brian O'Toole, a senior fellow at the Atlantic Council who previously worked in the U.S. Treasury Department's sanctions unit.
Khamenei, who was elected president of the newly born Republic in 1981 and later went on to become its second Supreme ruler, reportedly has possessions valued at an estimated $200 billion, according to American diplomatic personnel. Though it's unclear how much of this is exposed to sanctions.
___
https://www.zerohedge.com/news/2019-06-25/new-us-sanctions-mean-path-diplomacy-forever-closed-iran-warns