As if on cue, President Trump falsely accuses Iran for an obvious false flag attack executed by the U.S. and Israel—VERY SAD!
Trump Says Tanker Attack Has "Iran Written All Over It" As Tehran Slams US "False Flag"
ZeroHedge.com
Iran has slammed what it's mission to the United Nations said are "unfounded and reckless" claims put forth yesterday by US Secretary of State Mike Pompeo accusing Iran of conducting the "blatant" attack on two international oil tankers in the Gulf of Oman on Thursday. Meanwhile President Trump on Friday morning told Fox & Friends that the tanker attacks had "Iran written all over it" and dismissed Iran as "a nation of terror."
Notably, Iranian officials have accused the US or one of its allies of conducing a false flag operation as part of the "disinformation campaign" to continue its "maximum pressure" which aims at bringing Tehran into the cross hairs of a US-led war.
"The US and its regional allies must stop warmongering and put an end to mischievous plots and false flag operations in the region," Iran's mission to the United Nations said.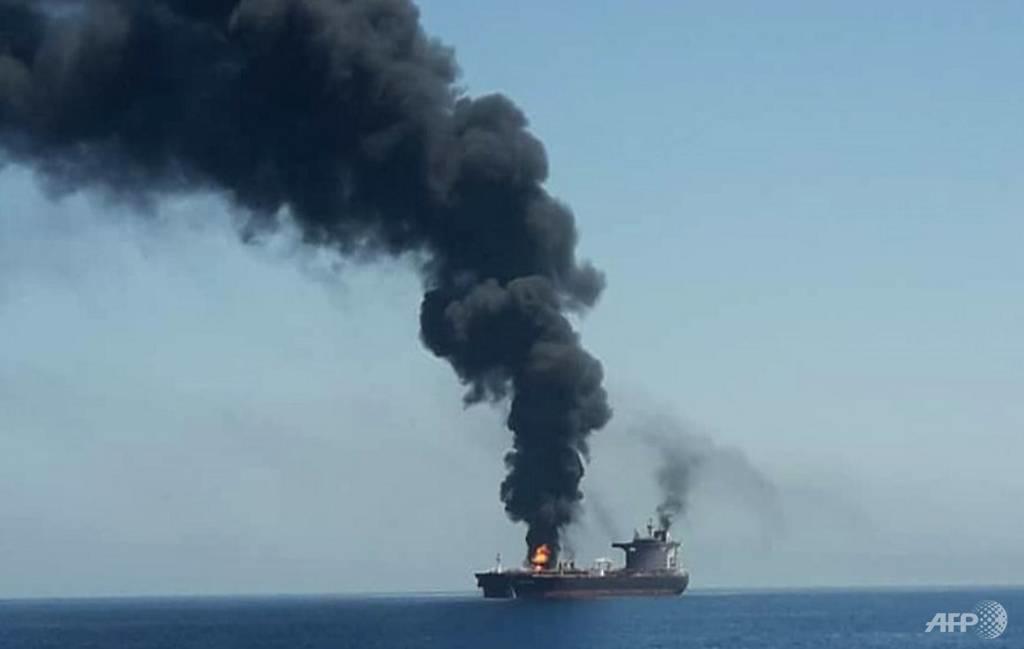 Issued late Thursday, the statement said further: "Warning, once again, about all of the US coercion, intimidation and malign behavior, Iran expresses concern over suspicious incidents for the oil tankers that occurred today."
"The US economic war and terrorism against the Iranian people as well as the massive military presence in the region have been and continue to be the main sources of insecurity and instability in the wider Persian Gulf region and the most significant threat to its peace and security," the statement continued.
Iran's foreign minister also later described the US accusations as "sabotage diplomacy" following his previous comments posted to Twitter saying "Suspicious doesn't begin to describe what likely transpired" — especially given Iran's president and the Ayatollah were hosting Japanese Prime Minister Shinzō Abe to mediate nuclear deal matters and sanctions relief at the very moment the attack took place.
Where is the video of the Iranians PLACING explosives & detonating them? Removal would be prudent by any Navy/CG. Also location of explosives is VERY high off waterline …Weird. It's not a limpet mine, it's a demo charge. Had to be put on by fairly high boat w/ a long gaff/pole https://t.co/3qzB7TrrYv

— Malcolm Nance (@MalcolmNance) June 14, 2019
Also late Thursday evening the Pentagon released a video purporting to show  'smoking gun' evidence to which Secretary of State Mike Pompeo had alluded during his statement from earlier in the day: CENTCOM footage which the Navy said showed Iran's IRGC 'caught in the act' of trying to remove an unexploded mine from the Kokuka Courageous, one of the two tankers damaged in Thursday's attacks.
However, a further strange and confusing bit of information has entered the mix, given the Japanese owner of the Kokuka Courageous which the US Navy said it filmed IRGC operatives removing an unexploded mine from has issued public statements denying the US version of events. In comments that cast the entire narrative promulgated by the US in doubt, the owner said Friday that he doesn't completely believe Washington's version of events.
President of Kokuka Sangyo – the owner and operator of the Kokuka Courageous – Yutaka Katadahe, said he believes the vessel wasn't damaged by a mine, but by some kind of projectile, like, say, a torpedo. He called reports of a mine attack "false." One reason is because a mine doesn't damage a ship above sea level, like what was seen with the Courageous.
"A mine doesn't damage a ship above sea level," Katadahe said. "We aren't sure exactly what hit, but it was something flying towards the ship," he said.
While the UN and other countries are calling for a multi-national objective investigation, Britain is the latest to join the United States in issuing a hasty accusation that Iran was behind the attacks.
UK Foreign Secretary Jeremy Hunt said late in the day Thursday: "This is deeply worrying and comes at a time of already huge tension.
"I have been in contact with Pompeo and, while we will be making our own assessment soberly and carefully, our starting point is obviously to believe our U.S. allies." He added: "We are taking this extremely seriously and my message to Iran is that if they have been involved it is a deeply unwise escalation which poses a real danger to the prospects of peace and stability in the region."
Meanwhile President Trump told Fox & Friends during a call-in interview Friday morning that the Gulf of Oman tanker attacks had "Iran written all over it." He further called Iran "a nation of terror," and bluntly said "Iran did do it," citing the US Navy video. "You know they did it because you saw the boat," Trump said. "I guess one of the mines didn't explode and it's probably got essentially Iran written all over it."
"You saw the boat at night, successfully trying to take the mine off — and that was exposed," the president said. However, Trump stopped short of the more aggressive war rhetoric more characteristic of either Bolton or Pompeo over the past couple months, citing no new potential US responses, only saying the US has been "very tough on sanctions." But Trump did issue a stern warning on safe oil passage through the vital and strategic Strait of Hormuz.
"They're not going to be closing it. It's not going to be closed, it's not going to be closed for long and they know it. They've been told in very strong terms," Trump said, speaking of Iran and its IRGC which monitors the narrow waterway.
___
https://www.zerohedge.com/news/2019-06-14/iran-slams-us-sabotage-diplomacy-false-flag-operations-over-tanker-attacks