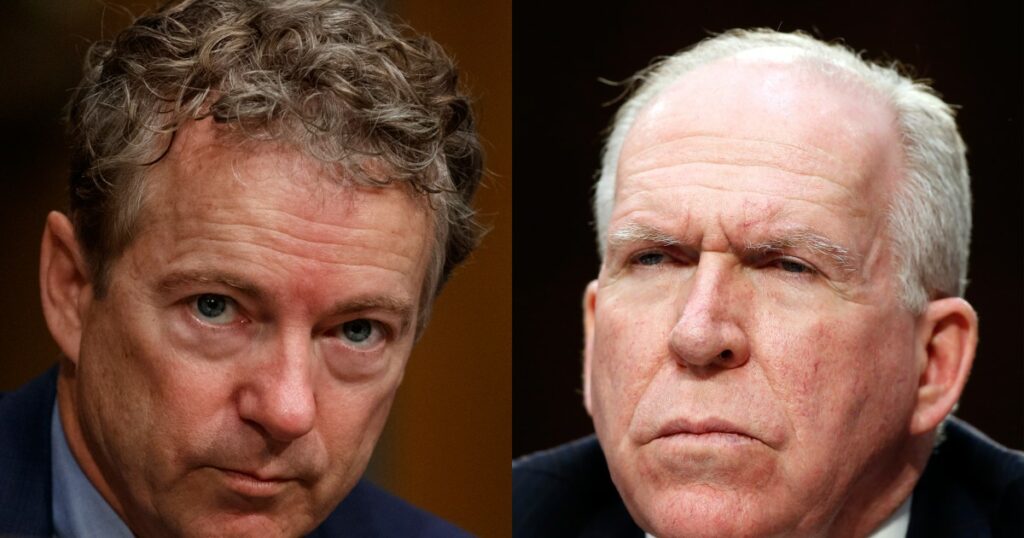 How exactly did Deep State prevent John Brennan's security clearance from being revoked?
Rand Paul: Deep state protected John Brennan's security clearance
by Daniel Chaitin
The Washington Examiner
Sen. Rand Paul suspects someone revoked President Trump's order to have former CIA Director John Brennan's security clearance revoked.
The president announced in August that Brennan's security clearance was being stripped due to "erratic behavior" that disqualified him from having access to sensitive information. But the White House never followed through with the complicated bureaucratic process of revocation, a source told the New York Times in a report published last month.
Asked to comment about it in an interview on CNN, Paul said the "deep state," in which federal or military officials defy a democratically elected government, was likely to blame.
"Now the deep state is actually protecting their own and not listening to the president's orders," the Kentucky Republican said on Tuesday. "I was sitting in the White House when President Trump said I want his security clearance taken, and I saw the order given. I saw the chief of staff was there, not the current chief of staff, the previous chief of staff."
"People talk about the deep state, now the deep state's actually protecting their own," says Sen. @RandPaul on ex-CIA Dir. John Brennan keeping his security clearance.

"I was sitting in the White House when President Trump said I want his security clearance taken." pic.twitter.com/YcKRG26L1c

— CNN Newsroom (@CNNnewsroom) June 4, 2019
He was referring to former White House chief of staff John Kelly.
"If they are working against … the president that really does disrupt our country, does disrupt a representative democracy where the president makes a decision. If someone is countermanding that, I think we need to get to the bottom of that," Paul said.
A close ally of the president, Paul said he hopes Trump will conduct a search to find out who defied his order.
Brennan has been an outspoken critic of Trump and his tendency to question the motives of members of the U.S. intelligence community. He recently said he hopes Director of National Intelligence Dan Coats and CIA Director Gina Haspel will "stand up" to Trump's "unprecedented act" of granting Attorney General William Barr "full and complete authority to declassify information" related to the origins of the federal investigation into possible ties between the Trump campaign and Russia.
Paul said he thinks Brennan has been "a partisan" and "abused his office in developing the Trump investigation. I think it was done under false pretenses and done for political reasons."
___
https://www.washingtonexaminer.com/news/rand-paul-deep-state-protected-john-brennans-security-clearance