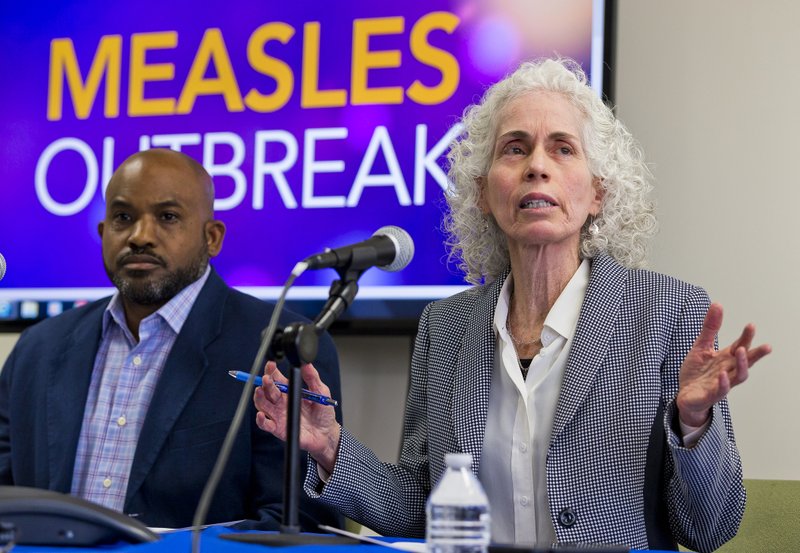 Everything points to yet another measles scare artificially manufactured to enforce compliance with MMR vaccination schedule.
Over 1000 Quarantined As Measles Spreads Across LA Universities
ZeroHedge.com
The number of measles cases registered four months into 2019 has surpassed the count of cases from last decade, according to new numbers from the CDC. Already 2019 is the highest year for measles since 2000 when the disease was eradicated domestically. All new cases since the eradication declaration have come from foreign travelers. The number of measles cases in the U.S. has climbed to nearly 700 this year, including five in Los Angeles County and 38 altogether in California.
You will find more infographics at Statista
As Statista's Sarah Feldman notes, 2014 was a particularly bad year for measles in the U.S. when the anti-vaccine movement combined with air travel to create a surge in measles cases domestically. An Amish missionary who visited the Philippinescaused nearly half of the registered cases in that year to spread throughout the mostly unvaccinated community. Another significant outbreak at Disneyland in California that same year pushed the number of cases up even higher. This year many measles outbreaks across the country are occurring in unvaccinated communities.
Additionally Statista's Martin Armstrong reports that in what the chief of the UK's National Health Service has described as a "growing public health time-bomb", new figures from UNICEF reveal that over the last eight years, more than half a million children in the UK are at risk of measles due to not receiving their first dose of the free vaccine. As this infographic shows, the UK has the third highest number among high-income countries. France is in second place with 608,000 and the U.S., currently experiencing a measles resurgence, is in first place with over 2.5 million unvaccinated children.
You will find more infographics at Statista
Health officials at a news conference repeatedly urged people who haven't been exposed to measles to get vaccinated, saying the vaccine is safe and effective.
"Ninety percent of people who are not immunized or haven't had measles before, when they're exposed to measles are likely to get measles," LA county's public health director, Dr. Barbara Ferrer said.
And the situation is escalating with AP now reporting that more than 1,000 students and staff members at two Los Angeles universities were quarantined on campus or sent home this week in one of the most sweeping efforts yet by public health authorities to contain the spread of measles in the U.S., where cases have reached a 25-year high .
The action at the University of University of California, Los Angeles, and California State University, Los Angeles – which together have more than 65,000 students – reflected the seriousness with which public health officials are taking the nation's outbreak.
"Measles actually kills people, so we have to take that really seriously," said Dr. Armand Dorian, chief medical officer at USC Verdugo Hills Hospital.
Those under the quarantine were instructed to stay at home and avoid contact with others. They also were barred from traveling by public transportation, including planes, trains, buses or taxis. If they must travel for an emergency, they were told to notify public health officials first.
"This is a legally binding order," the county's public health director, Dr. Barbara Ferrer, told reporters.
Anyone who violates it could be prosecuted, she said, but added that it appears everyone is cooperating so far. She didn't describe what penalties those who don't could face but we note that New York City has slapped 12 people with civil summonses who it says were not complying with a mandatory measles vaccination order
Those covered by the quarantine were singled out based on their possible exposure to either an infected UCLA student who had attended classes in two buildings on three days earlier this month, or a person with measles who visited a Cal State-LA library on April 11, officials said.
Those possibly exposed at Cal State-LA were located by tracking the records of people working in the library and those who logged on to its computers during the four hours the infected student was there.
On Friday, President Donald Trump urged everyone to get vaccinated.
___
https://www.zerohedge.com/news/2019-04-27/over-1000-quarantined-measles-spreads-across-la-universities