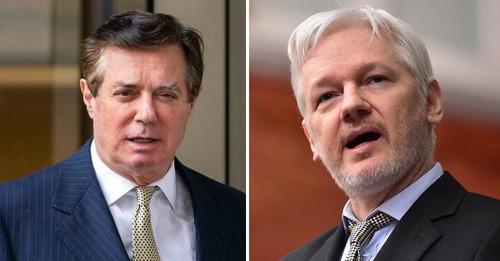 Why are the Brits always the first to run the fake news about major U.S. crimes and scandals? e.g. Fake Russiagate story
"Totally False And Deliberately Libelous": Manafort Plans To Explore "All Legal Options" Against The Guardian
ZeroHedge.com
Former Trump campaign manager Paul Manafort has responded to a "totally false and deliberately libelous" report in The Guardian that he had several meetings with WikiLeaks founder Julian Assange in the Ecuadorian embassy in London.
In a Tuesday afternoon statement through a spokesman, Manafort said:
"This story is totally false and deliberately libelous. I have never met Julian Assange or anyone connected to him. I have never been contacted by anyone connected to Wikileaks, either directly or indirectly. I have never reached out to Assange or Wikileaks on any matter. We are considering all legal options against the Guardian who proceeded with this story even after being notified by my representatives that it was false."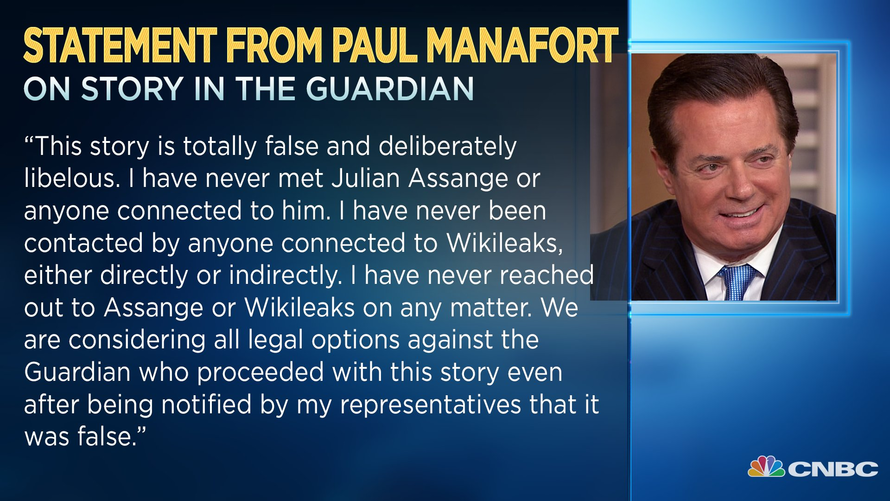 The Guardian reported on Tuesday – based on unnamed sources – that Manafort held secret talks with Julian Assange inside the Ecuadorian embassy in London, right around the time he joined Trump's campaign.
Sources have said Manafort went to see Assange in 2013, 2015 and in spring 2016 – during the period when he was made a key figure in Trump's push for the White House.

It is unclear why Manafort wanted to see Assange and what was discussed. But the last meeting is likely to come under scrutiny and could interest Robert Mueller, the special prosecutor who is investigating alleged collusion between the Trump campaign and Russia.

A well-placed source has told the Guardian that Manafort went to see Assange around March 2016. Months later WikiLeaks released a stash of Democratic emails stolen by Russian intelligence officers. –The Guardian
The Guardian, meanwhile, altered the story after publication with a massive hedge:
And as Glenn Greenwald of The Intercept points out, if the story is true – there would be ample video evidence of Manafort's visits.
This leads to one indisputable fact: if Paul Manafort (or, for that matter, Roger Stone), visited Assange at the Embassy, there would be ample amounts of video and other photographic proof demonstrating that this happened. The Guardian provides none of that.

So why would any minimally rational, reasonable person possibly assume these anonymous claims are true rather than waiting to form a judgment once the relevant evidence is available? As President Obama's former national security aide and current podcast host Tommy Vietor put it: "If these meetings happened, British intelligence would almost certainly have video of him entering and exiting," adding: "seems dubious." –The Intercept
The Guardian also ignores the fact that every guest visiting Assange "is logged in through a very intricate security system," notes Greenwald.
While admitting that Manafort was never logged in to the embassy, the Guardian waves this glaring hole away with barely any discussion or attempt to explain it: "Visitors normally register with embassy security guards and show their passports. Sources in Ecuador, however, say Manafort was not logged." –The Intercept
Why, as Greenwald asks, would Manafort visit three times but never be logged in? Why would leftist Rafael Correa allow Manafort – a life-long GOP operative, to enter the embassy undocumented?
Greenwald further points out that The Guardian's omission is "especially inexcusable" since The Guardian itself "obtained the Embassy's visitors logs in May," and made no mention of Manafort's visits at the time – which would have been bombshell news.
___
https://www.zerohedge.com/news/2018-11-27/totally-false-and-deliberately-libelous-manafort-plans-explore-all-legal-options