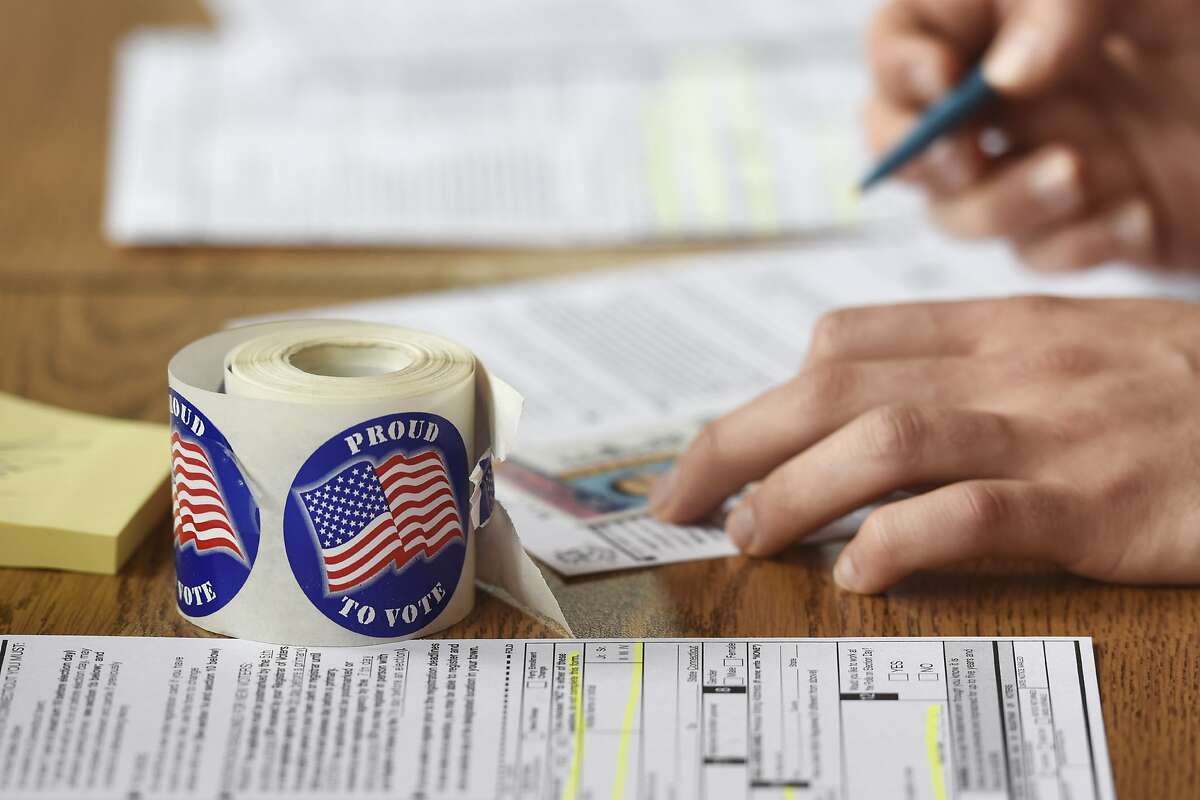 San Fran Literally Spending $300K of Taxpayer's Money to Register Illegal Aliens to Vote
SF spends $300,000 to register noncitizen voters — a whopping 49 sign up
Matier & Ross
San Francisco Chronicle
San Francisco's effort to get noncitizen parents to the ballot box is pretty much a bust the first time out, with only 49 signing up to vote in the Nov. 6 election.
Back in July, the city began registering noncitizens — including undocumented immigrants — to vote in school board elections.
The program is the first-of-its-kind in California and followed passage of a 2016 San Francisco ballot measure opening school elections to noncitizens who are over the age of 18, city residents and have children under age 19.
The city spent about $310,000 setting up the new registration system and encouraging people to sign up.
But Donald Trump's election quickly put a damper on enthusiasm for the idea. This year, city officials began voicing concerns that signing up could expose people here illegally to detection by Immigration and Customs Enforcement since voter rolls — including home addresses — could be subpoenaed by the feds.
Supervisor Sandra Lee Fewer urged the city to spend as much as $500,000 to warn undocumented residents that registering to vote could point ICE their way — but then-Mayor Mark Farrell nixed her initial request for $125,000 to get the ball rolling.
Whatever the case, the tally to register noncitizen voters comes to about $6,326 per sign up.
At that price, let's hope they vote.
Fire call: One of the people most surprised by San Francisco Fire Chief Joanne Hayes-White's announcement that she is retiring on May 5 was Mayor London Breed.
For weeks, Room 200 and Hayes-White had been holding talks on the date of the long-standing chief's exit. And the two sides were far from a deal.
The chief initially wanted to stay on until January 2020 to coincide with the end of her good friend, the late Mayor Ed Lee's, second term. Breed wanted to start moving on a new chief by the end of this year.
As both a fire commissioner and supervisor, Breed had been a regular critic of the chief's management style.
Meanwhile, Firefighters Union Local 798 — which backed Breed's mayoral campaign big-time — has repeatedly called for Hayes-White's ouster.
Hayes-White, however, is a force unto herself. Not only is she San Francisco's first female and longest-running chief, she is one of he city's most popular officials — especially in the Irish enclaves west of Twin Peaks.
Both sides knew the score, and neither wanted a bloodbath.
Talks were going back and forth when, out of the blue, Hayes-White announced she was leaving under her own steam — and that her ideal exit date was May 5, 2019, Lee's birthday.
In effect, Hayes-White split the difference between when she wanted to go and when the mayor wanted her gone.
In a subsequent memo to the Fire Department, Hayes-White was less emphatic on the exit date — saying only that she was leaving in the spring.
She also said she was "committed to a smooth transition for the department and for my successor."
Whatever the case, Hayes-White will walk out with her head high — and with an estimated $307,000-a-year pension.
Breed comes out a winner as well.
She promptly announced the start of a selection process for a new fire chief, while stating "Chief Hayes-White can continue to focus on what matters most to all of us — keeping our residents and visitors safe."
Whether Hayes-White actually hangs on until May remains to be seen.
Breed has asked the Fire Commission to start the search for a new chief, with the goal of presenting the mayor with qualified applicants by the end of January or early February of next year.
Breed will then decide who will serve as the next chief — and when.
Suited up: Oakland's plan to file a mega-million-dollar lawsuit against both the Raiders and the National Football League over the team's impending move to Las Vegas has blown a tire.
Sources tell us that two of the three law firms that had lined up to handle the case — and cover the up-front legal costs — have pulled out, leaving only New York attorney Jim Quinn of Berg & Androphy in the game.
But there is another problem. Quinn, who has already successfully sued the NFL over both player free agency and the 2011 players' lockout, is not licensed to practice in California's courts, where the lawsuit would be filed.
Quinn needs to find in-state lawyers who are willing to take the case on a contingency basis, which is how the deal was sold to the Oakland City Council.
That means the firms will only get paid if they win — and that's far from guaranteed.
"We are still in the process of putting a team together, and that will be done soon," Quinn said.
___
http://www.sfchronicle.com/bayarea/matier-ross/article/SF-spends-300k-register-noncitizen-voters-how-much-13340917.php