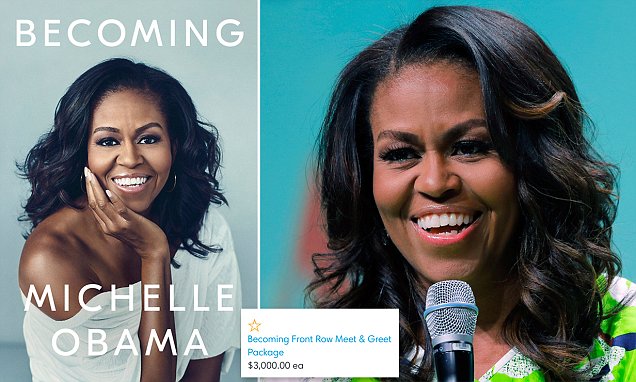 Michelle Obama Book Tour Draws Beyoncé-Like Prices
By Derrick Blakley
CBS Chicago
CHICAGO (CBS) — Has Michelle deserted the masses? That is the question some women, especially black women, are asking after seeing the sky-high ticket prices for Michelle Obama's book tour.
CBS 2's Derrick Blakley said Michelle Obama's book tour consists of inclusionary talk, but exclusionary prices. There won't be any low-key, Hillary-like book signings for Michelle; instead, she's proving to be an arena-star like Beyoncé.
Michelle Obama's November 13th book tour kicks off at the United Center in Chicago. The demand is so high, an additional show is being considered; but some big supporters of the former First Lady say she has priced herself right out of their league.
Writer Michelle Duster openly admires Michelle Obama, and even wrote a book about the former First Lady; but her book tour prices have left Duster in shock.
"I didn't anticipate the lowest price would be $500, five minutes into the ticket sales," Duster said.
United Center tickets ranged from $29.50 all the way up to $3,000 for VIP treatment. The cheaper tickets were sold out immediately, leaving disappointment bordering on bitterness for many.
"I think there's a disconnect: what they stand for, what they have stood for and worked for, and the ticket prices," said Duster.
"You definitely wanted everyone to see her who can, but there's also an element of 'be proud of her.' This is a former First Lady who made history and now she's making history the way she's doing her book tour," stated Kyra Kyles, a former Ebony editor-in-chief and current contributor to The Grio.
Others sense a denial that the Obamas are no longer "regular folk."
Political consultant Delmarie Cobb said, "They have a reason to be upset because I'm sure they felt that if she was going to be a book tour, it was going to be for the masses, not just for the elite."
The tour promoter, Live Nation, is donating 10% of all ticket sales to charities, schools, and community groups to increase accessibility, which is why an arena tour was chosen in the first place.
The steep prices, however, seem to be working against that goal.
___
http://chicago.cbslocal.com/2018/09/25/michelle-obama-book-tour-ticket-prices/