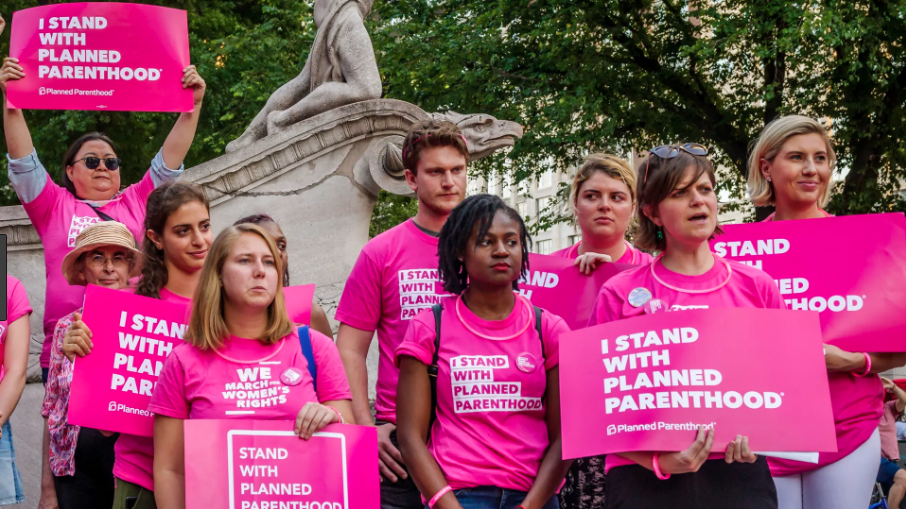 CONSPIRACY CONFIRMED: 2012 Fake Planned Parenthood Ad Targeted Kavanaugh
The Takedown of Brett Kavanaugh Started with 2012 Fake Planned Parenthood Ad
By Judi McLeod
Canada Free Press

The takedown of Supreme Court nominee Brett Kavanaugh didn't start with Christine Blasey Ford or Senator Dianne Feinstein. It started with a Planned Parenthood photoshopped ad i way back in November of 2012 that depicted Kavanaugh as a "newcomer".
With all the histrionics of Ford now jarring front page headlines, it is not easy too see that she's only the bit player in the #MeToo assassination of Brett Kavanaugh, a prop moved forward by Planned Parenthood when the time was right.
Back in 2012 when the 'Kill Kavanaugh Baby' idea was born, the Democrats were on a roll.  Rather than Barack Hussein Obama being voted out of office after four years straight of the Fundamental Transformation of America,  Obamacare, the lies of Benghazi and other high crimes being voted out of office—he was re-elected as president.
Planned Parenthood, who photoshopped "Justice Kavanaugh" onto a New York Times story about a 5-4 vote to overturn Roe V. Wade,  wasn't taking any chances.
Their detailed photoshop ad came on November 5, 2012—one day before Obama's 2012 re-election that toppled "nice guy" but largely ineffective Mitt Romney.
"This advertisement is really impressive and detailed!" wrote Josh Blackman (Josh Blackman, Nov. 5, 2012).
"Taking a page from the Obama campaign playbook, Planned Parenthood Monday rolled out a last-ditch Facebook campaign aimed at scaring liberal voters to the polls highlighting what they imagine a future Supreme Court would look like under Mitt Romney.

"The ad features a June 2014 New York Times front page trumpeting the overturning of Roe v. Wade and ominously warning that a Romney court nominee turned out to be the decisive vote.
"The ad imagines "newcomer Justice Kavanaugh" as joining in an opinion "written by Chief Justice John G. Roberts" that "threw the status quo on abortion rights out the window."

"Judge Brett Kavanaugh, currently on the U.S. Court of Appeals for the D.C. Circuit, apparently is imagined to have replaced Justice Ruth Bader Ginsburg, who does not appear in the line-up of votes in the ad."
In other words,  Planned Parenthood had already written off Justice Bader as dead.
"The fine print under the majority bloc by CJ Roberts says:

"Too long has a bunch of ninnies run this country and this court. Frankly, we are tired of it. We do not enjoy modernity, and the moral grayscale that came into popularity after the age of colonies and slaves ended.

"But we probably have a bunch of legal language to dress that up with here.

"The text under the "dissenting joint opinion reads":

"The court regards its trained statutory interpretation as judicial modesty. It is not. It amounts instead to a vast judicial overreaching. It creates a debilitated government."
---
Planned Parenthood came back with a vengeance six years later with a a six-figure ad buy targeting Supreme Court pick Brett Kavanaugh on the same day that his confirmation hearings started in the Senate.
"The TV and radio ads are expected to air in Alaska and Washington, D.C., the women's health and abortion provider said on Tuesday. Planned Parenthood and other abortion rights groups have charged that Kavanaugh's appointment could roll back Roe v. Wade, the landmark 1973 Supreme Court decision that made abortion a constitutional right. (Vox, Sept. 7, 2018)
"Americans understand that the right to access safe, legal abortion is already at risk in this country and giving Kavanaugh a seat on the Supreme Court would tilt the balance of the court against our constitutional rights and liberties," said Dawn Laguens, executive vice president of the Planned Parenthood Action Fund, the group's advocacy arm.

"The ads in Alaska are expected to target Sen. Lisa Murkowski, R-Alaska, a centrist senator who has supported abortion rights and Planned Parenthood.
Kavanaugh opponents need both Murkowski and centrist GOP Sen. Susan Collins of Maine to oppose him in order to sink the nomination.

"If Supreme Court nominee Brett Kavanaugh is confirmed, Roe v. Wade could be overturned in less than a year.

"That's because 13 abortion cases are already before circuit courts around the country, the last step before reaching the Supreme Court. Reproductive rights advocates say any one of them could provide an opportunity for a Kavanaugh Court to reconsider the right to an abortion set forth in Roe.
Meanwhile, Planned Parenthood meticulously stared planning the takedown of Brett Kavanaugh as long as six years ago.
In reality, "traumatized" Christine Blasey Ford is as much of a bit player as the screaming activists decked out in Handmaid's Tale garb providing the street theatre at senate confirmation hearings.
---
___
http://canadafreepress.com/article/the-takedown-of-brett-kavanaugh-started-with-2012-fake-planned-parenthood-a?utm_source=newsletter&utm_medium=email&utm_campaign=obama_s_desperation
_now_on_full_display&utm_term=2018-09-27