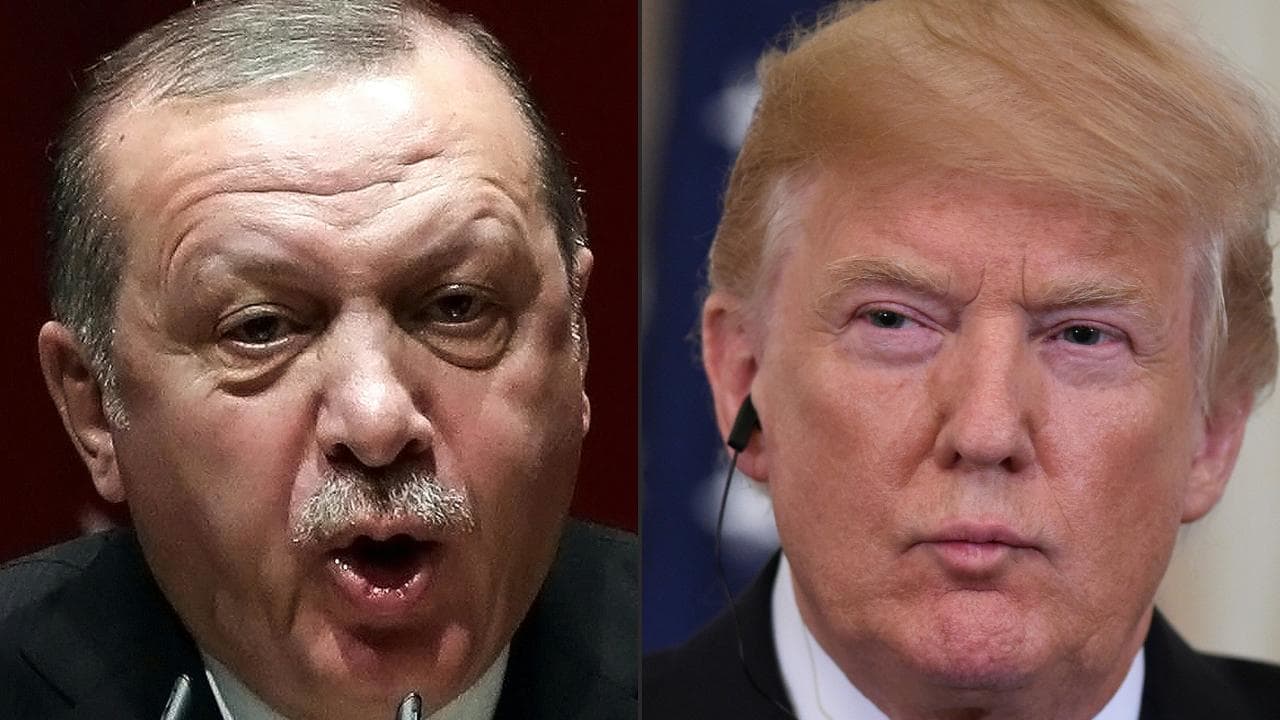 Trump Administration's Use Of Economic Sanctions Turning World Community of Nation Against The USA
Turkey To Boycott iPhones And US Electronic Goods, Erdogan Vows
ZeroHedge.com
As the war of words between the US and Turkey escalates, several hours after John Bolton warned Turkey's ambassador that the U.S. has nothing further to negotiate until detained American pastor Brunson is freed, on Tuesday Turkish President Recep Tayyip Erdogan vowed to boycott American electronic products in response to Washington's economic pressure against Ankara.
"There is an economic attack against Turkey. Earlier such things were done in secret, and now they are open to us. We can react in two ways: economically and politically," Erdogan said in his latest defiant speech in Ankara Tuesday, warning that those who wage "economic warfare" against Turkey will pay a price and adding that the Turkish nation "won't go down, it will stand firm on its feet."
"Our Ministry of Finance and the Treasury are working day and night…We will boycott America's electronic products. They have iPhones, but on the other hand there are Samsungs. We have our local brand Venus Vestel [a Turkish smartphone brand], we will use it," the Turkish president added, sending the stock of Vestel Elektronik surging.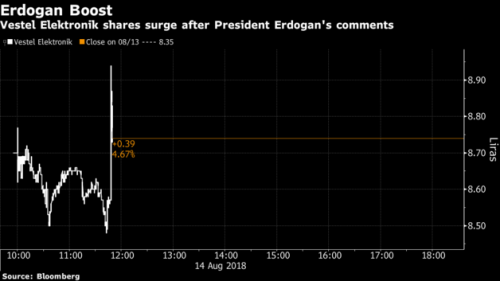 Erdogan's statement indicates that for the first time since the diplomatic crisis with the US began, Erdogan is playing "his own Trump economic card."  With more than 82 million people and a population growth that surpasses pretty much all European countries, Turkey is a big market and will only get bigger, BBG's Onur Ant notes. So his point on iPhones had an internal coherence to it, just like Erdogan said here:
"There is a price we're paying for the period we're in. But there will be a price" those who're waging an economic warfare against Turkey will also pay.
Of course, with the lira plunging, the boycott may be a moot point: with Turkish purchasing power dropping, that'll probably send more people to local brands anyway. According to Bloomberg, an iPhone X in Turkey starts at about 7,500 liras. That's about 5x the minimum wage, and will probably be adjusted upwards even more to account for the exchange rate.
As Bloomberg adds, if Erdogan's boycott of U.S. goods indicates no quick repair in U.S.-Turkey ties, then Turkey should brace for more sanctions: "the U.S. has a list of individuals and companies to target if Turkey doesn't release Pastor Andrew Brunson from jail."
Erdogan also repeated his appeal to Turks to convert their dollars immediately to liras, adding that "we'll be surrendering if we convert liras to FX." He's been repeating the same plea since Dec. 2016; since then the lira has lost about 46%.
Erdogan says dollars are being changed into Turkish lira to preserve the honor of the country's currency https://t.co/STPzLGXMtV pic.twitter.com/mRl9DSjMkh

— Bloomberg (@business) August 14, 2018
The Turkish president said he had been taking necessary measures regarding the economy, amid a slide in the lira currency exacerbated by the dispute with Washington, but it was important to keep a firm political stance. Switching to foreign currency would mean giving in to the enemy, Erdoğan added.
"Turkey has one of the most solid banking systems in the world in all respects," Erdogan said during a symposium in Ankara to mark the 16th anniversary of the ruling Justice and Development Party's (AKP) foundation.
"We can do two things; one in economy, the other in politics. We have taken measures that economy needs and we will keep doing it … What is more important, I think, is keeping our political stance strong," he added.
"What is this you're doing?" Erdogan asked, referring to the US. "What is it that you are trying to accomplish? What do you want to do? You should know that the character of this nation is not one that wavers."
Separately, Turkish Airlines has announced it will stop advertising American products on its flights, authorities in Ankara said.
Curiously, despite a modest dip, the lira, bonds and equities are standing surprisingly strong given Erdogan's comments do not signal de-escalation of tensions, having soared over 5% earlier.
___
http://www.zerohedge.com/news/2018-08-14/turkey-boycott-iphones-and-us-electronic-goods-erdogan-vows