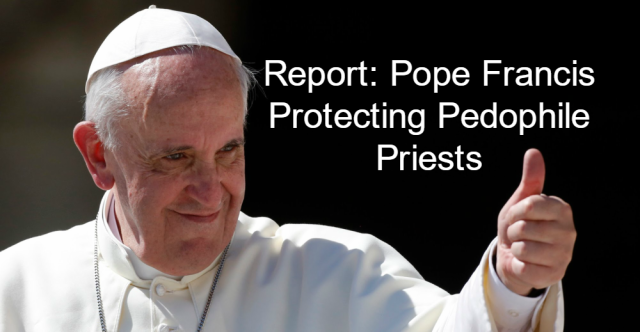 The So-Called Vicar of Jesus Christ is in Serious Trouble
Pope Francis Faces Arrest While Thousands of Irish Poor Families, Children Jailed
By Judy Byington
Ireland was being militarized, apparently because Pope Francis, a convicted criminal who acts as a god, was coming to town – at a cost of 32 million Euros for an already-impoverished country. To prepare for his coming more than a thousand poor families and their children have been shoved into police prisons; roadways were being cordoned off; homes were being searched by the Gardai police and a "terrorist watch" network was harassing suspected dissenters.
Pope Francis Road Show arrived in Ireland on August 25 with all the usual media-contrived gloss of a Vatican carnival routine. Even church commentators agreed that this latest papal visit was unusual by the degree of security and sheer armed might that would surround Jorge Bergoglio. The reason for the madness ran deep. Encouraged by an attempted arrest of Jorge Bergoglio in Geneva on June 21, human rights lawyers in America, Argentina and Spain were seeking a new international arrest warrant against him.
One Dublin commentator recently said, "All them cops around the pope will be shielding him from the worshipers, not the protesters. Lots of Catholics despise the guy," while last week a cleric in Kerry remarked to a reporter, "Why would a pope require such protection from his own people?"
Maybe massive criminality and institutionalized child torture has something to do with it. Bergoglio's Dirty War association with the Argentine military junta in marketing more than 30,000 children of Argentine political prisoners from Catholic orphanages; his role in the trafficking of over 300,000 children in Spain, many of whom were believed buried in a Catholic child mass gravesite there; his alienation of traditional Cardinals; his kowtowing to Vatican Bank mobsters, though more particularly perhaps because of that mass grave of close to 400 dismembered baby corpses in a Tuam, Ireland Catholic Nun septic tank that was concealed by a direct order from Jorge Bergoglio himself, have all combined to unite the Pope's many enemies into the common cause of removing him – hence the armed camp around him.
One of the top despisers was Cardinal Raymond Burke from America – the Knight of Malta who said openly that he wanted Pope Francis to die. Burke headed the Dump Bergoglio faction in the Roman Curia that was angling to have Cardinal Francis Arinze of Nigeria, or a similar conservative, named as the new Pontiff once Bergoglio was forced out.
This faction was guided not so secretly by the former Pope Benedict, Joe Ratzinger, still hiding out in the Vatican ever since his own Feb. 2013 conviction for the rape and murder of children. Church insiders tell us that Ratzinger was not acting alone, but had Russian backing. Vladimir Putin wanted all of his country's looted currency returned from the cellars of the Vatican Bank. Ratzinger would so oblige the Russians in return for their help in winning him back the papal tiara.
Right after being crowned Pope Francis feigned an inquiry into the IOR (Vatican Bank) to conceal the extent of its looting, which was massive. Even Russian oligarchs have used the IOR to hide the billions they stole from their country. "From Vladimir Putin on down, lots of people justifiably want Francis taken out," said an Italian journalist last June 19.
Last year in Chile during a Pope Francis visit 22 Catholic churches were burned to the ground, while protesters besieged him in Santiago. None of his crimes made the mainstream media.
Other chilling facts about Vatican crimes were hidden by way of websites being erased from the internet.  As of five years ago (Nov 12, 2013) and with only an estimated 10 per cent of victims reporting, there were 10,077,574 filed court cases of survivors of Catholic Priest abuse across the globe documented. With Catholic authorities continual refusal to cooperate in investigations and settling a few cases out of court, only a handful of Catholic Church perpetrators have seen the inside of a jail cell.
Even more disconcerting was the Vatican-run child trafficking ring. "The syndicate obtained its child fodder through its deep involvement with the child-snatching Roman Catholic Church and top Vatican officials" according to Matteo Macceo, a Radical Party member of the Italian Parliament. "The modern Mafia had the same people running the Catholic Church and Italian government. They're all in the same club, indistinguishable. Their main concern is their assets, which come from organized crime: drugs, and arms dealing and human trafficking." (Macceo, Rome, April 2010 ).
An Aug. 13, 2018 grand jury report in Pennsylvania reported that at least 1,000 children had been victims of some 300 priests over the past 70 years, and that generations of bishops failed repeatedly to take measures to protect their flock, or punish the rapists. The report finally came out after over a year of stalling by the Vatican.
Pope Francis apologized, though didn't provide any concrete measures he would take to sanction those bishops who covered up for sexually abusive priests. Several years ago Francis scrapped a proposed Vatican tribunal to prosecute negligent bishops. He has refused to act on credible reports from around the world of bishops who have failed to report abusers to police or otherwise botched handling cases, and yet remained in office.
The Catholic church has removed thousands of pedophile priests worldwide, most recently in Pennsylvania and Chile, though according to their history, have likely sent the Priests on to other diocese, where they could abuse again.
http://news.cgtn.com/news/3d3d414e7a41544e79457a6333566d54/share_p.html
http://www.yahoo.com/news/chile-investigating-158-catholic-church-over-sex-abuse-223412796.html
___
http://beforeitsnews.com/v3/celebrities/2018/2475475.html