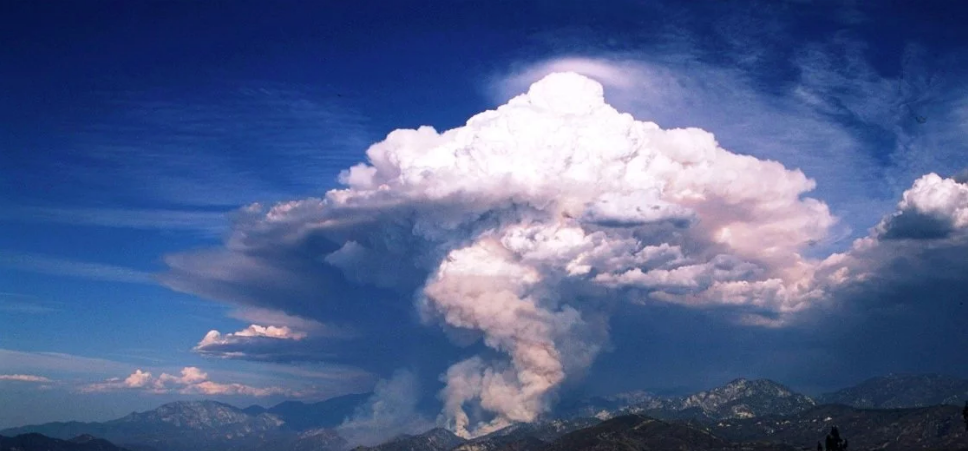 Pyrocumulus Clouds Forming Over California Firescape
Ominous 'Fire Cloud' Looms Over California Hellscape As Exhausted Firefighters Battle Fatigue
ZeroHedge.com
As California battles its 7th most destructive wildfire in state history, Mendocino County resident Dylan Duarte captured a giant mushroom cloud rising above hills in the distance.
#RanchFire #RiverFire #MendocinoComplex Driving west on Lakeport Boulevard. pic.twitter.com/O1c7QYjRBY

— good sweet cowboy (@dylanduarte) July 29, 2018
Known as a pyrocumulus cloud, the ominous red weather formations usually occur over volcanic eruptions or forest fires when intensely heated air triggers an upward motion that pushes smoke and water vapor to rapidly rise. They can develop their own weather patters, including thunderstorms with severe winds which then further fan the flames.
How crazy is this?

A pyrocumulus cloud formed from the #CarrFire…

If it gets big enough it can create a microclimate, which means more winds and the possibility for lightening.@Milt_Radford
@RandiBurnsKTVL @AutumnKTVL

Can you help us understand how these form? pic.twitter.com/PBQx6PDdkw

— Kimberly Kolliner (@KimberlyFOX26) July 28, 2018
Other fire-related weather phenomenon was captured by fleeing residents, such as this "fire tornado" in Nevada County, CA.
Incredible video of a fire tunnel cloud from the #CarrFire – courtesy: Strike team from Peardale Chicago Park FPD in Nevada County CA @ABC10 @KRCR7 pic.twitter.com/ZnowpRL5vo

— Madison Meyer (@madisonmeyer) July 27, 2018
There are currently 16 active fires burning across California, sending smoke eastward.
Sobering satellite imagery at sunset this evening depicting (multiple) massive pyrocumulus plumes and widespread smoke coverage across northern California. #CarrFire exploding again, with new fires in Mendocino County (#RanchFire, #RiverFire) and elsewhere. #CAwx #CAfire pic.twitter.com/VbXFUgMzYz

— Daniel Swain (@Weather_West) July 28, 2018
The deadliest of the blazes is the Carr fire, which has killed six people including two firefighters, and destroyed at least 1,236 structures. Over 2,500 structures remain threatened – while the Mendocino Complex fires threaten over 12,000 structures.
The carr fire has burned nearly 110,000 acres and is around 27% contained. Evacuation orders have been lifted for Douglas County and portions of Happy Valley, Redding and Shasta Lake City according to officials.
Meanwhile, firefighters hailing from 16 states are fighting against fatigue as they battle the infernos.
Thank you for the 16 states that have & are sending fire resources to California to help battle the #CarrFire, #MendocinoComplex, #FergusonFire, #WhalebackFire and #CranstonFire. These resources will be helpful in increasing containment on these large wildfires. pic.twitter.com/aySHXaClH2

— CAL FIRE (@CAL_FIRE) July 30, 2018
"You wind up with an extremely exhausted fire service that is still doing everything they can to answer those 911 calls," said Mike Daw, executive director at the Firefighters Burn Institute.
Meanwhile, the air quality in Redding has dropped to dangerous levels, as officials warn the public to stay indoors and wear a mask outside.
Other fires across the state
Several other fires continue to rage across California, including the Ferguson fire which has consumed more than 57,000 acres near Yosemite National Park leading to the closure of the Yosemite Valley, as well as the Cranston fire burning in the San Jacinto mountains east of Los Angeles which has burned over 13,000 acres and is 57% contained.
The cause of the blaze has been attributed to arson. Cal Fire officials arrested Brandon N. McGlover, 32, of Temecula for allegedly setting multiple fires in southwestern Riverside County on July 25, 2018.

The Riverside County Sheriff's Office lifted evacuation orders for the communities of Pine Cove, Fern Valley, Cedar Glen, and portions of Idyllwild outside of the fire perimeter. –Accuweather
"Good work was done on the northeast portion of the fire where the biggest threat to the community persists," officials said Monday.
___
http://www.zerohedge.com/news/2018-07-31/ominous-fire-cloud-looms-over-california-hellscape-exhausted-firefighters-battle