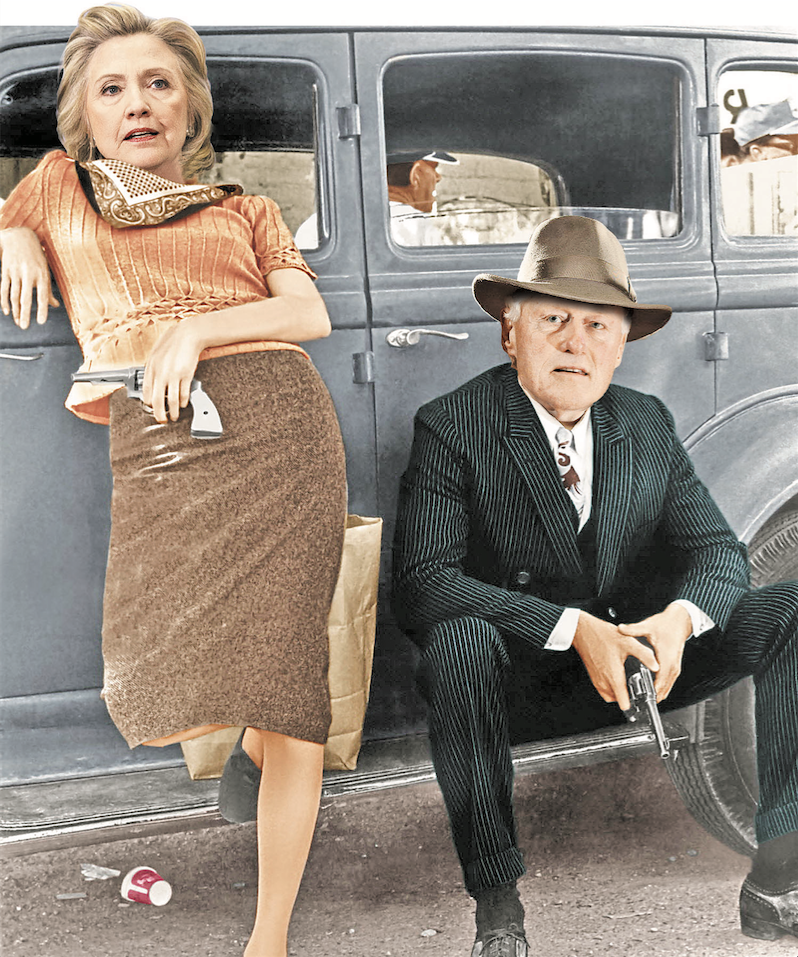 The Never-ending Crime Spree of Bill & Hillary Clinton
Are The Clinton's Above The Law?
"Hillary Clinton is stashing away money, publicly confronting the President, granting banking favors, and getting ready for a run for the presidency. I have always believed that when the majority of Americans finally recognize that a serial sexual predator and his Co-Rapist Wife occupied the White House, it will be the end of the legacy and the end of Hillary's dreams. And our worst nightmare"
— Doug Thompson- Capitol Hill Blue Talking about Bill and Hillary Clinton -12-27-2002
by Patrick J. McShay
Bill Clinton's victims are coming out of the woodwork again due to his promotional tour of the talk shows promoting a new book he has written with author James Patterson. The funniest thing I heard all week was when Bill Clinton said in an interview on NBC's Today Show that he supports the "Me Too" movement and that it is long overdue.
Poor Bill was caught off guard when a few of the hosts had the nerve to bring up his consensual sexual relationship with White House intern Monica Lewinsky.
The big question that had the media buzzing was whether he had apologized to Miss Lewinsky for their consensual affair. Not one question was asked about the former president's non-consensual sexual activity that has long been covered up by the liars in the mainstream media. Where is the "Me Too" crowd when it comes to Bill Clinton?
The hypocrisy and double standard we now see in the media coverage of Donald Trump's consensual fling with porn star Stormy Daniels 12 years ago are truly unbelievable.
Not a single question was asked about the accusation of rape by Juanita Broaddrick or the sexual assault of Kathleen Willey, the wife of a good friend of Bill's who had recently passed away. These women continue to surface anytime the Clinton's are in the news.
I've never seen a thing in the mainstream media about the young woman in England who accused Bill Clinton of raping her in 1969 when he was a student at Oxford. The truth is, the affairs the public has heard about are just the tip of the iceberg.
These are but limited hangouts to cover for the really despicable acts. The media and the authorities protected Bill the same way they have protected Hillary.
From Doug Thompson – Capitol Hill Blue: A 1969 charge from Eileen Wellstone, a 19-year-old English woman claimed that Bill Clinton had assaulted her after she met him at a pub near the Oxford campus where Clinton was a student. Clinton admitted he had sex with the girl but claimed the sex was consensual.
The State Department helped him out of this scandal big time. There is no doubt he received special treatment. Why? A retired State Department official told Thompson that he interviewed the young woman and believed her story of rape but was under tremendous pressure to cover up the rape of a 19-year-old English girl by a young psychopathic predator and American Rhodes Scholar named Bill Clinton.
*The State Department official who investigated the incident said Bill Clinton's interests at Oxford appeared to be sex, drugs, and drinking. Bill Clinton was 23 years old.
Former Miss America Elizabeth Ward was rumored to have been raped by Bill Clinton and left the country to avoid a Ken Starr Special Counsel subpoena.
Judy Gibbs was a former Penthouse model, call girl, and Bill Clinton girlfriend that was rumored to be pregnant with Bill Clinton's child when she died in a suspicious fire in her home after agreeing to help in an investigation into Clinton's involvement in Cocaine trafficking in Arkansas.
Juanita Broaddrick claims that in 1978 she was brutally raped by then Arkansas Attorney General Bill Clinton in her Little Rock Arkansas hotel room. She met Clinton in 1978 when he was running for governor and visited a nursing home she operated.
Clinton suggested that the next time she was in town they should get together. When she visited Little Rock she phoned Clinton who suggested he meet her at her hotel room. She said he had always been a gentleman and had no problem with the arrangement. She said things got out of hand shortly after he arrived.
He started kissing and fondling her and despite her protests, he began tearing her clothes off and raped her. He bit her lip so hard it swelled up and was bleeding. She said Clinton left shortly after, pausing at the door, he told her, "you should put some ice on that."
Bobbie Ann Williams was a 24-year-old prostitute in Arkansas and lived in a housing project just 5 blocks from the Governor's Mansion when she met Clinton. Lindell Palmer from Infowars reported That Governor Clinton would jog down to Bobbie's place for afternoon trysts.
When she told Clinton she was pregnant with his child, she said he rubbed her belly and said, "girl, that can't be my baby." Bobbie said she knew he was the father and passed a lie detector test to prove her story.
She said Bill accepted that he was the father of her son Danny, who is now 33 years old, and paid her $700 a month in child
support for years until Danny's aunt confronted Hillary at an event shortly before Clinton's run for the presidency and the payments abruptly stopped. Danny Williams has tried unsuccessfully for years to get Bill to do a DNA test to prove he is his father.
And finally, everyone has heard of Paula Jones, but do they know the truth? Paula Jones was a 25-year-old woman working for the state of Arkansas. Jones claimed that she was summoned to Clinton's hotel room at the Excelsior Hotel by Clinton's state police bodyguards who told her Clinton wanted to meet her.
Taken to Clinton's room she found herself alone with Clinton who, she said abruptly pulled his pants down exposing his erect penis, which he fondled before he grabbed her, pulled her close and instructed her to perform oral sex on him. Paula told the President that "she wasn't that kind of girl" and made a quick exit. The President vehemently denied the accusations right up until he paid Miss Jones an $850,000 settlement.
The media is in a frenzy now over Trump saying he could pardon himself. The Washington Post reported that according to President Clinton's Motion for Summary Judgement dated May 8, 1991, Clinton's attorneys made the case that he was above the law and that Paula Jones had no legal right to sue him even if he was guilty of what she accused him of. They didn't want to put this very credible young lady in front of a jury.
Jones attorneys argued that Clinton and his team were saying that as governor he could, with complete impunity, direct a state police officer to summon an employee that works for an agency controlled by the governor, bring her to his hotel room where he is alone waiting to sexually assault her.
He could then with complete impunity, expose and fondle his erect penis and even order her to perform oral sex. He may then threaten her to keep quiet or her job would be in jeopardy. They said Paula Jones didn't have the right to sue the president for sexual harassment.
*I wonder what the "Me Too" crowd over at CNN or MSNBC would say if this was Trump and not Clinton?
Now we have evidence that Hillary was involved in a vast left-wing conspiracy that involves the Democrat Party, the FBI, and the Justice Department to steal the 2016 Primary from Bernie Sanders and the general election from Donald Trump.
Strange that wimpy Bernie Sanders hasn't said much at all since finding out that his own party conspired against him to hand the election to Hillary. The recently fired Deputy Director of the FBI Andrew McCabe is now asking for immunity to testify in the cover-up.
With the evidence that's already been made public about this plot to steal the election and more coming out every day, if there is real justice in this country, Hillary, McCabe, James Comey, Loretta Lynch, Debbie Wasserman-Schultz and a number of others need to go to prison. We also need to compel Obama to testify in this case because I don't think there is any doubt he was involved up to his eyeballs in this plot.
We simply can't move forward as a country if the American people know for certain that these corrupt politicians are above the law.
Patrick J. McShay is a writer and researcher whose articles have appeared on a number of popular news sites including beforeitsnews.com, rense.com, whatreallyhappened.com, thetruthseeker.co.uk, infiniteunknown.com, newslocker.com, worldtruth.co.uk, realistnews.net, govtslaves.info, davidicke.com, investmentwatchblog.com, themilleniumreport.com, texemarrs.com, powerofprophecy.com, stateofthenation2012.com, blacklistednews.com, jamesfetzer.blogspot.com, operationdisclosure.com, abeldanger.net, and rumormillnews.com. Mr. McShay's articles have been translated into a number of languages including Spanish, German, Chinese, French, and Dutch.
Sources:
http://www.anusha.com/ap-jane5.htm
http://www.washingtonpost.com/wp-srv/politics/special/pjones/docs/motion031398.htm
http://www.infowars.com/exclusive-the-truth-about-bill-clintons-abandoned-black-son-banished-by-hillary/
http://www.vox.com/2016/10/9/13221670/paula-jones-kathleen-willey-bill-clinton-sexual-harassment-accusations
http://www.whatreallyhappened.com/RANCHO/POLITICS/MOMMASBOY/mommy.html