Israeli War Criminal Benjamin Netanyahu Determined to Goad Trump into Attacking Iran
Israel Closes Airspace Near Syria Border Ahead Of Netanyahu Speech With "Dramatic News About Iran"; Oil Surges
ZeroHedge.com
Update: largely as expected, Haaretz reports that Netanyahu will reveal proof Iran "cheated" on the nuclear deal.
NETANYAHU EXPECTED TO REVEAL DOCS WHICH SHOW HOW IRAN 'CHEATED' ON NUCLEAR DEAL: HAARETZ.
Perhaps Colin Powell should present it to the waiting world?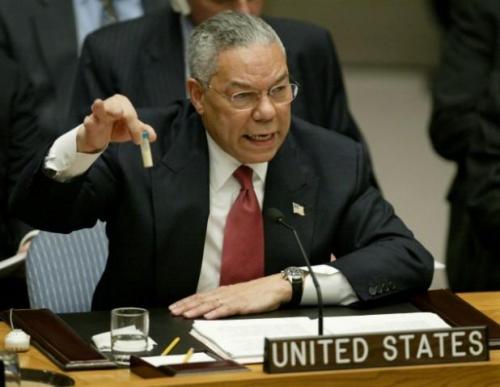 * * *
Moments ago, Israel's Channel10 reported that Netanyahu is set to make "significant" televised announcement on Iran on Monday evening at 8pm local time (5pm GMT) in what his office said would be "dramatic news about Iran" and "significant development regarding" the Iran nuclear agreement and which will reportedly influence the world.
מדובר במאגר מסמכים ענק שנתפס בידי ישראל ומוכיח לפי הטענה שאיראן רימתה את העולם ביחס לתכנית הגרעין שלה

— עמית סגל Amit Segal (@amit_segal) April 30, 2018
As Channel 10 adds, Netanyahu previously relayed the Iran info to Trump on Saturday and Pompeo on Sunday, during his visit to Israel.
The speech will come after Israel's security cabinet convened for an impromptu, unscheduled meeting in the wake of the strike on Syria overnight, which as we noted earlier reportedly killed 11 Iranians.
Meanwhile, hinting that Israel may be about to launch another, far more powerful strike on Syria, Ynet reports that Israel has closed its airspace near the Golan Heights and the Israel-Syria border, most likely in anticipation of one or more bombing/missile attacks on Syrian territory.
As Axios' Jonathan Swift correctly points out, "Between the lines: Bibi's speech should be hugely helpful for Trump. Builds the public case for Trump to blow up the Iran deal on May 12 by reimposing sanctions on Iran's oil exports and central bank. (Note: the Trump administration has so far done woeful job building case.)"
http://twitter.com/jonathanvswan/status/990958489534124032?ref_src=twsrc%5Etfw&ref_url=http%3A%2F%2Fwww.zerohedge.com%2Fnews%2F2018-04-30%2Fisrael-closes-airspace-near-syria-border-ahead-significant-netanyahu-speech-iran&tfw_site=zerohedge
In other words, Iran will provide the pretext Trump needs to officially end the deal.
Whether or not that leads to war as the French ambassador to Israel suggested yesterday, remains to be seen.
Having slumped earlier following the disappointing German inflation data, WTI has regained all losses on the news that Israel may be about to attack Syria, even following Putin's direct warning to Netanyahu not to continue airstrikes on Syria.
Developing story
___
http://www.zerohedge.com/news/2018-04-30/israel-closes-airspace-near-syria-border-ahead-significant-netanyahu-speech-iran