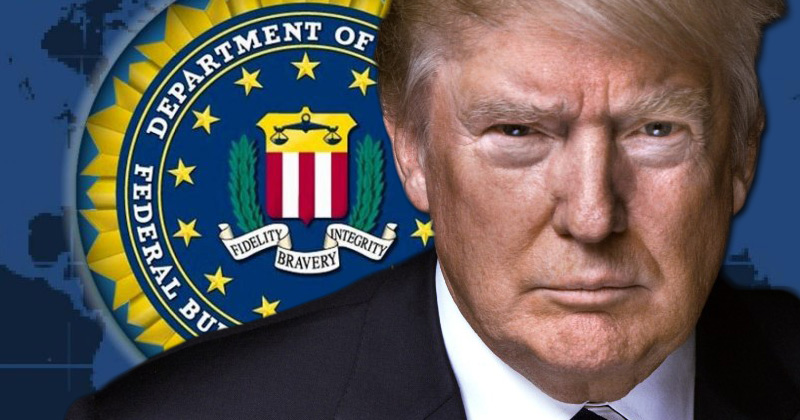 REPORT: MISSING FBI TEXT MESSAGES INCLUDE THREATS OF VIOLENCE AGAINST TRUMP
"This is dangerous territory"
Paul Joseph Watson | Infowars.com
A number of the 50,000 missing FBI text messages contain threats of physical violence aimed at President Trump, according to a new report.
True Pundit, a website that purports to have contacts within the U.S. government, claims that a high level FBI agent called on the U.S. Department of Homeland Security to launch an investigation into the FBI and the Justice Department specifically concentrated on the threatening messages.
"This is dangerous territory and all FBI text messages and personal phones should be examined," the FBI official said. "It would reveal some frightening conversations."
The source said that many of the messages merely discussed harming Trump politically, but that some "go deeper" and that, "This is much larger than just texts between two FBI agents."
The notion of the deep state taking action to physically remove Trump from office is no far flung conspiracy theory.
During an appearance on CNN, counterterrorism analyst and former CIA agent Philip Mudd said on air "the government's gonna kill" Donald Trump because he disrespected the deep state.
CNN analyst on Trump: "The government's gonna kill this guy." http://t.co/ymqwNErhWv pic.twitter.com/4WAA1WENgp

— Paul Joseph Watson (@PrisonPlanet) August 11, 2017
In comments made during the Aspen Security Forum, former CIA Director John Brennan also said that if the White House tries to fire special counsel Robert Mueller, executive branch officials should "refuse to carry out" that order, which is effectively a call for a coup.
The FBI official also expressed incredulity at the notion that messages can just vanish, remarking,"Text messages just don't disappear. Not here. Someone outside DOJ has to look at all emails and texts. These (FBI bosses) are bad people. You've only scratched the surface."
Five months of text messages between senior counterintelligence agent Peter Strzok and FBI attorney Lisa Page were confirmed missing over the weekend, leading some Republicans to allege that the FBI has been engaged in a cover-up of its anti-Trump bias.
In one message that was leaked, Strzok and Page along with Deputy FBI Director Andy McCabe discussed an "insurance policy" in case Donald Trump won the presidential election.
Separately, an FBI informant told Congress that a secret society within the FBI, which met the day after Trump's election to plot his downfall, went on to hold clandestine meetings off-site.
"That secret society — we have an informant that's talking about a group that were holding secret meetings off-site," Senator Ron Johnson (R-Wisc.) told Fox News last night. "There is so much smoke here."
"We have to dig into it — this is not a distraction. Again, this is bias — potentially corruption — at the highest levels of the FBI," Johnson added.
.@SenRonJohnson on alleged 'secret society' mentioned in @FBI agents' texts: "That 'secret society' – we have an informant that's talking about a group, they were holding secret meetings offsite." #SpecialReport http://t.co/0NPVFhqWiY pic.twitter.com/NaXelnfaJP

— Fox News (@FoxNews) January 23, 2018
___
http://www.infowars.com/report-missing-fbi-text-messages-include-threats-of-violence-against-trump/