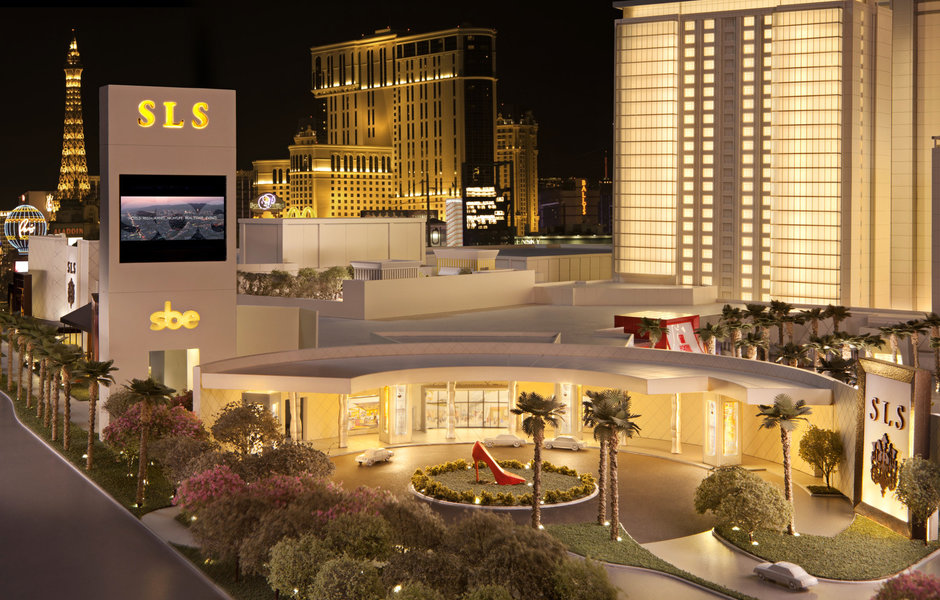 Why did the Saudi Air Force really book an entire hotel in Las Vegas? Don't they stay on a military base?
Middle East air force books entire hotel tower on Las Vegas Strip
By Todd Prince Las Vegas Review-Journal
A luxury tower on the Las Vegas Strip will turn into posh military barracks starting Saturday.
A Middle Eastern air force has booked the entire W Las Vegas, a 289-room tower at the SLS Las Vegas, for most of August, according to numerous employees speaking on the condition they not be identified. They said employees are being shuffled around to accommodate the booking.
Greta Vanhersecke, a publicist for W Las Vegas, confirmed that a group has booked the hotel for August but declined to say who it was. A search of the W Las Vegas website shows the hotel is sold out from Saturday night through Aug 28.
One of the employees identified the group as the Royal Saudi Air Force. A spokesman for the Royal Saudi Air Force based in Washington, D.C., could not be reached at his office. The spokesman did not respond to email requests for comment.
Saudi Arabia's 10th Squadron Royal Saudi Air Force will be taking part in Red Flag 17-4 at Nellis Air Force Base, according to airwingspotter.com, a site dedicated to military aviation photography and spotting. Red Flag, combat training involving the air, space and cyberforces of the United States and its allies, will be held Aug. 14-25.
The Nellis public affairs department said in an email that it does not disclose the participants of its joint exercises, adding that any participant has the right to choose its own lodging.
"While we encourage foreign participants to stay in our base lodging for ease of travel during the exercise, they are welcome to make arrangements anyplace they prefer," the statement said.
Employees from S&K Technologies were visible at the W Las Vegas this week. S&K Technologies has provided logistics support to the Royal Saudi Air Force during Red Flag operations for many years, according to a 2014 post on S&K's website.
"Depending on the year, the Royal Saudi Air Force will bring 175-210 members to these realistic combat exercises," S&K said in the 2014 post.
Some areas closed to public
The W pool, bar and salon will be closed to the public for the duration of the booking, according to employees. Three oversize portraits of women had been removed from the bar by Wednesday evening.
Most reception, concierge and valet workers will be temporarily moved to other positions within the SLS Las Vegas for the month, the employees said. One W Las Vegas employee put the number of affected personnel at between 20 and 30.
Some workers will be relocated next door to the other SLS towers, according to employees who spoke with the Review-Journal. The SLS converted one of its three towers to a W Hotel last year in an attempt to boost business. Marriott International owns the W Hotel brand.
Some employees will be moved to W properties in Denver and Seattle, according to W Las Vegas employees. Vanhersecke said only two employees will be moved off property. She declined to further discuss employees moves.
"Everyone will have full-time employment during the time of the buyout and will have their positions at the end of August," Vanhersecke said.
Three employees interviewed by the Review-Journal said female employees will probably not work at the W Hotel during the month. Vanhersecke declined to comment on whether female employees are being relocated.
Reina Herschdorfer, director of marketing, national meetings and events at Caesars Entertainment and a 20-year industry veteran, said it is unusual to move employees to other premises, though it can make sense if one location is very busy and needs help.
A spokeswoman for MGM Resorts International said groups occasionally request the use of their own servers and kitchen staff on a limited basis, but such requests don't affect employees.
"Under these arrangements, the hotel continues to provide a majority of the staff, including supervisors, servers and additional kitchen support staff. As a result, we do not have job displacement," said Yvette Monet, a spokeswoman for MGM Resorts.
New York, Washington, D.C.
If the Saudis are behind the booking, it would not be the first time they took over a U.S. hotel.
In November 2010, more than 100 guests at the Waldorf-Astoria in New York City were moved to another hotel when a contingent of Saudi princes and officials accompanying then-King Abdullah took up residence for a few days, according to The New York Times.
The entourage of Saudi Arabia King Salman bought out the entire 222-room Four Seasons in Georgetown, one of Washington, D.C.'s most expensive hotels, for several days in September 2015, according to Politico. Nicole Otero, a spokeswoman for the hotel, declined to say whether employees were shuffled around during that stay.
A Saudi prince owns 47.5 percent of Four Seasons Hotels and Resorts, which operates more than 100 hotels around the world, including one in Las Vegas.
A spokesman for the Four Seasons Hotel Las Vegas said Saudi delegations normally stay at their property, but that they did not receive any group request for August.
Unlike the W Las Vegas, the Four Seasons Hotel Las Vegas is not a stand-alone structure. It is located on the top five floors of Mandalay Bay. The Four Seasons also has 133 more rooms than the W.
A room at the W Las Vegas with a king-size bed booked for one week starting Aug. 29 costs at least $1,461. That suggests the Saudis may be paying as much as $1.4 million for their stay, excluding food and other amenities.
The booking will be a boon for the W hotel and property owner SLS, which have struggled to attract visitors to the north end of the Strip since opening in August 2014. Alex Meruelo, a Reno casino owner, agreed earlier this year to buy the SLS. That deal is expected to be completed in September.
___
http://www.reviewjournal.com/business/casinos-gaming/middle-east-air-force-books-entire-hotel-tower-on-las-vegas-strip/