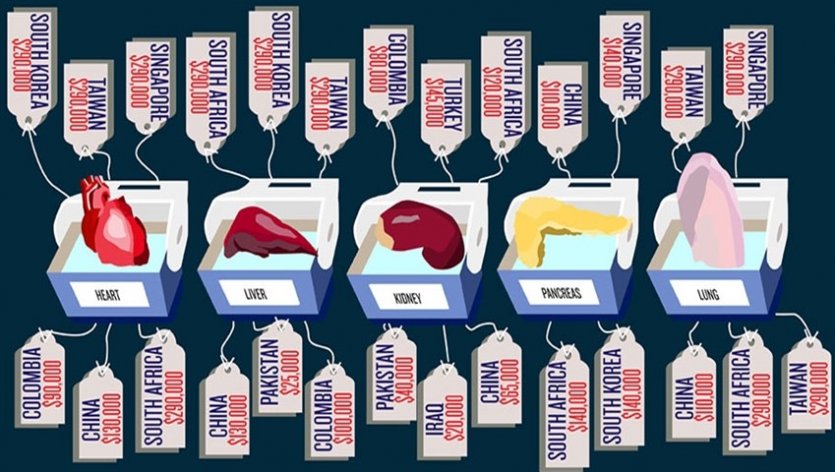 Organ Harvesting, Human Trafficking, and the Black Market
by Dianne Small-Jordan
DECODED Science
When families or individuals are tired of spending years on a medical waiting list, they sometimes purchase body parts – kidneys, eyes, lungs, heart, limbs and more – for transplant on the black market.
It sounds like science fiction, but organ harvesting is an unfortunate fact in the criminology world of today.
Organ Harvesting and Human Trafficking
Organ harvesting has been tied to human trafficking and has become a booming business in the 21st century on a global scale.
It is a criminal offense to traffic body parts, or perform transplants from any source not legally affiliated with a hospital or other medical facility, but legality doesn't deter either side of these transactions.
Notably, quite a lot of illegally-trafficked body parts are harvested by any means necessary, and are gladly received, no-questions-asked, by the person willing to pay top dollar for a kidney, a heart, or a hip.
Illegal Organs: Supply and Demand
According to the American Transplant Foundation, 123,000 people in the United States are on the waiting list to receive an organ. Every 12 minutes a new name is added to the list and an average of 21 persons per day die due to a lack of organ availability.  Corneas, kidneys, liver, lung, intestines, bone marrow are the most common transplant needs.
The U.S. Department of Health & Human Services data of Organ Procurement and Transplantation Network reports 121,333 currently awaiting organ transplant of which 100,402 are waiting for a kidney. Only 30,970 transplants actually took place (legally) in 2015.  According to the World Health Organization, America is one of many organ-importing countries and by the use of the web, patients can get transplant packages from $70 to over $160,000.00.
USA Today conducted an investigative report in 2006 and found that illegal body harvesting is very lucrative in the U.S. due to the high demand of body parts. The investigation revealed that from 1987- 2006 (19 years), over 16,800 families had pursued lawsuits stating that their loved ones body parts were illegally sold for an estimated $6 million dollars. That amount is based on figures obtained from federal and local investigators, public organizations and medical universities.
Where do the organs come from? Willing donors, in some cases. An NBC Chicago investigative reporter found that people even boldly advertise their kidneys for sale on Craigslist. The investigation revealed that hundreds of people in Illinois were willing to sell their kidney for a few thousand dollars. After discovering a Chicago area man who was offered $30,000.00 for his kidney and received several hits in one month, they went undercover posing as a person willing to sell a kidney and exchanged emails from organ brokers as well as doctors who were willing to perform the transplant for a fee.
Unfortunately, many people become victims of the illegal organ trafficking industry as well.
Organ Trafficking Laws and Offenders
Organ trafficking is a form of human trafficking and is an organized crime. According to the UN Gift Hub, organ trafficking falls into three categories:
(1) Traffickers who trick the victim into giving up an organ for no cost, (2) Con artists who convince victims to sell their organs, but who do not pay or who pay less than they agreed to pay, and (3) Doctors who treat people for ailments which may or may not exist, and remove the organs without the victim's knowledge.
The organ trafficking trade involves a host of offenders. As the UN Gift noted, there is a recruiter who seeks out the 'donor,' there is a transporter of the organs, there are staff of the hospital or clinic that receives the organs, and of course the medical practitioners who perform the transplants. There are also middlemen, contractors, buyers and the banks that store the organs/tissues.
Decoded Science interviewed a former transplant clinical researcher for a major hospital, who spoke with us under condition of anonymity. He stated he had encountered cases where people bought their organs from people willing to sell. He shared an experience of an elite Saudi Arabian who arrived at the hospital for a kidney transplant accompanied by a young man he claimed was his brother. Testing showed no genetic match. The researcher later found out that the Saudi elite had paid the young man $50,000.00 in U.S. money for his kidney. Our source also noted that even though there is a waiting list for organs, favoritism does occur, and money can get someone moved up on the list fairly quickly.
Ann Cheney, author of  Body Brokers: Inside America's Underground Trade in Human Remains stated  "Today we aren't robbing graves but we are violating corpses, we are failing to carry out donor wishes, and we are putting patients at risk- all because we have been disturbingly complacent about what happens to people's bodies when they die."
Real Life Body Snatcher
According to NBC New York, Levy Rosenbaum, known as the "Kidney Broker" was sentenced to 2 ½ years in prison and was the first proven case of organ trafficking. His indictment came from an FBI sting operation from the black market sale of 3 kidneys for a total of $410,000.00.  Rosenbaum recruited poor Israeli donors who sold him their kidneys for $10,000.00 and re-sold the organs to Americans for over $120,000.00 each. He told undercover FBI agents that he arranged for a lot of transplants and sold them to the Albert Einstein Medical Center and Hospital where he acted as a facilitator for donor matches for Israeli patients from 1999-2000.
Killing To Give Life
In addition to con-artists and unscrupulous doctors, there are also extreme cases in which people are outright murdered for their organs. Every year, there are suspicious deaths, in which the victim had their organs removed.
2012 – Vance Anderson, 51 year old painter of Philadelphia, died at the Thomas Jefferson University Hospital in Philadelphia due to complications from a lung condition. By time he his mother was to claim his body for burial, his eyes, heart, brain and pancreas were removed. The explanation given was that the organs were "donated for education" – but this occurred without the family's consent. (Philly.com)
2013- Kendrick Johnson, 17 year old student of Georgia, was found dead inside of a mat at his school, the death was ruled an accident. When his parents demanded an independent investigation, a second autopsy revealed that his internal organs, brains, lungs, liver were missing, and the cavities were filled with newspaper. (WSBTV)
2014- Ryan Singleton, 24 year old of Georgia, went to California in pursuit of acting jobs. His body was discovered in Death Valley with multiple organs removed. (Eyes, heart, lung, liver, and kidney were missing) The rest of his body remained intact. The investigators told his family that his organs may have been  eaten by a wild animal. (WGNTV)
2015 – Nicholas Rodriguez, 24 year old California State Prison inmate was found after a 15 hour prison riot in a garbage can in the shower next to his cell. His body was almost cut in half and his abdominal and chest organs were removed. This mutilation occurred in a medium security prison with surveillance. (Huffington Post)
Highest Bidder Gets You…
The demand for kidneys has reached an epidemic level in the United States and people are willing to buy or sell through the "network" even though this is illegal and punishable by jail time plus a $50,000.00 fine.
The FDA is the regulating body on the buying and sale of organs, body parts, however it is the FBI who has made many arrests. Who is protecting your body – or the body of your loved ones?
© Copyright 2016 Dianne Small-Jordan, All rights Reserved. Written For: Decoded Science
___
http://www.decodedscience.org/organ-harvesting-human-trafficking-black-market/56966