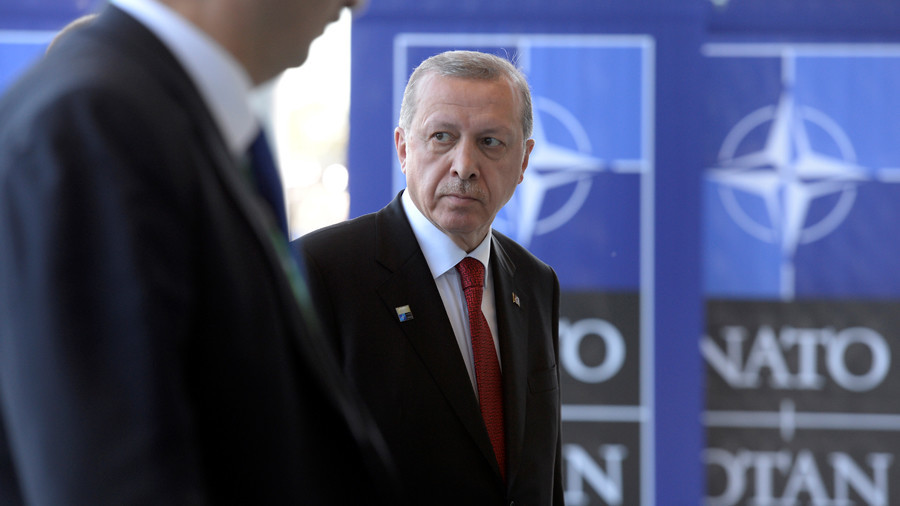 Erdogan Rejects NATO Apology: "There Can Be No Alliance Like That"
ZeroHedge.com
Turkish President Recep Tayyip Erdogan is refusing to let NATO off the hook for an inadvertent yet insulting gesture that prompted him to remove 40 Turkish troops from a joint military exercise in Norway.
Russia Today reports that Erdogan has rebuffed a NATO apology for what he called "impudence" after his name was included on an "enemies chart" shared with military officials participating in the exercises. Erdogan's name was reportedly included alongside a photo of Turkish founding father Mustafa Kemal Ataturk.
Following the scandal, both NATO and Norway offered their apologies for the incident, saying that the message did not reflect their views. But Erdogan, who has grown increasingly critical of NATO in recent years following clashes with German Leader Angela Merkel, is apparently using the incident as an excuse to widen the rift between Turkey and Brussels.
In late June, Germany was forced to move its troops from Turkey's Incirlik Air Base to Jordan, as Ankara had barred German lawmakers from visiting the site, where some 270 troops participating in the US-led campaign against Islamic State were stationed. In one of the recent schisms in the bilateral relations, Germany put on hold "all big requests" for arms exports from Turkey, leading Turkey to accuse Germany of weakening the former's fight against terrorism.
"There can be no alliance like that," Erdogan said on Friday, adding that even the removal of those names would not change the decision. On Saturday, despite the officials' apologies and affirmations, the insulted leader refused to be placated, saying he wouldn't let NATO off the hook that easily.
"Yesterday, you have witnessed the impudence at NATO exercises in Norway. There are some mistakes that cannot be committed by fools but only by vile people," Erdogan said in a televised speech. He added that the incident shows "a reflection of a distorted point of view that we have observed in NATO for a while."
"This matter cannot be covered over with a simple apology," Erdogan added.
Of course, despite a brief escalation in tensions over last year over purported violations of Turkey's airspace, the NATO member has been deepening its ties with Russia, recently completing a purchase of S-400 anti-aircraft systems, which has unnerved Washington and other NATO powers. One top NATO general, Petr Pavel, told reporters last month that Turkey would likely be punished by the alliance for not buying American. Turkey reportedly chose the Russian systems because they were cheaper.
Tensions eased a little in October, when NATO Secretary General Jens Stoltenberg said Ankara's decision to purchase the S-400 did not harm the alliance's interests. While the final details of the deal are being settled, a top US Air Force official warned that it could affect Ankara's planned purchase of 100 F-35 jets.
The decision caused an angry reaction from Ankara, which said the decision weakens its fight against terrorism and jeopardizes European security.
And let's not forget, perhaps Turkey's biggest gripe with a fellow NATO member is the US's refusal to extradite Turkish cleric Fehtullah Gulen, who has been living in Pennsylvania for years after being effectively exiled from Turkey following a falling out with Erdogan.
Given all of the back-and-forth sniping between the US and Turkey in recent months, we doubt Erdogan will let this insult go.
___
http://www.zerohedge.com/news/2017-11-18/erdogan-rejects-nato-apology-there-can-be-no-alliance