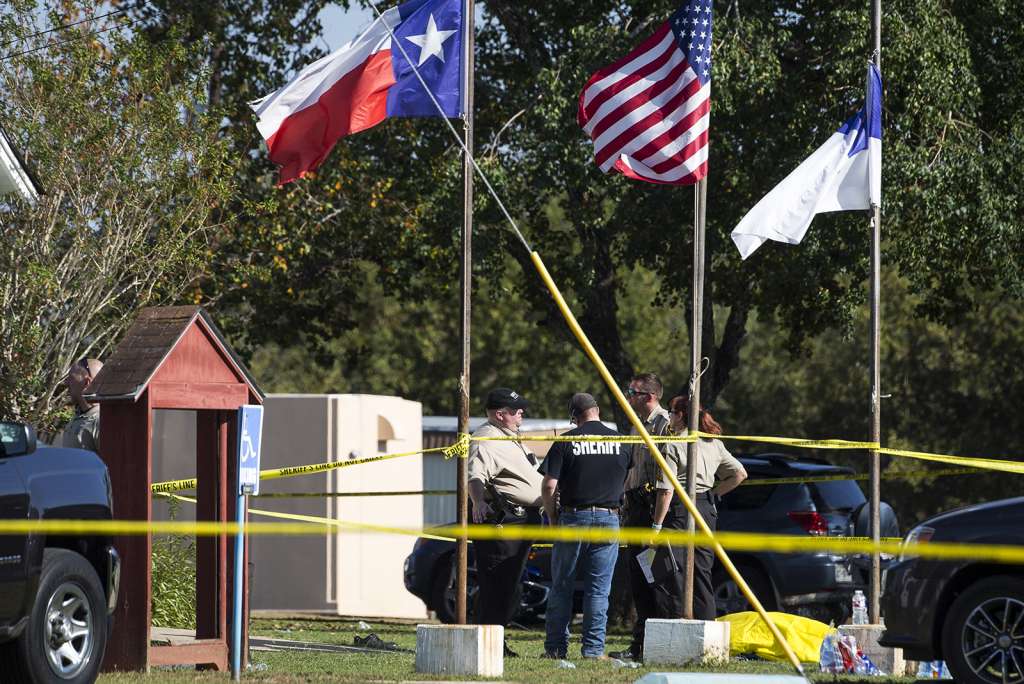 28 dead after shooting at Sutherland Springs church
Latest details (as of 4:30 p.m.)
At least 27 people were killed at the First Baptist Church of Sutherland Springs Sunday morning
Between 15-20 people were wounded.
The shooter was killed in Guadalupe County.
Police are reportedly searching for explosives at a home belonging to the suspected shooter.
The shooter has not been identified.
At least 28 people are dead after a man walked into First Baptist Church of Sutherland Springs in Wilson County Sunday morning and opened fire, a federal law enforcement official said.
Between 15-20 people were wounded, various Wilson County commissioners told mySA.com.
The wounded were taken to Brooke Army Medical Center in San Antonio and to area hospitals, a local official said.
A young man standing outside the hospital, his head bandaged and his right arm taped from where an IV had been put in, said he had been wounded in the shooting and that this father had been killed.
His mother was in another hospital. He declined to talk but expressed faith that they would pull through with God's help.
Latest updates: Sutherland Springs church shooting
Amanda Mosel's 13-year-old goddaughter was gunned down in the shooting. With tears in her eyes, the 34-year-old stood outside the Sutherland Springs Community Building where citizens gathered following the shooting.
"From what I've heard, someone just walked in and started shooting," she said.
Mosel said she "sadly" didn't attend church this morning, but the church is one she's attended.
"There's maybe 50 of us," she said. "It's a small, tight-knit church."
Devy Collins, 53, said one of the church pastor's children was killed. The pastor and his wife were out of town when the shooting occurred.
At least 10 victims were transported to Connally Memorial Medical Center in Floresville, said spokeswoman Megan Posey. She could not speak to their age or gender, but said there are multiple victims with gunshot wounds, and some have had to be taken by helicopter to a different treatment center.
According to a Twitter post, University Hospital's trauma team is caring for nine of the patients from the Sutherland Springs shooting, 4 children, 5 adults. The hospital reported one more victim is on the way.
A Sutherland Springs resident who lives near the church said the gunshots sounded like "somebody was banging a piece of wood" and she wasn't sure what the loud noises were at first. She heard a rapid succession of "pop-pop-pop" sounds, then a pause, then another burst of pops. The pattern kept repeating itself. She looked at the church but saw no activity.
Minutes later, police cars swarmed through the neighborhood.
"I'm shocked by it," said the neighbor, who declined to provide her name. She's lived in Sutherland Springs for nearly 20 years and enjoyed the community's quiet, friendly atmosphere. "It's really unbelievable," she said.
The Texas Rangers within the Texas Department of Public Safety is the lead investgating agency, assisted by law enforcement officers from Wilson County, Bexar County, the FBI, Homeland Security Investigations, Alcohol, Tobacco, Firearms and Explosives, among others.
"We're looking at a pretty horrific scene that'll take several days to process," one official said.
Lawmakers spoke out on the shooting on social media.
U.S. Rep. Joaquin Castro, D-San Antonio, said: "Terrible news coming out of Sutherland Springs, TX. I'm monitoring developments and am praying for the shooting victims."
President Donald Trump also took to Twitter to express condolences for victims.
"May God be w/ the people of Sutherland Springs, Texas. The FBI & law enforcement are on the scene. I am monitoring the situation from Japan," he said.
The church is southeast of San Antonio between La Vernia, Floresville and Stockdale off Texas 87 at 216 4th Street.
___
http://www.mysanantonio.com/news/local/article/More-than-20-dead-after-shooting-at-Sutherland-12333530.php