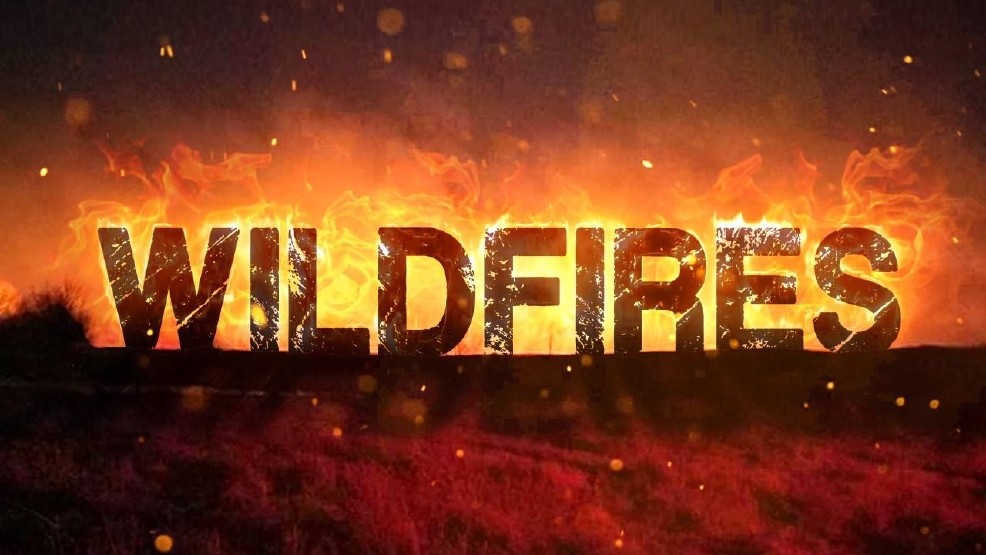 Montana Wildfires The Worst On Record — UPDATE
Montana wildfires update for Sept. 13, 2017
By KECI Staff
MISSOULA, Mont. – A cold front will bring a few showers and thunderstorms to the region. The best location will be across southwest Montana.  Once again, gusty winds will create dangerous fire weather. A RED FLAG WARNING has been posted for the Beaverhead, Bitterroot and Lolo National Forests.
Rice Ridge Fire (Seeley Lake)
Location: 2 miles northeast of Seeley Lake
Size: 155,900 acres
Containment: 38 percent
Structures Threatened: 1719
Greg Poncin's Type 1, Northern Rockies Incident Management Team assumed command of the Rice Ridge Fire at 6 a.m. Tuesday.
Zone 5 in Seeley Lake has been moved from evacuation ORDER to evacuation WARNING. This last zone is the area north of the airport and is adjacent to Seeley Lake, but technically in Powell County. The affects approximately 6 homes.
All of Seeley Lake proper is still under warning. Please watch out for fire crews and other emergency responders on the roadways as they are still doing mitigation work in these areas.
Missoula County residents can receive emergency notifications of critical alerts via their choice of text, phone and/or email by signing up for Smart911 at http://www.smart911.com/.
Red Cross shelter site located at the UCC Church, 405 University Avenue, Missoula MT.
Staffed Fire Information Locations: Seeley Lake at Cory's Valley Market (8 am to 8 pm) and Blackfoot Mercantile in Ovando (1 pm to 3 pm).
Closures: A closure order is still in effect for the areas surrounding the Rice Ridge Fire. Big Larch campground is still closed.  Seeley Lake waters have been reopened.
There will be a Community Meeting Wednesday in Ovando at the Ovando Elementary School Gym, 108 Birch Street, 6 p.m.
Lolo Peak Fire (Lolo)
Location: 10 miles southwest of Lolo
Size: 52,160 acres
Containment: 46 percent
Structures threatened: 835
Structures destroyed: 10
Evacuations: No evacuation orders are currently in place for the Lolo Peak Fire.
Missoula County has lifted the evacuation warnings on Highway 12 between Bear Creek and Graves Creek. Evacuation warnings remain in place west of Highway 93 from South Kootenai Creek Road to Holloway Lane.
45 mph speed limit through the fire area – HIGHWAYS ARE OPEN.
Fire Information Locations: Staffed fire information is available in three locations:  Super 1 Foods in Stevensville; Farmers State Bank in Florence; and the weigh station in Lolo at the corner of Highways 12 and 93.
Returning Home: Residents may see changes to their property as a result of firefighting operations. Check your property for damage to your well/pump, electric/gas meter, propane tank and for fire-weakened trees.
Stage II Fire Restrictions are in effect for Missoula and Ravalli Counties and across the Lolo and Bitterroot National Forests. Additional information can be found on Inciweb.
Missoula County residents can receive emergency notifications of critical alerts via their choice of text, phone and/or email by signing up at Smart911.com.
Shelters: the Red Cross shelter for Lolo Peak evacuees is located at the LDS church in Stevensville, 100 Middle Burn Fork Road.
Highway 200 Complex
Location: northwest of Plains
Size: 24,225 acres
Containment – 21 percent
Evacuations: Homes along Swamp Creek Road from Four Corners to the Forest Service boundary, as well as Black Jack Road from Four Corners to address 132 and Mountain Road are under mandatory evacuation orders.
Pre-evacuation warnings are being coordinated by the Sanders County Sheriff's Department to affected residents. If conditions worsen, the Sheriff's Office will notify residents. Law enforcement officials will notify residents of any changes to evacuation status, whether it is a pre-evacuation warning or a mandatory evacuation. If you feel concerned for your welfare, don't wait to be told to leave – you may self-evacuate.
Officials say to please have an evacuation plan in place NOW for what you would do in the event of an emergency. Wildfires can grow very quickly and you may receive little to no notice before an evacuation takes place.
Sheep Gap – 13,414 acres, 45 percent contained
Reader Fires – 152 acres, 90 percent contained
Cub Creek – 4,034 acres
Deep Creek – 5,733 acres
Miller Creek – 892 acres
Area closures are in place around the immediate fire areas and areas integral to safe fire operations. As hunting season continues, please respect area closures. The Forest Service is working to ensure that closures are kept to a minimum but are large enough for firefighter and public safety. Please see InciWeb and the Forest Service webpages for the latest closure area maps.
Gibralter Ridge Fire (Eureka)
Location: East of Eureka
Size: 10,443 acres
Containment: 27 percent
Structures threatened: 144
Evacuations: A Pre-Evacuation Warning remains in effect for the Sherman Creek, Griffith Creek, Therriault Pass Road, Stevens Creek, Glen Lake and Sinclair Creek (south/east of West Road) areas.
Road Closure: Grave Creek Road and the Ten Lakes Recreation area are closed above the Grave Creek/Foothills Road junction.
Caribou Fire
Location: 21 miles northwest of Eureka
Size: 23,187 acres
Containment: 30 percent
Structures: unknown number destroyed
Closures: A Closure Order remains in place for the Caribou Fire. Closure Orders and maps under the "Closures" tab on Inciweb.
10 homes and 30 outbuildings is the unofficial number of structures that have been lost in the Caribou Fire, according to the Lincoln County Sheriff.
Evacuations:  All areas in West Kootenai remain in Pre-Evacuation Warning. This includes West Kootenai North and South of Tooley Lake, Spring Creek, Dodge Creek, and Basin Creek.
Shelter: the Red Cross has emergency services set up in the Church of God in Eureka, MT located at 1295 2nd Ave behind the First Interstate Bank.
Alice Creek Fire
Location: near Lincoln, MT
Size: 28,982 acres
Containment: 10 percent
Structures: 4 confirmed lost
Evacuations: Mandatory evacuations remain in effect for residents between mile makers 92 and highway 434 – along highway 200 on both sides of the road. Elk Meadows/Evergreen subdivisions are under mandatory evacuation notices. Landers Fork, Elk Trail Park and Alice Creek community areas are under a "pre-evacuation" notice.
Landers Fork, Elk Trail Park and Alice Creek community areas are under a pre-evacuation notice. This means that people living or renting property in those areas, even on a part-time basis, must be ready to evacuate at a moment's notice. A security officer is staffing the main entrance that leads into the Alice Creek and Copper Creek areas to reduce public access to these areas and provide information to residents.
A Red Flag warning is in effect over the fire area again today, meaning conditions could result in very active fire behavior. Fire managers recorded poor humidity recovery overnight. Of greatest concern to fire crews today is expected wind shifts affecting fire behavior and spread. Northeast winds could throw embers outside of the main fire into unburned fuels, resulting in spot fires.
Firefighters ask residents to please drive carefully and slowly and to not impede heavy equipment.
Shelter: The Red Cross shelter for Alice Creek evacuees is at Wolf Creek Elementary School at 150 Walsh Street in Wolf Creek.
Sunrise Fire (Superior)
Location: 11 miles southeast of Superior
Size: 26,310 acres
Containment: 95 percent
Evacuations: A Stage II Evacuation notice remains in place for the Quartz Creek. Stage II is a precautionary measure that asks residents to be ready in the event that the fire changes quickly. The Forest Service area closure remains in place on the Lolo National Forest as well as Stage II Fire Restrictions.
Shelter: The Red Cross is prepared to provide shelter at Superior High School for evacuees.
Sapphire Complex Fire (Rock Creek)
Location: 25 miles southeast of Missoula
Size: 43,739 acres
Containment: 60 percent
Evacuations: A Level Red-Evacuation Order for approximately 35 residences along Rock Creek Road remains in effect, beginning from and including Wild Rose Loop south to Stony Creek.
Structures Threatened: Private property and structures in the Rock Creek, Upper Willow Creek, and Marshall Creek drainages remain threatened. Other resources threatened include fisheries in Rock Creek, grazing lands along the southern boundary of the Little Hogback Fire, Bonneville Power Administration powerline, and a communication site.
Structures Destroyed: 1 cabin, 14 outbuildings.
Closures: The Rock Creek Road from I-90 south to Bitterroot Campground (MP 23.5) is OPEN. Due to fire traffic congestion and fire safety concerns, Rock Creek Road will stay CLOSED from Bitterroot Campground, south to Cornish Gulch (FSR5027), and public traffic is NOT allowed. Upper Willow Creek Road is currently closed to the public. The Beaverhead-Deerlodge National Forest reduced closure restrictions in the Black Pine ridge area, but maintains all area closures in Upper Willow Creek, North Fork Lower Willow Creek, and Harvey Creek areas. The Bureau of Land Management has an area closure in Upper Willow Creek, Ram Mountain, and nearby areas. The Lolo and Beaverhead-Deerlodge National Forests, the Bureau of Land Management, and the Montana Department of Natural Resources (DNRC) closure orders and maps are posted under the closures tab on Inciweb. Please adhere to all closures and allow our firefighters to perform their jobs safely.
Fire Restrictions: Stage 1 Fire Restrictions are in place on the Beaverhead-Deerlodge National Forest (Forest Service land east of Sandstone Ridge). Stage 2 Fire Restrictions are in place on BLM, private and state lands in Granite County, and the Lolo National Forest (Forest Service land west of Sandstone Ridge).
Meyers Fire (Philipsburg)
Location: 25 miles southwest of Philipsburg
Size: 61,889 acres
Containment: 8 percent
Structures threatened: 343
The Montana National Guard have been to deployed to help with fighting the Meyers Fire, located 25 miles southwest of Philipsburg.The soldiers are staffing five security checkpoints around the fire area to free law enforcement personnel for other duties.
Evacuations and Closures: The Frog Pond and Moose Lake areas are under an evacuation order. Additionally, an evacuation warning is in effect on East Fork Rd from FS Rd 5778 to Little East Fork Rd (FS RD 724) on the Bitterroot National Forest. Those under an evacuation warning should be prepared to leave at a moment's notice.
Bitterroot National Forest emergency closure orders are in effect for upper areas of the East Fork Bitterroot River. Beaverhead-Deerlodge National Forest has an emergency closure order around the fire extending into the Anaconda Pintler Wilderness. A temporary flight restriction (TFR) is in effect surrounding the Meyers Fire area. Granite County is under Stage 2 fire restrictions for private lands in the county. Amended Stage 1 fire restrictions are in effect today which prohibits ALL campfires in southwestern Montana on public lands, including in fire rings and developed recreation areas.
Sprague Fire (Glacier National Park)
Location: 9 miles northeast of West Glacier, MT
Size: 14,795 acres
Containment: 47 percent
Three large fires are currently burning in Glacier National Park: the Sprague Fire, Adair Peak Fire is burning at 2,890 acres and the Elder Creek Fire is 2,261 acres. All three fires experienced high gusty winds from the east on Sunday evening, with both the Sprague and Adair Peak fires having significant increases in acreage. Fire growth moderated on Monday with lighter winds. Lower temperatures and slightly higher relative humidity is forecast.
Lake McDonald Lodge closed for the season on Aug. 30 due to air quality concerns. An evacuation notice was issued on September 3rd for the Lake McDonald area due to fire activity, forcing the closure of the Going-to-the-Sun Road between Apgar Village and Logan Pass; concessions operations in the Lake McDonald Lodge area including boat tours and rentals and guided horseback rides have also closed as a result of this evacuation. Horseback rides and boat rentals are still available in the Apgar area and on the east side of the park.
All interpretive programs in the Lake McDonald Lodge and Avalanche areas are cancelled until further notice.
Some trails and backcountry campgrounds are closed due to fire activity. Many areas of the park remain OPEN including some areas of the North Fork, Apgar Village, the Going-to-the-Sun Road between St. Mary and Logan Pass, Granite Park Chalet, Two Medicine, St. Mary, and Many Glacier. Please check the park website for current conditions including closures at http://www.nps.gov/glac/planyourvisit/conditions.htm
Closures: All park entrances remain open. The Going-to-the-Sun Road is closed between Apgar Loop Road and Logan Pass. Logan Pass is accessible via the St. Mary Entrance. Apgar Village, Campground, and Picnic Area are open. The Sprague, Snyder, and Lincoln Creek drainages and associated trails, from Lake McDonald Trailhead on the west and Gunsight Pass on the east, are also closed to all use. Visit http://go.nps.gov/glacconditions for trail, road, and campground information.
Evacuations: Area residents and park visitors were evacuated on Sunday, September 3, 2017. The evacuation order remains in effect from the south end of Lake McDonald north to Logan Pass. This includes the North McDonald Road. This does not include the Apgar area at this time. Logan Pass is still accessible from the east side of the park. The duration of the evacuation is unknown at this time.
Structure protection work was completed in the Lake McDonald Lodge area. The Fort Apache Hotshots, along with structure protection engines, staged overnight in the Lake McDonald Lodge area. A night shift patrolled the area. Today structure protection hose lays and sprinkler deployments will be initiated in the Avalanche Creek Campground area. Mop up work continues around the Sperry Chalet. The Mt. Brown Lookout continues to persist.
Shelter: the Red Cross shelter for Sprague evacuees is located at Canyon Elementary School, 200 North Street, in Hungry Horse.
West Fork Fire and Moose Peak Fire (Libby)
Location: 7 miles northwest of Libby
Size: West Fork – 14,827 acres / Moose Peak – 8,830 acres
Structures threatened: West Fork – 709 / Moose Creek – 45
Containment: zero percent for both fires
Evacuations:
The evacuation orders for Upper Bobtail including Bobtail Lane, Bobtail Meadow Road, Red Rose Ranch Road and Kentana Place have been downgraded to pre-evacuation warning status.
Evacuations for West Fork Fire have been ordered by Lincoln County Sheriff's Office  include:

Kootenai River Road from Quarts Creek to end of Bighorn Terrace
NORTH side of Kootenai River Road from North Central to Quartz Creek
Lower Bobtail, including Burrell and Indian Pipe

17 Mile Community of Pipe Creek Road
Quartz Mountain Road

The following pre-evacuation warnings are also in place:

Bobtail Road from Kootenai River Road to below Hutton Drive
Bobtail Cutoff Road
Winter Road
Whitetail Road
Indian Pipe Road
Bull Creek Road
Burrell Drive
Kootenai River Road, from Quartz Mountain Road to the end of Kootenai River Road (Bighorn Terrace)
North side of Kootenai River Road from North Central Road to Quartz Mountain Road
Pipe Creek Road from Forest Way and north
Forest Way
Lodge Pole Way
Doak Creek Road
Blue Mountain Lookout Road
Creekside Road
Timber Lane

Please, only emergency and local resident vehicle traffic in the areas of Bobtail and Bobtail Cutoff, Pipe Creek and Kootenai River Road.
Shelter: Libby Assembly of God Church, 105 Collins Ave.
Stage 2 Fire Restrictions are in effect within the Kootenai National Forest, State and Private Lands, as well as Lincoln and Sanders County.
A Red Flag Warning is in effect from 12 pm to 12 am today. Critical fire weather conditions are expected this afternoon for warm temperatures, clear skies, critically low humidity and breezy southwest winds. A cold front will cross the area tonight bringing in cooler air and cloud cover for Wednesday. Showers are likely on Thursday.
Liberty Fire (Arlee)
Location: 17 miles southeast of Arlee
Size: 27,842 acres
Containment: 17 percent
___
http://www.nbcmontana.com/news/wildfires/montana-wildfires-update-for-sept-13-2017/620086756