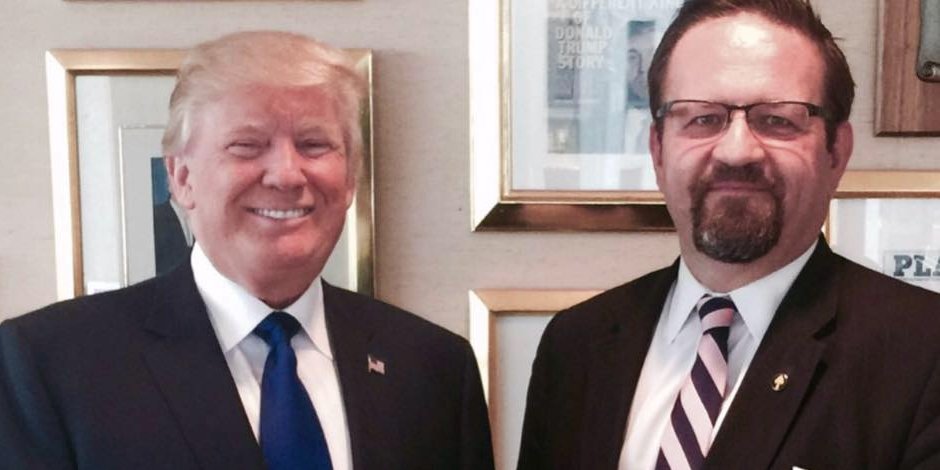 Sebastian Gorka Resigns From White House Post
ZeroHedge.com
A week after the White House pushed out former chief strategist Steve Bannon, the Trump administration has lost another controversial staffer. The departee this week is Sebastian Gorka, a deputy assistant to the president and former Breitbart employee who was closely allied with the White House's rapidly shrinking anti-globalist faction. News of Gorka's resignation was first reported by the Federalist, and later confirmed by Axios and a host of other news outlets.
As with Bannon's ouster last week, the storyline of who said what when has gotten muddled: Gorka claimed he resigned, while the White House insinuated that he was pushed out.
News of Gorka's ouster broke shortly after Trump announced that he would be pardoning sheriff Joe Arpaio, a decision that was widely expected after Trump hinted that he "wouldn't do it tonight" at a rally in Phoenix earlier this week. It also comes as Hurricane Harvey, which has been upgraded to a category four hurricane, is threatening to lay waste to the southwest.
In a copy of Gorka's bluntly worded resignation, which he leaked to the Federalist, the former staffer "expressed dissatisfaction with the current state of the Trump administration."
"[G]iven recent events, it is clear to me that forces that do not support the MAGA promise are – for now – ascendant within the White House," Gorka wrote. "As a result, the best and most effective way I can support you, Mr. President, is from outside the People's House."
In the letter, Gorka blamed the president's failure to outline a plan for exiting Afghanistan after "16 years of disastrous policy decisions" for being the final straw. He also criticized the president and his military advisers for omitting any mention of Radical Islam from the president's statement on Afghanistan, delivered earlier this week.
"Regrettably, outside of yourself, the individuals who most embodied and represented the policies that will 'Make America Great Again,' have been internally countered, systematically removed, or undermined in recent months. This was made patently obvious as I read the text of your speech on Afghanistan this week…
"The fact that those who drafted and approved the speech removed any mention of Radical Islam or radical Islamic terrorism proves that a crucial element of your presidential campaign has been lost…

"Just as worrying, when discussing our future actions in the region, the speech listed operational objectives without ever defining the strategic victory conditions we are fighting for. This omission should seriously disturb any national security professional, and any American who is unsatisfied with the last 16 years of disastrous policy decisions which have led to thousands of Americans killed and trillions of taxpayer dollars spent in ways that have not brought security or victory."
Echoing comments made by Bannon following his ouster last week, Gorka reportedly told the president that he could better serve his America First agenda from the outside: "[I]t is clear to me that forces that do not support the MAGA promise are – for now – ascendant within the White House…"
That's probably not far from the truth. As Axios points out, Gorka, a self styled national security and counterterrorism expert, was best known for his fiery television appearances, his only real contribution to the administration, and the quality that initially endeared him to the president. Gorka can easily keep up his TV schedule from outside of the West Wing. Gorka was widely reviled by Trump opponents because of his reputed affiliation with Hungarian nationalist group Vitezi Rend.
According to Axios, Gorka's resignation is a sign that Chief of Staff John Kelly is tightening control of the White House's sprawling, unaccountable fiefdoms.
The White House communications department confirmed that Gorka was no longer employed at the White House, but wouldn't comment on whether he was fired or left voluntarily, according to ABC.
"I can confirm he no longer works at the White House," the official said.
His ouster brings the number of officials who have been fired or otherwise departed the Trump administration to 14:
Finally, with the ouster of Bannon, the list of high-ranking personnel fired by Trump rises to 14. They are:
Sally Yates
Michael Flynn
Katie Walsh
Preet Bharara
James Comey
Michael Dubke
Walter Shaub
Mark Corralo
Sean Spicer
Micheal Short
Reince Priebus
Anthony Scaramucci
Steve Bannon
Sebastian Gorka
Maybe Trump will start putting weekly firings on the White House calendar?
___
http://www.zerohedge.com/news/2017-08-25/sebastian-gorka-resigns-white-house-post