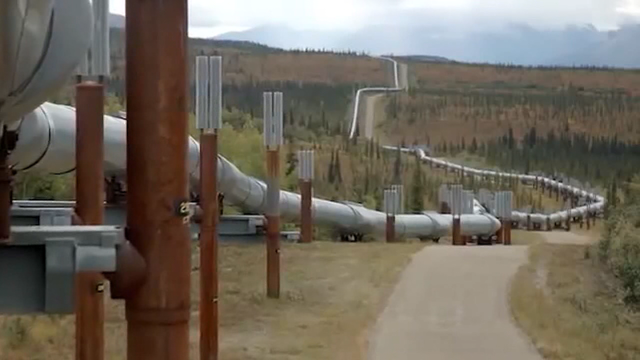 Hurricane Harvey: US petrol prices rise as key pipeline shut
BBC
US petrol prices have risen after a key network of pipelines was shut in the wake of Hurricane Harvey, sparking fears of a squeeze on fuel supplies to major US cities.
The hurricane has already forced the closure of nearly a quarter of US oil refining capacity.
Colonial Pipeline said it was closing its pipelines delivering diesel, petrol and aviation fuel along the East Coast.
European traders are scrambling to provide additional supplies.
At least 33 people have been killed in eastern Texas since the storm hit. The US National Weather Service has now downgraded it to a tropical depression.
But consequences of the storm are still being felt in Texas, with reports on Thursday of black smoke issuing from a damaged chemical plant.
There are fears that chemicals there could combust, causing explosions.
Heavy rainfall is expected from Louisiana to Kentucky over the next three days, and flood warnings remain in effect for south-east Texas and parts of south-west Louisiana.
Fuel supply crunch
US fuel prices have risen by more than 10 cents a gallon compared with a week ago, to nearly $2.45 on average nationwide, according to the American Automobile Association, amid reports that some East Coast refineries were running out of petrol.
The threat of a fuel supply crunch has grown as key infrastructure is paralysed by the storm – Colonial's announcement indicates the knock-on effects are growing.
The firm's network of pipelines is the country's largest supply system, taking refined fuel from the Gulf of Mexico to consumers in major US cities including New York, Atlanta and Washington DC. The company did not given any indication when the pipelines might reopen.
Colonial issued a statement on Wednesday announcing its diesel and aviation fuel pipeline was closing immediately and that its petrol (gasoline) pipeline would be closed from Thursday because of outages at pumping points and a lack of supplies from refiners.
The company said its facilities between Lake Charles and Houston were out of service. Of the 26 refineries that connect to the Colonial system, 13 are located between Houston and Lake Charles, it said.
"Once Colonial personnel can safely access these facilities, we will evaluate and provide an estimate of the time necessary to ensure our pipe, pumps, tanks and related infrastructure are safe to resume operations between Houston and Lake Charles," the statement said.
Colonial, which in normal times supplies more than three million barrels of fuel a day, was the second major pipeline network to announce it was closing. The Explorer Pipeline, which has a much smaller capacity of 660,000 barrels a day, also said on Wednesday it was shutting down its supply line which runs from Houston to Tulsa, Oklahoma.
Door-to-door search

REUTERS – Helicopters are being used to rescue people trapped by the floodwaters
Parts of Texas have been hit by more than 50in of rainfall since Hurricane Harvey landed on 25 August, setting new records before it was downgraded to a tropical storm and, late on Wednesday, to a tropical depression.
Large areas of Houston, the fourth most populous city in the US, remain under water.
Rescue efforts continued overnight. Thousands of people have been rescued from the floodwaters, and more than 32,000 people are being housed in emergency shelters.
Firefighters are due to begin a door-to-door search of badly flooded areas of Houston on Thursday, to rescue survivors who are still stranded and recover the bodies of those who have died.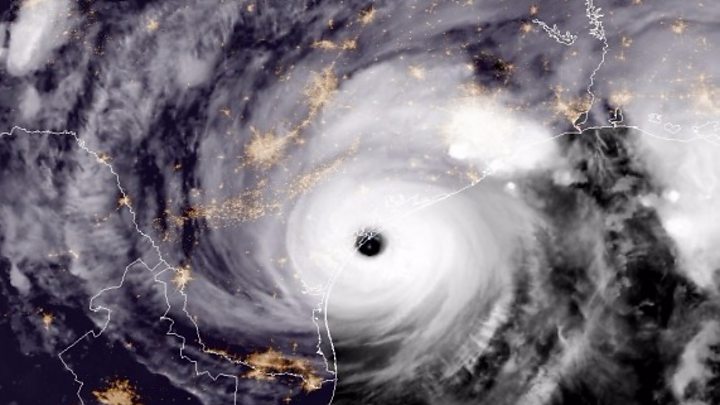 At a news conference on Wednesday, Texas Governor Greg Abbott said the state could need more than $125bn (£97bn) from the federal government to help it recover.
Mr Abbott has accepted an offer of aid from the Mexican government, which has suggested it is willing to despatch troops with food, water and medicine – as it did in 2005 when New Orleans was devastated by Hurricane Katrina.
US Secretary of State Rex Tillerson said it was "very generous of Mexico to offer their help at this very, very challenging time for our citizens down in Texas".
The move comes amid tension between the two countries over President Donald Trump's repeated promises to build a vast border wall on the southern US border to keep out illegal immigrants and criminals, and to make Mexico pay for it.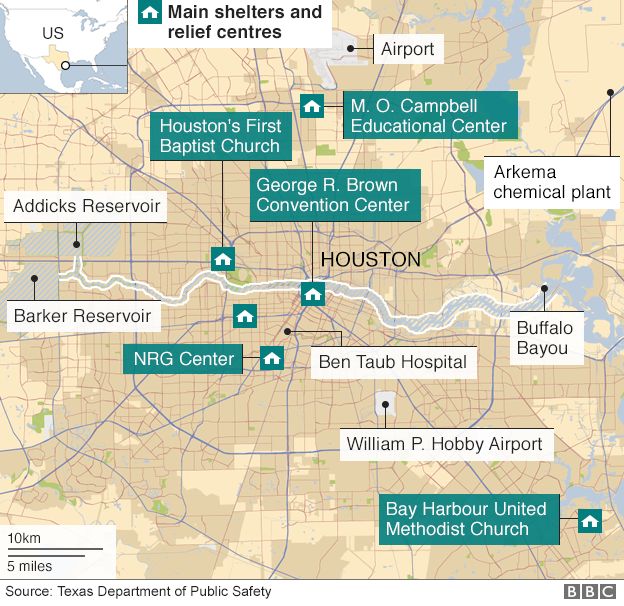 ---